When one thinks of Bigfoot, there's one image that comes to everyone's mind. A hairy figure walking away looking back at a shaky camera. That famous silhouette is an archetypical icon forever burned in the human consciousness. A creature that's remained an enigma since that image crossed our tv screens 50 years ago.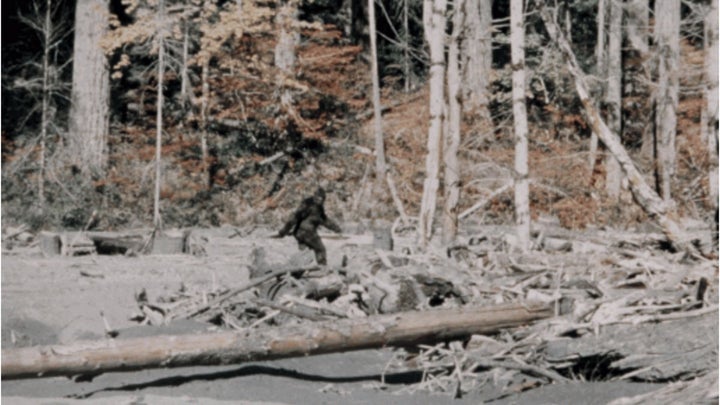 Roger Patterson and Bob Gimlin had their encounter with Bigfoot a.k.a, Patty on October 20, 1967. The Patterson-Gimlin (PG) film used a 16mm Kodak Cine 100 camera. Only 59.5 seconds long, it remains as one of the strongest pieces of evidence for the existence of Sasquatches to this day. Roger Patterson died of cancer in 1972 only five years after the film was shot. At 86, Bob Gimlin is the only living witness to that extraordinary event and just two days after his birthday, on October 20, 2017 was the 50th Anniversary Celebration of the PG film in Willow Creek, CA.
I've been in touch with Bob since my last write up, The Man Bigger Than Bigfoot and the 50th Anniversary Celebration was not to be missed. So once again, my friends Clay, Kamila, and I decided to drive down to California for the event and hike to the film site.
Unbeknownst to us was the torrential downpour ahead of us - The Big Dark - a 5,000 mile raincloud stretching from Japan to Washington. We couldn't have picked a worse time to drive, but undeterred, we rested a night in Medford and en route to Willow Creek early the next morning.
State Route 96, also known as the Bigfoot Scenic Byway follows the Trinity and Klamath Rivers crossing into KIamath National Forest and Six Rivers National Forest. Coast Douglas-fir, Tanoak, Pacific Madrone, and White fir outlined our route with the first of the fall foliage.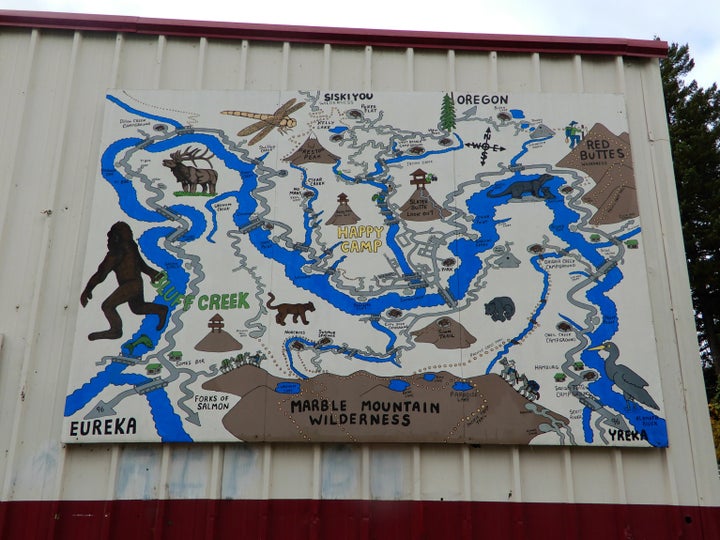 By the time we made it to the town of Orleans, we were in the middle of nowhere. Clay and I studied the maps before heading out as there have been missing persons and having a backup plan was adamantly stressed. Thankfully, the directions were very clear and concise. We made the turn up Eyesee Road and into the mountains towards Bluff Creek. The roads were treacherous and narrow and we didn't expect the array of climate changes on the drive up. Patches of rain, snow and ice, then sunny and warm.

It was spooky to say the least, but once we made it to the start of the trail our excitement and our senses heightened. The trail to the film site was not long, but poorly marked. Other than the rushing waters of the creek, the forest was quiet. We stopped to redirect ourselves a few times and finally found the PG Trail sign. A sigh of relief came upon us.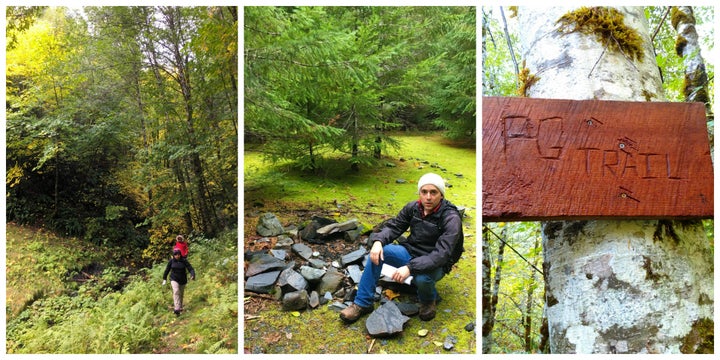 We continued our walk through the creek and brush and there it was. Awestruck, we couldn't believe we'd made it to the famous place that was once a mere figment of our imagination. Pink ribbons marked the position of Patty's crossing and her distance between Roger and Bob. We spent a short while pondering the events of 50 years earlier and took pictures around the area.
With smiles on our faces, the hike back out was quiet. Once we made it back to the car, more Bigfoot enthusiasts arrived and began their trek down the trail. After another nerve-racking drive through the mountains, we were on our way to the festivities.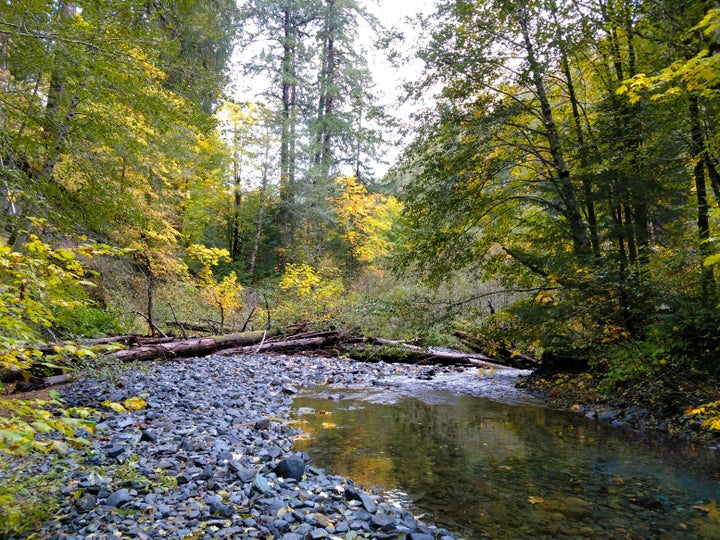 *note: upon sharing photos with the researchers at the conference, it turns out we were mistaken and just shy a couple of hundred yards from the actual film site; nonetheless, I'm sure Patty was around this same area on many occasions.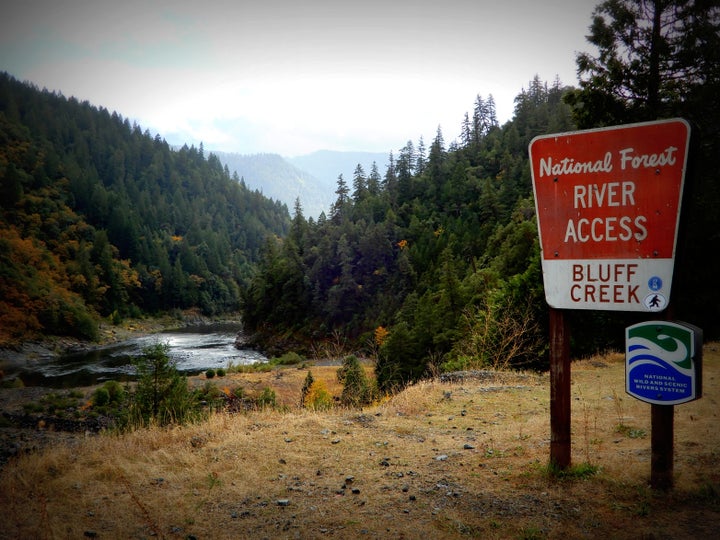 Willow Creek is known as the "Bigfoot Capital" of the world. A community of 1,743 residents, the townspeople tell stories of Bigfoot encounters well before the PG film of 1967. The 50th Anniversary was a big deal for multiple reasons, one of the them being that scientists are finally taking the subject of Sasquatch more seriously and giving it the study it deserves.
Among the attendees were Dr. Jeffrey Meldrum - a Primatologist at Idaho State University who specializes in the evolution of bipedalism, Biologist John Mionczynski - whose first Bigfoot experience occurred while on assignment for the forest service tracking bighorn sheep in 1972, and Cliff Barackman and James "Bobo" Fay of the Finding Bigfoot series. Songs, BBQ, new data and research all culminating in a grand toast and a speech from Bob himself.
Afterwards, people talked with one another and took photos with guest speakers. I spoke with Cliff Barackman, who's been in and around the PG film site on numerous occasions and knows there's still a lot of Sasquatch activity there. He's had rocks thrown at him and heard whoops and howls. I wanted to get his thoughts on the legacy of the film.
I asked Cliff, is Patty still alive?
All known apes including humans - our hominoid family - live about 40-50 years or so in the wild, before we die of dental deaths (like gum disease and tooth decay) or accidents. We know Patty was sexually mature because of breasts evident in the film and because there were indications that she was around in 1958 in a mature form from known footprints matching the ones of 1967. Since the film, footprints matching hers were never found again. - Cliff Barackman
It cannot be ignored that the very absence of Roger Patterson was felt. I'm sure if he were still alive he would've been in the room celebrating with us.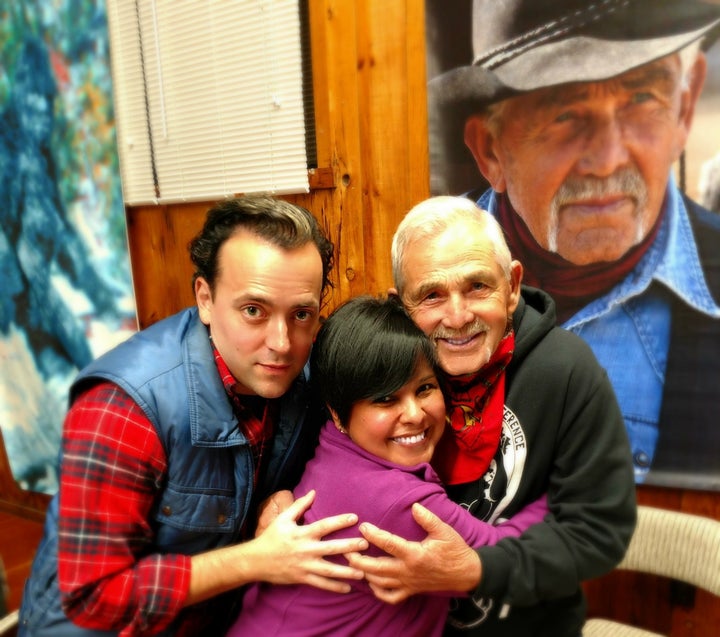 Later that night my friends and I decided to check out the nightlife. There's only one bar in town and the popular watering hole after a long day's work. Pool is the game of choice and we quickly learned how serious the residents of Willow Creek are about the sport. They're good at it and will let you know it too as our friend Kamila soon found out. Little did the players know (and neither did I) that Kamila is a bit of a pool champ herself. Before the night was over and in poetic fashion, she beat the bartender that taunted her.
We were the oddballs in the joint wearing beanies and raincoats. Most of the people in the bar were college-aged kids in dreadlocks, pot aficionados, with heavy backpacks hitchhiking their way through the state. A woman named Fran sat next to us. I sensed she was lonely and somewhat lost and sure enough after the casual introductions and small chat, Fran shared with us that she had recently lost her father in a tragic manner. With no other family members, she packed her bags and landed in Willow Creek on a whim. She didn't know where she was going and she didn't care. Many young drifters in Willow Creek. I couldn't help but wonder if this was a common story among them.
A few Bigfoot conference friends walked in and told us that there was a gathering at Bigfoot Books, a party of sorts - beer, parking lot bonfire, and stories in the dark. Bookstore owner, Steven Streufert was kind enough to open the store and everyone made some damage to their wallets.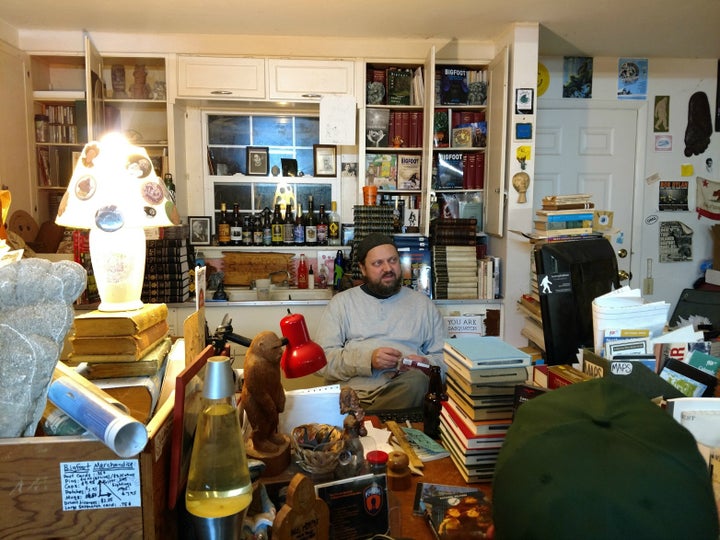 The next morning we all haphazardly gathered for breakfast at a local restaurant. Everyone greeted one another and there were laughs and more stories. Everyone was nice to us. It didn't matter our political views and cultural differences. When it comes to the subject of Bigfoot, we're all the same.
It's not easy to open up to strangers and talk about personal experiences, especially one with such controversy. Heck, Bob Gimlin and his family endure ridicule even now. While I've personally not seen a Sasquatch, I believe they exist and for the most part, I believe the stories of others. Not everyone is out to make money, they just want to share something out of the ordinary that's happened to them. I can appreciate that.

Back on the road, Clay, Kamila and I reflected on the experience. There's a quirkiness to the town that we all found endearing. This small rugged mountain community embraces Bigfoot as one of their own. More than just folklore, Bigfoot is a part of their everyday life. The locals are reserved but everyone knows everyone around these parts. They were a kind and good-hearted people.
The quiet and sleepy town of Willow Creek will stay in our hearts forever. I get the feeling we'll be back in the Bigfoot Capital soon.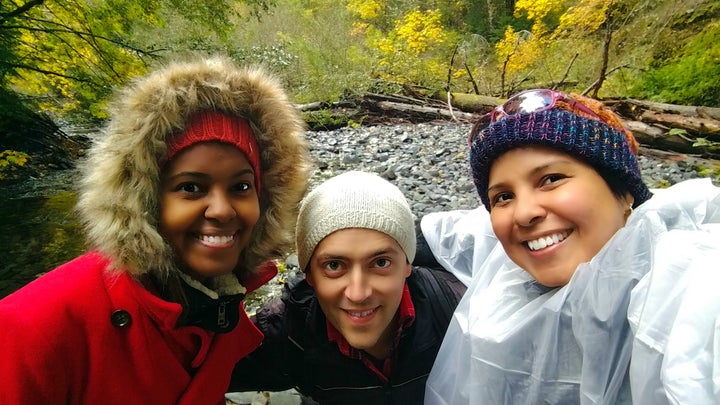 * Bluff Creek Project (with volunteers Jamie Wayne, Rowdy Kelley, Steven Streufert, Robert Leiterman, Ian Carton, and Kipp Morrill) has trail cams set up in Bluff Creek. Read more about their research and stay tuned for new findings!
Related
Popular in the Community