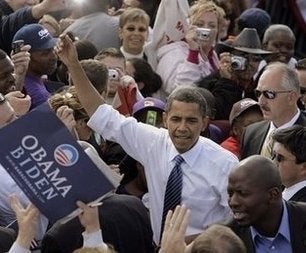 You'd have thought Patti Smith had been sleeping in her own bed for a month, not fresh off an Australian tour, judging by the show she put on at the Orpheum Theatre in downtown LA on Saturday night.
Still passionate and possessed of a voice of extraordinary color after all these years, the rock poetess laureate bestowed some of her eternally flaming energy on Barack Obama.
Restlessly prowling the stage with her band -- which includes her son, Jackson, and guitarist Lenny Kaye, who's been with Smith since the get-go -- she told the crowd sardonically that if she looked like she was moving a little slowly [she didn't], it was because she wanted to make sure that everyone missed ''Saturday Night Live'' -- the Sarah Palin version airing that night.
She exhorted people to vote, and in a simple phrase that evoked the poet William Blake, whose words she sings, she asked that Obama himself ''just be good -- be a good man.''
And the biggest crowd-pleaser: Smith flung about a half-dozen Obama t-shirts, like a bride's bouquet, into the clamoring crowd in the front-row seats.

Popular in the Community