Debt is an all too common occurrence in America -- credit card debt, mortgage debt, student loan debt. But how do you cover the subject of debt in a superhero landscape? Superheroes are supposed to be the image of perfection. They're rich playboys or invulnerable aliens or exquisite goddesses. 
This was the welcomed challenge of Dark Horse writers Donny Cates and Eliot Rahal in their new series, The Paybacks.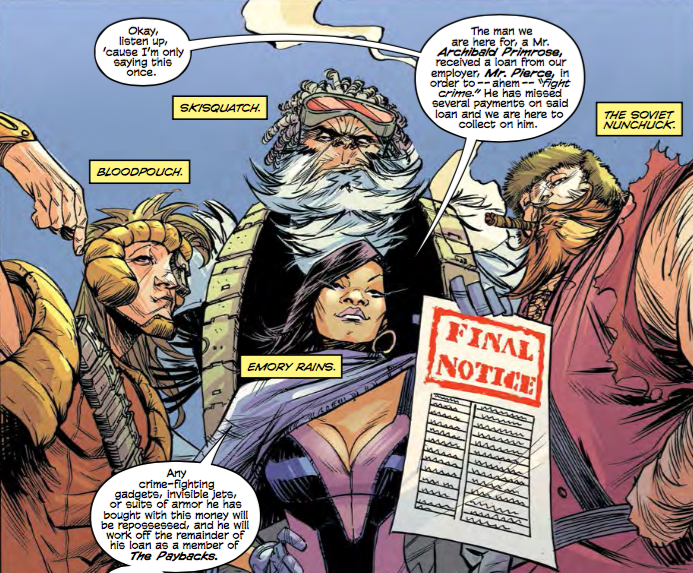 Cates and Rahal have been friends for over five years. They've essentially grown up together in the comic industry, meeting as editorial interns at Marvel and bonding through the rough and lonely terrain of New York City internships. 
Cates' love of comics began early. He was obsessed with Spider-Man and actually learned to read in part thanks to comic books. Rahal's love affair with comics started later, in high school, but as a child he was busy with the worlds of Tolkien and C.S. Lewis.
The internship would not be their final stop. 
"We we would go to Marvel and work on comics, then go to Donny's place in Queens and work on our comics," says Rahal. "It was really fun -- special." 
They had one thing in mind while collaborating: the comics they set out to write were comics they themselves wanted to read. That seems obvious, but Cates doesn't think it's always that simple. "A lot of books don't seem to have as much fun as they should."
Nearly two years to the day after Cates and Rahal sold their first ever comic Hunter Quaid, the story of a "drunken, misanthropic, time-traveling detective from the forties" -- yep, that old tale again -- the duo is releasing what is truly a labor of love: The Paybacks. The comic they would want to read.
This is a world where superhero-dom is commonplace, so much so that not all superheroes can make a living doing it, and many fall into the red trying to maintain the lifestyle. Superheroes rack up enormous debt fighting crime and a repo squad known as The Paybacks hunts down the super-debtors to collect. This is the anti-super superhero comic.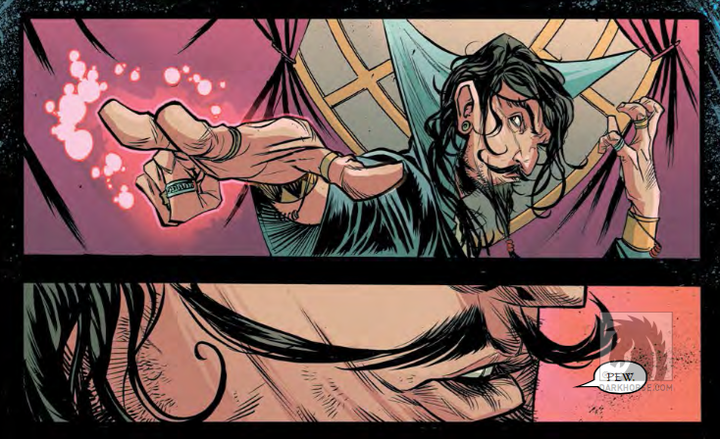 In perhaps a similar vein to "The Tick" or Rising Stars or even Watchmen to a degree, The Paybacks is the "off-hours" superhero story. And that's a concept that has always fascinated Rahal and Cates.
What's the superhero world like when the villain has been beaten and everyone's gone home, when the heroes are in their bathrobes binge-watching Netflix? What's super-downtime like? 
This is the story that begins after the romantic, action-packed golden years of fighting crime are over. These are heroes past their prime, physically and, as it turns out, financially.
For any avid comic fan, reading Paybacks will at times feel self-referential, a parody of of the form, but the writing duo insists they had no intention of changing the landscape or making a grand statement on the state of comics. The Paybacks is simply about two friends who love comics, writing what they want, and trying crack each other up in the process.
Many comics make an attempt at humor, but more than often fall flat. The jokes have no weight to them, and few ever leave you actually laughing. But The Paybacks is funny. Cates and Rahal, who is also a standup comedian, believe laughter is an incredibly powerful storytelling tool.
"Laughter is the fastest way to connect with a human being," says Cates. "If you can make them laugh, then you can make them cry and fall in love."
"I'm really looking forward to hurting people," Rahal adds with a laugh of his own.
The Paybacks #1 starts with the team visiting the home of Archibald Primrose III, a man who fights crime in London as Night Knight. He and his trusty unicorn Knight Mare are past due on their super payments and it's time to repossess their gadgets and invisible jet and suits of armor.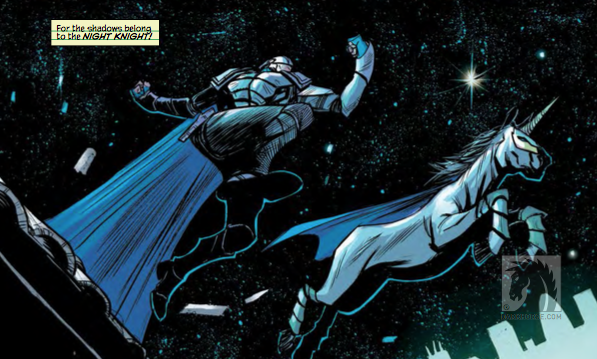 The first issue is filled with funny takeaways, from a team van that has a seemingly infinite square footage similar to the "Doctor Who" T.A.R.D.I.S. to a character named Miss Adventure fighting off Sister Mary Frankenstein and bi-polar bears.
"I love puns," says Rahal. "I think they're funny, and irritatingly funny. The puns in the book are the result of us trying to make each other laugh."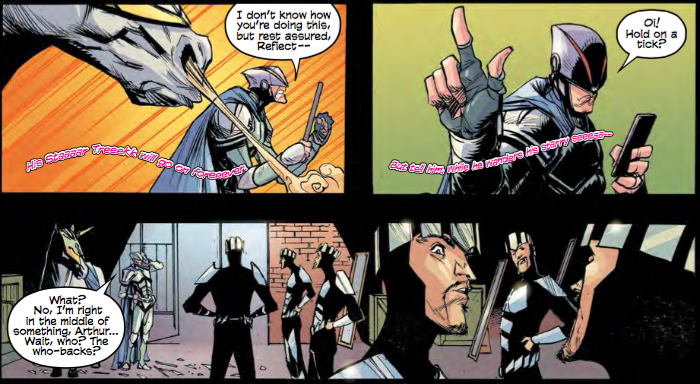 Being in the industry can make it difficult to really see the industry, the guys told The Huffington Post, but Rahal says he'd love to see a comic landscape that is more creator-driven; writers telling the stories they want to tell.
What about this theme of debt in their latest work? Is this a story they wanted to tell about the current sociopolitical landscape?
Cates and Rahal say they are not necessarily looking to take any major social or political stances in their work. Ultimately, The Paybacks is an extension of their friendship and mutual love of comics.
But they do understand the power they wield. "We do generally see ourselves as a force for positive change," says Cates.
"We do realize that we have a big microphone."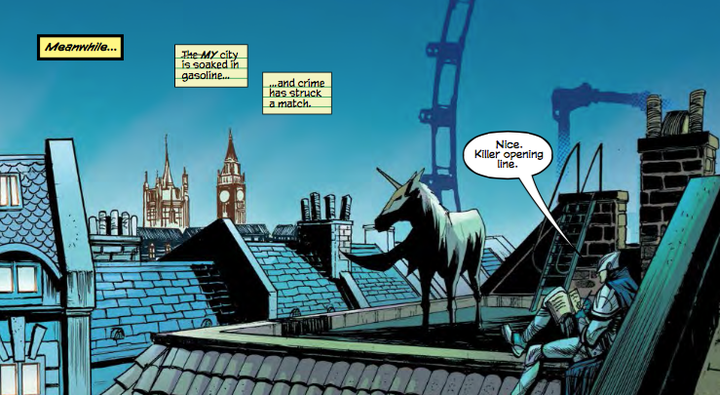 Eliot Rahal and Donny Cates are hitting the road for a six-day tour, from Oct. 2 til Oct. 7, called "An Evening with The Paybacks." Each night they'll hold a variety show in a different city, on their way to the New York City Comic-Con. Check out the dates and stop by if they show up in your town.
Calling all HuffPost superfans!
Sign up for membership to become a founding member and help shape HuffPost's next chapter