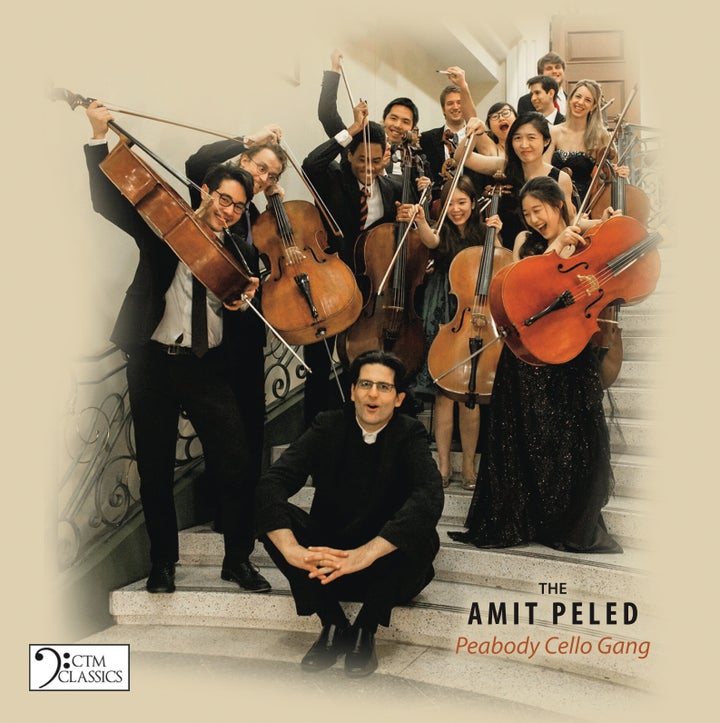 When I got an email from Amit Peled, the six foot five inch Israeli-American cellist who has the honor of playing as his full-time instrument the cello of the great Pablo Casals, I was surprised it was not about the cello at all. It was about eight of them.
They are called the Amit Peled Peabody Cello Gang, they are made up of Peled and seven top students from his studio at Peabody Institute in Baltimore, and they have made their CD debut with an audiophile arrangement of one of Franz Schubert's most beautiful, most obscure inventions, his beloved Sonata for Arpeggione and Piano from 1824. Track 2, the Adagio movement, could well become a separate hit.
The CD also has a virtuoso two-cello duo by Handel and a sumptuous Requiem for 8 cellos by 19th century cellist/composer David Popper, but it is Peled's collaboration with fellow cellist Tom Zebovitz in their stunning re-allocation for four cellos of the Arpeggione that makes the CD so special.
The arpeggione of the title was a six-string marriage between a cello and a guitar which aside from Schubert's Sonata quickly fell into oblivion. It's been called "hermaphroditic" and "a bowed guitar." One thing is for sure: What was easily playable on an arpeggione is a real challenge on the 4-string cello even for virtuosos like Peled.
Another thing's for sure: When Peled told me that he "always thought the piece would sound amazing for four cellos" - he was right.
I caught up with Peled while he was in Seattle last week to play with the Northwest Sinfonietta the Northwest premiere of Sharon Farber's Bestemming (Destination), a concerto for cello, narrator, and orchestra based on a WWII freedom fighter's tale.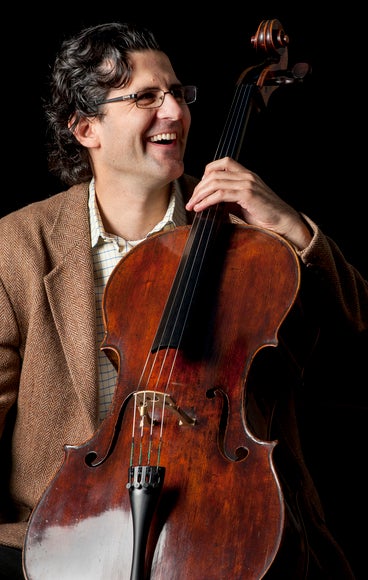 What was the process of creating the Schubert arrangement?
Tom prepared the first draft and then we worked together on the tweaks. The solo part is the same as in the Sonata. The three parts are also very difficult. And the result is like a late Schubert quartet; in fact, he wrote it close to the time of his Death and Maiden String Quartet.
How did you get such superb sound?
The Arpeggione session was produced by Norbert Kraft, one of Naxos's top engineers (and a virtuoso guitarist), and we decided that we got the best most integrated results by having me sit not in front of the other three but where the first violin would sit in a real string quartet.
You're releasing this yourself on your CTM label - what does it stand for?
CTM stands for Catch The Moment Classics, and the Cello Gang CD is our first release. There were so many advantages to going solo, including the fact that so many of the best producers work on a similar basis, that we self-produced through CD Baby. Now, immediately, it's online everywhere, I can see when anyone downloads it, and I'm on the main pages of Amazon and iTunes next to Trifonov on DG and Michael Tilson Thomas doing the Schumann symphonies on the San Francisco Symphony's own label. Even the Berlin Philharmonic has its own label.
And self-producing results is meaningful sales?
It's not about sales. It's about making valuable cello recordings available to cellists all over the world and to the extended community of classical music lovers. I'm happy because it's my initiative and I'm in control. If nobody buys it it's okay too.
The six Bach Suites on my 1733 Goffriller cello - the very same cello on which Casals made his iconic EMI recordings between 1936 and 1939.
Will you be recording them over three years?
Actually, when I found out that the engineers assumed I would want to do all six in one series of sessions next year in June, I told them I can't do it. I can't put myself in that kind of physical and mental exhaustion. The last three are also so different that I really want to spend additional time with them, so their sessions will be in June 2019.
After I record Bach's Cello Suites myself, I want to arrange and record all six with the Cello Gang in a cello quartet set-up emphasizing Bach's unique polyphonic approach.
Related
Popular in the Community