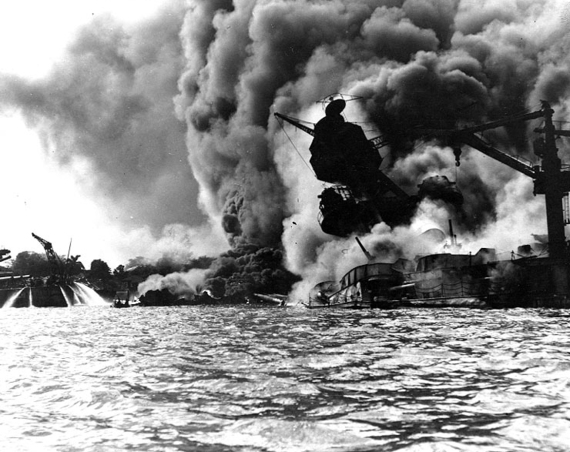 As our airmen, sailors, marines, soldiers and other military once again risk their lives on the ground in Iraq and in the skies and on the waters around Iraq and Syria, it is appropriate to remember those brave troops who died and survived on a fateful day almost 73 years ago, "a date that will live in infamy."

December 7, 1941, was of course the date when Japan launched a series of dastardly, sneak air attacks on our unsuspecting Pacific Fleet anchored in its homeport, Pearl Harbor, and on U.S. military installations and airfields on Oahu, Hawaii -- attacks that led to our country's entry into World War II.
The attacks were devastating. America and Americans paid a much too heavy price.
In all, 21 ships, including eight battleships, were sunk or damaged. In addition 188 aircraft were destroyed and 159 damaged.
However, a much worse tragedy was the loss of life on that Sunday morning in Hawaii.
Almost 2,400 soldiers, sailors and Marines were killed (68 civilian also lost their lives) and 1,178 military and civilians were wounded.
These were the first heavy casualties in a war that would eventually claim more than 400,000 U.S. military deaths -- over 100,000 of these in the Pacific Theater.
Of the 16 million Americans who served their country during World War II, there are just over a million veterans, mostly in their 90s, still with us. According to the Department of Veterans Affairs (VA), 555 of these men and women are leaving us each and every day. By 2036, the VA estimates that all members of the Greatest Generation will be gone.
There is thus very little time left to show these men and women our love and appreciation.
There is an organization that has been doing exactly that for almost 10 years.
The nation-wide, non-profit organization Honor Flight Network has as its mission to transport America's veterans to Washington, D.C., to visit the memorials dedicated to honor their service and sacrifices, absolutely free.
Since 2005, it has brought to our nation's capital from all over the country approximately 125,000 veterans using 127 Honor Flight "hubs" in 41 states.
One of the newest "hubs" of the Honor Flight Network is Honor Flight Austin, Texas. It flew its maiden flight in June 2012 with 25 Texan World War II veterans on board and has been going full blast ever since.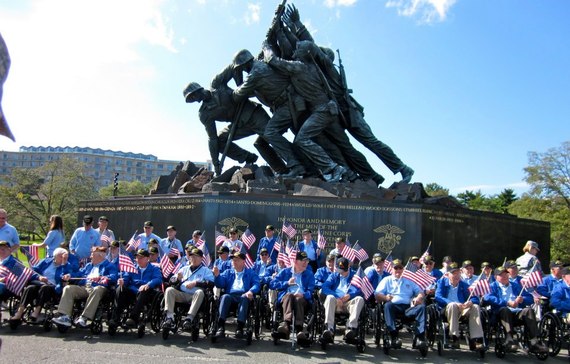 Austin World War II Veterans at the Iwo Jima Memorial during one of Austin Honor Flights. (Photo by Tina Lee, Honor Flight Austin)
According to the VA, there are just over 63,000 living World War II veterans in the entire state of Texas. Very well aware of such a rapidly dwindling population, Honor Flight Austin has been flying Texas World War II veterans by the hundreds to our nation's capital.
But there are an even smaller number of survivors of the Pearl Harbor attack -- the earliest and most significant involvement by our military in World War II -- still alive.
While they initially numbered in the tens of thousands, a December 2012 Associated Press report said that only about 2,000 to 3,000 Pearl Harbor survivors were still living then.
The National Pearl Harbor Survivors Association was an organization whose members were at or in the vicinity of Pearl Harbor, Hawaii, during the Japanese attack and whose goal was to "facilitate the remembrance of the attack on Pearl Harbor, and preserve the December 7, 1941, date in People's memories."
While at one time the association's membership grew to over 70,000, the passage of the years has taken a heavy toll on its membership.
So much that, in December 2011, on the 70th anniversary of Pearl Harbor, the Association was disbanded due to the ages and health of the men and women who survived the attack that fateful Sunday morning, now 73 years ago.
John Andrew Prime, at the Shreveport, La. Times, wrote last December, "The message of Pearl Harbor has become muted with the passage of time and those who survived the attack..."
In the same article, Shawn Bohannon -- a military historian, author and archivist -- describes how, with time, even the nation's most recent conflicts and veterans will recede into the mist of time. "It's just part of the natural aging process, the passage of history," he says.
Honor Flight Austin is not quite ready yet to let the Pearl Harbor veterans recede into "the mist of time" or to become part of "the passage of history."
This December, Honor Flight Austin is planning a very special commemorative Honor Flight to Washington D.C. The flight will take World War II Pearl Harbor Survivors living in Texas to a solemn ceremony to be held at the World War II Memorial. Honor Flight Austin extends an invitation to all World War II Pearl Harbor Survivors in the State of Texas to fly to Washington D.C. and attend the ceremony.
The Pearl Harbor Honor Flight will depart for our nation's capital on December 6, 2014. On December 7, the veterans will attend The Pearl Harbor Remembrance Day Ceremony and participate in various other activities, all at no cost to them.
If you are, or if you know of, a World War II Pearl Harbor Survivor, please send an email to contact@honorflightaustin.org or call 1-888-530-8880 to reserve a seat for the Pearl Harbor Remembrance Day Honor Flight.
Please do not let the memories of these special members of the Greatest Generation "recede into the mist of time."
To learn more about Honor Flight Austin or to donate to this unique organization, please visit HonorFlightAustin.org
Lead photo: The USS Arizona burns after being hit by a Japanese bomb while U.S. sailors aboard the neighboring USS Tennessee spray fire hoses to force burning oil away from their ship during the air attack on Pearl Harbor, Hawaii, Dec. 7, 1941. (U.S. Navy photo, National Archives collection.)
Related
Popular in the Community