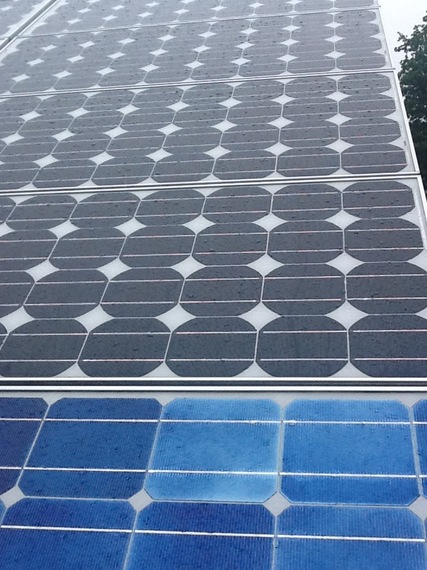 Solar Panels, Old and New, Starview Hill Farm, Blairstown, New Jersey
"There is one forecast of which you can already be sure: someday renewable energy will be the only way for people to satisfy their energy needs. Because of the physical, ecological and (therefore) social limits to nuclear and fossil energy use, ultimately nobody will be able to circumvent renewable energy as the solution, even if it turns out to be everybody's last remaining choice. The question keeping everyone in suspense, however, is whether we shall succeed in making this radical change of energy platforms happen early enough to spare the world irreversible ecological mutilation and political and economic catastrophe."
Hermann Scheer, 1944-2010, former member of the German Parliament and General Chairman of the World Council for Renewable Energy Photovoltaics aka Solar Panels
First used by Maryland Lieutenant Governor Michael Steele at the 2008 Republican National Convention, later elected chairman of the Republican National Committee to express support for increased drilling for oil and gas. Became the rallying cry of Republican Vice Presidential candidate, Sarah Palin, during the 2008 vice-presidential debate.
On a misty June afternoon, I drive the back roads from my home in western New Jersey near the Delaware River, north to Blairstown overlooking the river's source, the Delaware Water Gap National Recreation area. I'm on my way to visit MIT-trained commercial pilot, engineer, astronomer, and self-taught solar-geothermal expert, Alan Midkiff, one of the first New Jersey residents to install panels to incorporate photovoltaic or solar power on his farm, Star View Hill.
"Not only to meet the needs of my farm and telescope," says Midkiff, who collects data in support of professional astronomical research at MIT and Lehigh University; and makes the telescope available for observation by local clubs and school groups. "But also for the added capability of selling excess generated energy back to the power company."
As I pass through small towns whose lawns are dressed up with peonies in full bloom, I also notice homes, farms and fields sprouting solar panels, tilted toward the sky like those Midkiff installed twenty years ago and my family installed in February.
For years, we had talked about installing solar panels at our home in rural New Jersey. We had researched the benefits of passive solar power, and learned how the system absorbs and converts sunlight into electricity. But, we weren't ready to take the step and indulged, instead, in feel-good talk about solar power while consuming what we were used to: fossil fuels.
Our pie-in-the-solar-sky chatter turned serious on August 12, 2014, when a consortium of 6 companies including utility giants Houston-based Spectra Energies, United Gas Industries, Atlanta-based AGL Resources, Long Island-based Public Service Enterprise Group, South Jersey Industries (SJI Midstream), and New Jersey Resources Pipeline Company, formed a Limited Liability Corporation that became the PennEast Pipeline Co. and announced that they would be building a 36-inch - three foot diameter pipeline to transport fracked gas from the Marcellus Shale in Pennsylvania across open space, through organic farms, a township solar field, historic districts, tax-payer preserved open space, wetlands, pristine C-1 streams, and crossing beneath the Delaware River on its 108 mile journey to a connector station just outside Princeton.
After the shock wore off, friends, who had spent years switching from conventional to organic farming methods in order to certify their products, found that the pipeline would go straight through their farms with at least a 50 foot right of way (ROW) or easement, giving PennEast long-term access to the land. In one case, the construction plan calls for the pipeline to be dug into land that acts as a buffer for a spring-fed pond, just feet from the farm owner's front door. Residents in communities on both sides of the Delaware River began organizing.
While, our communities are not naïve to the fact that most of us rely on fossil fuel as our primary energy source, we also know that in New Jersey, the 5th smallest state in the nation, there are 1500 miles of aging pipelines already underground, pipelines that need to be maintained; and in some cases dug up and replaced. The threat of another pipeline along a rural route where our communities have embraced the benefits of solar, geothermal and wind power was, and remains, a gut-punch and a preposterous investment in energy infrastructure.
According to PennEast spokesperson Patricia Kornick, "the PennEast Pipeline...is designed to meet the growing demand of families and businesses within eastern Pennsylvania, New Jersey and New York."
She adds that "most people appreciate the safe, affordable, locally produced natural gas to heat their homes on a cold night and provide electric power to their homes where they can charge their phones, use their lights, computers and microwaves."
The words "locally produced" are especially troubling. What does PennEast mean? That the gas trapped in the substrate of the Marcellus Shale was locally produced like the bunch of organic asparagus I bought at my neighborhood farmer's market? To follow Kornick and PennEast's line of thinking, like fracked gas, passive solar energy locally produced on my rooftop can power a heat pump on the coldest nights and light our house while charging our phones. And, if our family owned a microwave, solar energy could power that, too.
New Jersey Doesn't Need more Natural Gas
A report commissioned by the New Jersey Conservation Foundation, prepared and released in June by Skipping Stone, one of the country's premier energy markets consulting firms, says, "Local gas distribution companies in the Eastern Pennsylvania and New Jersey market have more than enough firm capacity to meet the needs of customers during peak winter periods. The analysis shows there is currently 49.9% more capacity (of natural gas) than needed to meet even the harsh winter experienced in 2013-2014 (the Polar Vortex Winter)".
Adds Tom Gilbert, Campaign Director for Energy, Climate and Natural Resources for the New Jersey Conservation Foundation, "PennEast would likely increase gas prices. Not decrease them as PennEast claims...and displace gas from existing pipelines, costing between $130 million and $230 million annually in lost revenues. Cost to ratepayers could increase further because the Federal Energy Regulatory Commission (FERC), rules allow existing pipelines to increase customers' rates to recover lost revenues."
Accidents Waiting to Happen
With an aging pipeline infrastructure across the country, Gilbert also points out that gas pipeline accidents are at record levels due to rushed new construction, and members of the public, not pipeline companies, are usually the first ones to identify pipeline leaks and accidents.
A recent study by the National Transportation Safety Board points out weaknesses in inspection plans and in federal oversight of the pipeline system. A particular concern is the risk of accidents due to corrosion in lines installed before 1970.
On May 1, an aging natural gas pipeline exploded in Westmoreland County, Pennsylvania, sending a man who sustained burns over 70 percent of his body to intensive care, melting a road, charring trees, burning cars, damaging homes and triggering waves of sound and heat that kept rescue squads waiting a mile from the blast site. In addition, the blast sent elevated levels of carbon dioxide (CO2) and methane (CO4) gases into the atmosphere.
From 1994 to 2014, there were 1,011 significant gas transmission line incidents in the U.S. that caused 40 deaths, 189 injuries and $1.3 billion in property damage, according to federal data. In New Jersey during that period, there were 10 incidents and $26 million in property damage.
Kornick emphasizes that "PennEast will monitor the PennEast pipeline on an ongoing basis in accordance with all regulations. In addition to walking the pipeline, PennEast will monitor it 24/7 through its gas control center."
But Gilbert counters, "Half of all pipeline accidents occur on private property, and 93% of pipeline accidents result from "natural force damage" that is outside of the pipeline companies' control. PennEast is proposing to build the pipeline to lower Class 2 safety standards, rather than New Jersey's more protective Class 4 standards. They can get away with this since interstate pipelines are guided by federal, not state standards. If they truly valued the safety of New Jersey's communities, they would adopt the higher standards."
How Clean is Natural Gas?
In addition to potential accidents, pipelines are not as clean an energy source as advertised. "Burning natural gas is cleaner than oil or gasoline, and it emits half as much carbon dioxide, less than one-third the nitrogen oxides, and 1 percent as much sulfur oxides as coal combustion," writes Robert Howarth, the David R. Atkinson Professor of Ecology and Environmental Biology at Cornell University. "But not all shale gas (like that from the Marcellus Shale, the source of PennEast's gas) makes it to the fuel tank or power plant. The methane that escapes during the drilling process, and later as the fuel is shipped via pipelines is a significant greenhouse gas. While natural gas companies tout the reduction in carbon dioxide emissions through "clean, affordable, natural gas,"...pound for pound, the impact of methane on climate change is more than 25 times greater than carbon dioxide over a 100-year period, and methane losses could be as high as 8 percent."
"But there's another factor to consider, says Howarth. "Fracking is an energy-intensive business relying on diesel engines and generators running around the clock to power rigs, and heavy trucks making hundreds of trips to drill sites before a well is completed. Given the projections of shale gas production, the trend of increasing greenhouse gas emissions from fossil fuels is predicted to continue through 2040."
A Township Converts to Solar Power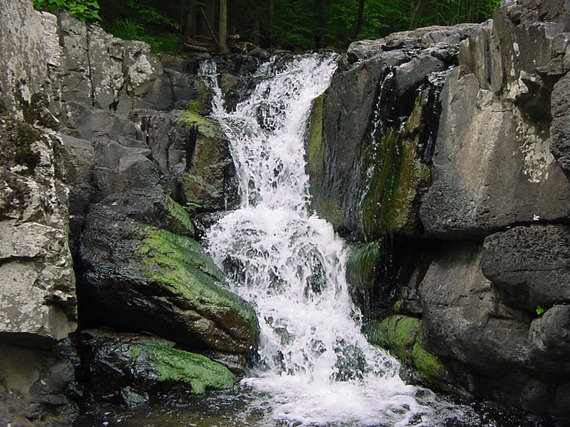 Lockatong Gorge, Kingwood Tonwship, New Jersey
In Kingwood Township in Hunterdon County, New Jersey, the PennEast pipeline is proposed to run through the township's solar field. Enraged, the township registered a letter with the Federal Energy Regulatory Commission outlining the success of photovoltaic power. "Current solar power within Kingwood Township's borders," they wrote, "provides 197% of the township's annual energy use...this doesn't even count residential solar panels, of which there are many... in contrast to (PennEast's) land-intensive examples, the existing solar product in Kingwood provides nearly twice the power it needs on roughly 80 acres compared to PennEast's expectation (during and after the construction process) of directly impacting 128.9 acres."
With a dozen more pipelines slated to run through the 5th smallest state in the nation, are we, many wonder, the home of the beloved Jersey tomato and the domesticated blueberry, about to lose our reputation as the Garden State and become the Pipeline State?
Alan Midkiff, wiry, full of enthusiasm, and a born educator, can trace his roots back to Virginia-based farmers during the time of the American Revolution. "My dad was a construction superintendent," he says. "So, my immediate ancestors were not active farmers, although we all worked on farms."
While he has a large and ambitious garden, Midkiff says, "My goal is and has been to increase student interest in the sciences, math and astronomy and raise public awareness of the natural world and the environmental sciences."
There are two centerpieces of the 31-acre farm where Midkiff lives with his extended family and two affectionate rescue bobcats, the state-of-the-art telescope of course, and his solar panels, set up, as one visitor described it, like an outdoor sculpture.
In 1993, Midkiff and his brother were "looking to meet our life-style requirements for heat and electricity by using the resources available to us on the property," he says. "We installed a geothermal system, but you need electricity to run the pumps for the system. And," he adds, "in our neck of the woods, we were having a number of power outages. I was already interested in solar, but it took me another five years to find a solar vendor."
In 1998, Midkiff's brother found Penobscot Solar, a vendor in Maine. "It was strange," says Midkiff. "I called around locally, and no one wanted to do anything. You didn't have the infrastructure here that you have now. So, Penobscot built it for us and shipped everything. My father and I installed the panels."
As Midkiff willingly admits, "I'm an engineer by training, so I set up my own system. At the time, the panels and set-up were prohibitively expensive, but I wanted to take on the risk. We turned on the first panels in May of 1999. Once everything was up and running, the state was about to implement their rebate program, so they sent a representative from the power company to see what we'd done. The engineer from the power company and the representative from the state were very much pro-renewable energy and said that they had never seen anything like it. So this system became the prototype they used to create the solar rebate program, which began in 2001."
Midkiff now has two systems - a production base that sells onto the grid and a storage base that relies on batteries. While New Jersey no longer has a rebate program for solar installation, it offers Solar Renewable Energy Certificates (SRECs), which pays Midkiff and all solar system owners 1 SREC at market value for every 1,000 kilowatt-hours (kWh) of electricity produced. SRECs sold on the SREC Tracking System provide homeowners revenue for the first 15 years of their system's life. "I've done well with SRECs," says Midkiff.
According to the investment site, the Motley Fool, "There's a megatrend in renewable energy as global energy consumption grows. In 2014, about 58% of net additions to global power capacity were renewables, and investments in green energy around the world were $270 billion. In addition, the Solar Foundation, adds, "in 2014, New Jersey solar companies employed 7,200 people, ranking the state fifth in the country for solar employment."
"PennEast is not only short-sited in their plans to build an unneeded pipeline to prop up the shale gas industry, it's also facing enormous opposition from communities who believe in renewable energy. In addition, PennEast is under intense scrutiny by regulatory agencies," says Gilbert. "The problems they've encountered thus far indicate that PennEast could be the next pipeline to go down."
I thought about all of this as I drove home from Midkiff's farm. The future is not in pipelines transporting fracked gas. I hadn't even told Midkiff that PennEast inspired another leap into the future for my family. In March, we joined nearly 400,000 drivers who put $1,000 down to buy a Tesla Model 3 electric car. In the near future, not only will our solar system charge our cell phone, it will also charge our car.
Related
Popular in the Community