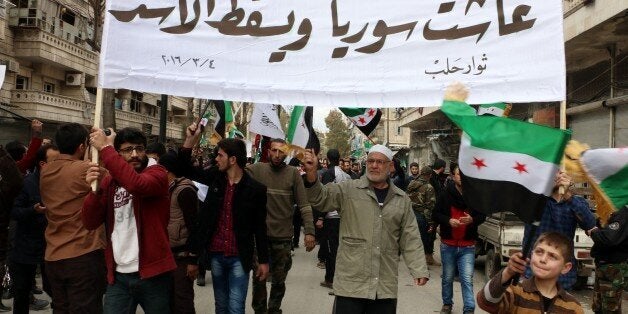 I have heard more times than I can count, especially since the start of the Vienna peace process on Syria last November, that Syrians are simply "tired of war" and that it is time to give up on the Syrian Revolution's core demand for the departure of the Assad dictatorship. Over the past few weeks in particular, ill-informed but highly ideological commentators have argued that residents of opposition areas in Syria now support the regime, that the entire Syrian armed opposition are extremist mercenaries, and that, in fact, the entire Syrian revolt against Bashar al-Assad was planned by the CIA.
These viewpoints have been stock Assad regime arguments since pro-democracy protests first hit the streets of Syria in March 2011. I was surprised to hear them expressed so openly in the United States in recent months. But these opinions are wrong, and the protests that have broken out across Syria over the past week have proven them so.
The Vienna process represents a concerted effort by the United States, the United Nations, and Assad regime allies to ignore and negate this history. While the Syrian people have been clear in their calls for Assad's departure, UN envoy Steffan de Mistura has tried to muddy the waters by claiming that Syrians are too exhausted and confused by war to say more than "khalas, it's enough." The Geneva Communique, a UN document agreed upon by the U.S. and Russia, calls clearly for a political transition ending in "free and fair multi-party elections." But first Russia, and then the United States have used the Vienna process to adopt the new formula of a "unity government" that does not require Assad's departure and may not end in the democracy that Syrians seek.
The Vienna process has led to a very partial, tenuous and temporary reduction in hostilities that is to be celebrated despite its profound flaws. Russia is now both a monitor of the ceasefire and the main killer of Syrian civilians, which represents a profound flaw in the framework. The regime has continued to attack the key front lines of Harbenafsa and Kabani with Russian help, which represents a flaw in implementation. But by far the biggest issue with the Vienna process is attempts by the U.S., the UN, and Russia to renege on the Geneva Communique and its pledge of multi-party elections.
Protesters in Syria have recently taken advantage of the reduced violence to return to the streets and reaffirm their demands for the departure of Bashar al-Assad and for full democracy. The protests evoked the initial scenes of the Syrian Revolution in March 2011. They represent a refutation of the Assad regime's brutality, the calls for a theocratic state by ISIS and other extremists, and the Vienna diplomatic process that has all but ignored their demands.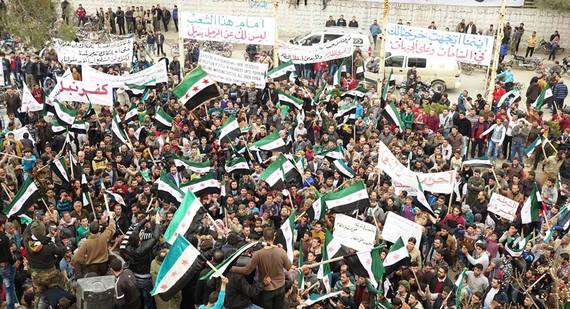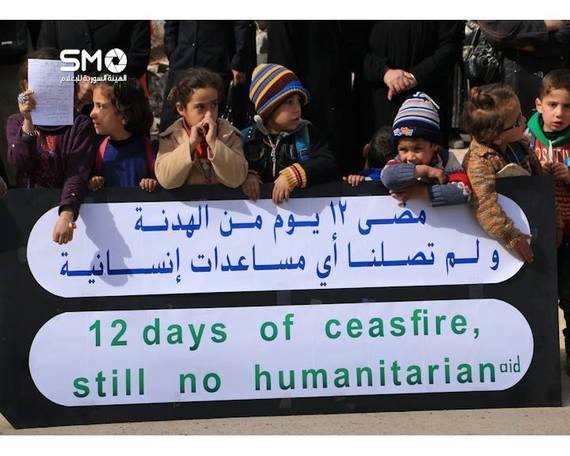 In northern Syria, which many American officials now see as an extremist stronghold beyond repair, protests in one town saw pro-democracy rebel commanders appear before massive crowds alongside the famous civil society activist Hadi Abdullah. Abdullah, who was kidnapped by Syrian Al-Qaeda affiliate Jabhat Nusra last month, led protesters in pro-democracy chants and in a pledge to rededicate themselves to the Syrian Revolution. Another town near the Turkish border, Azaz, held large protests singing for freedom and demanding the fall of the Assad regime despite being under a three-way attack by the regime, ISIS, and Kurdish PYD forces.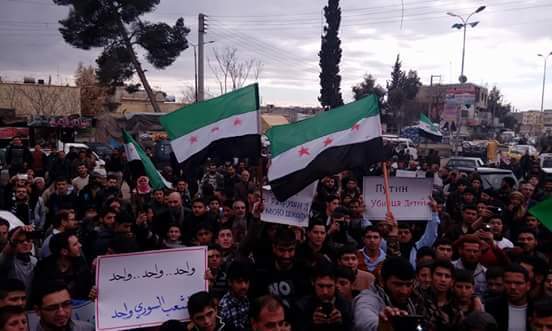 Jabhat Nusra has gained traction in some opposition areas of Syria due to its fighting prowess. While the U.S. and other natural supporters of pro-democracy rebels did not act to defend Syrians from slaughter, hardline funders have provided Nusra with ample weapons and funding to fight the Assad regime. Many analysts have wrongly interpreted Nusra's growth as a sign that Syrians have abandoned their demands for democracy and that the Syrian conflict is now a sectarian war. The recent protests in Syria have corrected this notion as well, reaffirming that even after five long years of war, Syrians still desire democracy and do not embrace Nusra's vision for Syria.
Nusra is not happy with this new development. On Monday, Nusra forces appeared at a pro-democracy protest in the northern city of Idlib and abruptly forced the protest to end. Activists were detained, cameras and other recording equipment were smashed, and the three-starred revolutionary flags that the protesters carried were ripped in two. While the action was ostensibly carried out by Jaish al-Fatah, an anti-Assad fighting coalition that includes Nusra, other Jaish al-Fatah member groups have condemned the incident.
The Assad regime also stands to suffer from the ongoing wave of demonstrations, which show that civil society in Syria is still alive and well and that Syrian civil society activists are eager to play a role in governing their country. One reason the Assad regime initiated attacks on civilian areas, and released numerous extremists from its jails early in the Revolution, was to prevent the emergence of a viable, inclusive and effective rival government in Syria.
Long before ISIS controlled a single Syrian town, Assad tried to rally both global and domestic support by claiming that it was either him or the terrorists. If Syrian civil society is able to move back to the fore, Assad's worst nightmare -- a viable rival government -- could soon emerge, further undermining regime legitimacy and increasing dissent in Syria's already-jumpy minority communities that form the Assad regime backbone. International diplomats who try to build a "peace" settlement around the continuation of Assad's brutal reign might then find that they have built a castle out of air.
The ongoing protests are not a panacea; Russia and Assad could resume bombardments on civilians tomorrow, probably without any real sanctions from the U.S., the UN, and the international community, and at that point, protesters would be forced to leave the streets again. Still, even if the protests stopped now, they would already have made a notable impact. Syrians have spoken for themselves again. International diplomats, brutal dictators, and extremist militants will find abrogating the voices of Syrians a far more difficult task than it was two weeks ago.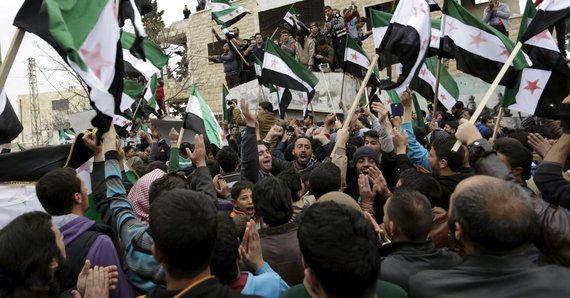 Calling all HuffPost superfans!
Sign up for membership to become a founding member and help shape HuffPost's next chapter