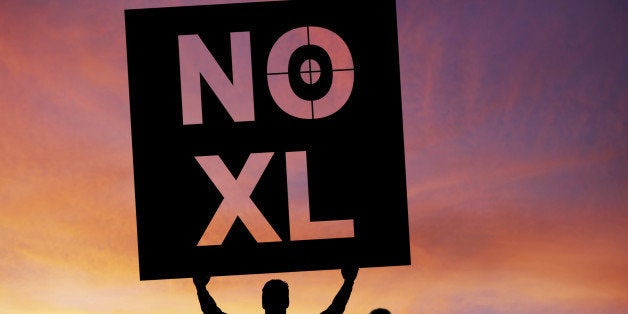 Four years ago, on a hot August night in 2011, a few dozen people gathered in a church in Washington, D.C preparing to get arrested.
It was the eve of Tar Sands Action, two weeks of sit-ins that we'd planned to take place at the White House to help elevate a relatively obscure infrastructure project, the Keystone XL pipeline, as an iconic struggle in the fight against climate change.
We'd come relatively late to the fight against Keystone XL. For years, indigenous peoples at the source of the tar sands in Canada and farmers and ranchers along the pipeline route had been fighting against TransCanada, the company attempting to build the project. But while resistance was growing in the Heartland and up north, few people in DC had ever heard about it.
I remember making pitch calls that night in August, trying to convince press to come out and cover the sit-ins, and consistently coming up short. Journalists either shrugged their shoulders and said, "Keystone? Never heard of it." Energy reporters who knew about the project dismissed the protests, "The pipeline is a done deal."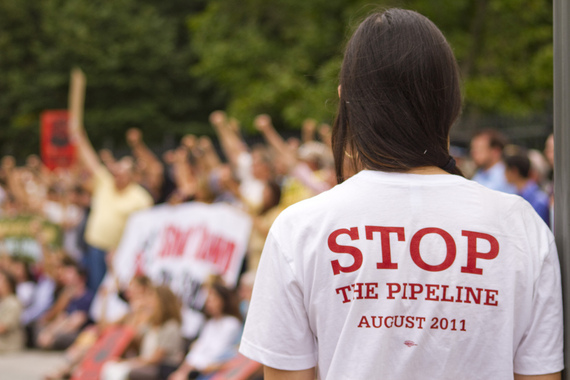 And yet looking into the eyes of the people who were gathered in the church that night, I had the feeling that this done deal was about to become spectacularly undone. It's not that we were confident. In fact, most people there were terrified. But there was a sense of quiet determination amongst the participants, a feeling that addressing the climate crisis required something more than just emails and petition signatures: it was going to take putting our bodies on the line. I remember one woman standing up during the nonviolent direct action training that night and admitting, "I never thought I'd be the type of person who did anything like this, but I feel like something has to be done."
And so we did something. Over the next two weeks, 1,253 people took part in those sit-ins and were taken away from the White House fence in handcuffs. It was the start of a movement that would continue to grow and intensify over the next four years. In November 2011, we came back to the White House with 15,000 people to surround the entire property. In February 2013, 50,000 people came to the Forward on Climate Rally to urge President Obama to reject the pipeline. 18 months later, more than 400,000 people marched in the streets of New York City as part of the People's Climate March to demand real climate action. Time after time, people were willing to set aside their day-to-day lives in order to engage in a fight for the future.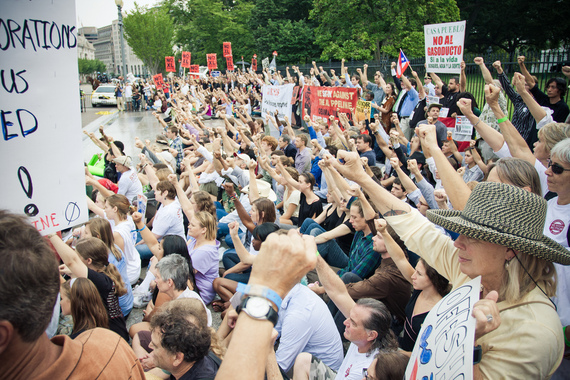 And today, that work paid off. Around noon, the president announced that he would reject the Keystone XL pipeline because of its impact on the climate. "America is now a global leader when it comes to taking serious action to fight climate change," he said. "And frankly, approving this project would have undercut that global leadership. And that's the biggest risk we face--not acting."
Not acting. That's the biggest risk that I think we face as citizens, as well. So much in our society tells us that we're small, that we're insignificant, that there's no way ordinary people can make a change. The media ignores the impact of social movements. The pundits dismiss us as 'radicals' or, worse, 'politically naive.' And we write our own selves off, preferring to wrap ourselves in a comfortable cynicism instead of betting on hope. For years, it's not been the denial that global warming is happening that worries me most. It's the denial that we can do anything about it.
Today should stand as a counter to all that. The victory against Keystone XL isn't everything. TransCanada succeeded in building the southern leg of the pipeline, a project that community members are still fighting to this day. Other pipelines have made it through--along with fracking wells, mines, ports, and other tentacles of the fossil fuel industry. And there's no guarantee that if a Republican president is elected he or she won't go ahead and try and build Keystone XL anyway.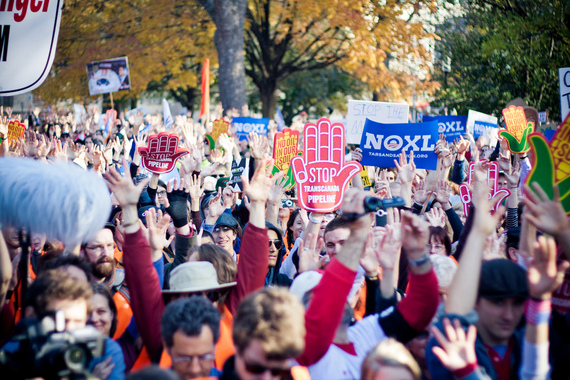 But this win is still so significant. For the climate--stopping Keystone XL will keep 800,000 barrels a day of dirty tar sands oil in the ground, preventing the equivalent emissions of 51 coal fired power plants--and for ourselves.
It wasn't just President Obama who rejected the Keystone XL pipeline. It was the people. And in doing so, we reaffirmed the belief that even in this mixed up, warming world we can still count on the power of everyday people to do extraordinary things.
Calling all HuffPost superfans!
Sign up for membership to become a founding member and help shape HuffPost's next chapter