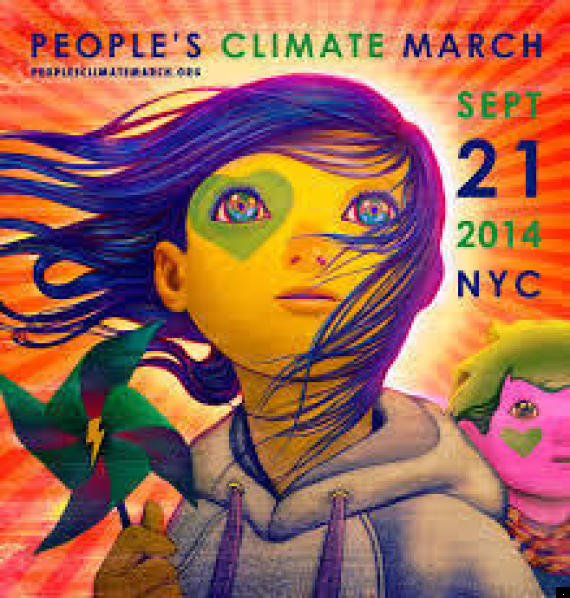 Why are people coming from far and wide for this historic march? Ronnie Citron-Fink, the Managing Editor for Moms Clean Air Force, shares her perspective on the importance of The People's Climate March.
What is The People's Climate March?
On September 21st, hundreds of thousands of people are expected to march in the streets of New York, London and eight other countries, to pressure world leaders to take action on global warming now. The People's Climate March highlights the importance of opposing climate change for the sake of clean air, water and healthy communities.
Why is this march happening now?
World leaders, including President Obama, are coming to NYC for the United Nation's summit on the climate crisis. The goal of the march is to draw attention to the climate crisis and urge leaders to find solutions to end climate change. But let's not forget, we are already seeing and feeling the effects of climate change. Meaningful action is long overdue, which is why it is so important to support the march efforts.
How many people are you expecting at the event?
The march organizers are expecting more than a hundred thousand people at the New York march. I've been involved with the environmental movement for a long time and this march has a notably different tone. Along with environmental groups -- large and small -- there are over 1,000 businesses, unions, faith groups, schools, social justice groups and parent groups all marching together. The range and diversity of people participating sends a strong message that regardless of age, race or political persuasion, everyone is affected by climate change.
What do you hope the march achieves?
I hope the march is the ultimate wake-up call for our leaders -- to let them know that our families cannot wait any longer for them to take action to end climate change. The scientists have been warning us for years that we must find alternative energy sources because fossil fuels are non-renewable, harmful to our health and damaging our environment. I recently read that many scientists are now saying this may be the last generation with the power to stop the impacts climate change.
This march gives me hope that world leaders will listen to our message and act seriously by formulating a plan for now and the future. As someone who helps lead a parent organization, Moms Clean Air Force, I want to share good news with our members. I want to be able to tell them that our politicians are listening to parents and they are committed to finding solutions for the health of our nation's children. I personally want to be able to tell my children and grandchildren that I did everything in my power to ensure that their future is healthy and just.

Why is it important for people to attend the march?
Because people get it -- our families are living with the effects of climate change. Because the world will be watching. Because as citizens it's our job to voice our opinions loud and often -- until our politicians listen. Because voting with our conscience is important, but it's not enough.
Are there events happening in other locations as well?
Yes, this is a global day of action with many events planned HERE.
Where should we go if we want more information on the march?
The parent groups are marching together, and Moms Clean Air Force would love parents to march with all of us. Sign up HERE and we'll make sure to have a tee-shirt for you!
Disclosure: I am a paid blogger for Moms Clean Air Force. I did not receive compensation for this post.
Related