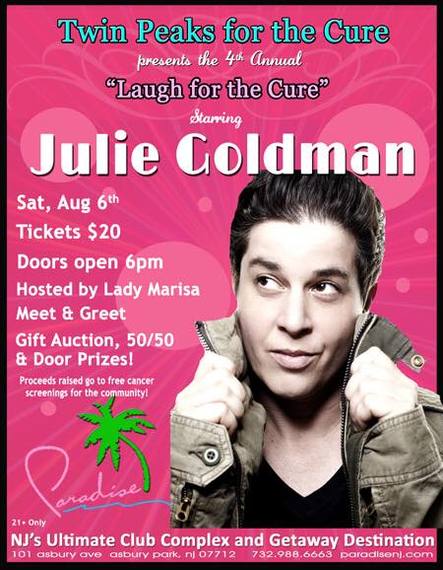 From "The People's Couch" to the "Vanderpump Rules" After Show (with co-host Brandy Howard), Julie Goldman is becoming one of the most hilarious and familiar faces on Bravo. She sat down with me about her upcoming show in Asbury Park, N.J. at Paradise, her thoughts on the presidential election, what makes comedy for her, and the craziness of working with and being an authentic "Bravo-lebrity"
Of all days to chat, we are getting to talk the day after Melania Trump decided to plagiarize a large portion of Michelle Obama's speech from several years ago.
You know, I feel bad for her, for Melania. She had thought she was going to be married to rich Donald Trump and now she's out there giving speeches and in this case, did what she was told to do.
You're coming to Asbury Park and coming back to Paradise on August 6th for "Laugh for the Cure". You consistently come to Paradise and do such great things for such great causes. It seems mind boggling that in 2017, it is almost taboo to still discuss women's healthcare still.
Yeah I honestly don't know why either. It's very odd that you would think that anything to do with anyone's heath at this point would be taboo. Why, because it's about boobs? People can't live with themselves and talk about boobs? I mean guy's stuff seems to be fine. Prostates, testicle cancer, and we can talk about dicks till the cows come home. It just feels that that's how basic it is. Why because we're talking about boobs? That is what gives life to a baby, it's stupid. Everything about women is, in such a bizarre way, over-sexualized and then asked not to be sexual. It's the kind of "your own fault you're getting raped" mentality.
With stories like what is currently going on with Kesha, the "It Can Happen To You" mantra is still quite prevalent in today's society isn't it?
There is a whole spectrum of that. I mean, asking someone why they go home with someone if things go bad is so judgey, so sex shame-y. You can't win for losing, I mean people are out trying to live and do whatever and want to hook up. Sometimes you do that and you risk, and you gamble and you lose. It's not your fault. With guys I think it's interesting, especially gay guys because you really gamble and lose. Guys are so much more sexual, and guys never say no, they would fuck a watermelon (LOL). You get into a situation where something goes bad, and it's doubly bad because I think the violence could be even more scary.
The political climate is such a hot button right now. As a comic, is it a dream right now for it to be so politically heavy?
It's a dream really. This year I have, from a personal comedy level, felt bored and have not been really inspired. Something like this happens and it really inspires you. No matter what side you're on or what you believe in, this election has fired people up across the board for whatever they feel. You can take on Trump and the Republicans, but you can take apart all of the supporters also. Trump is from Manhattan, he doesn't care about this stuff. He does not care if you're gay, he does not care if you have sex with three different guys and have an abortion, he does not care. However, he wants to be President and is a narcissist of the highest order, so he's pandering, and that's what's most disappointing to me. I mean, you may be the biggest orange asshole in the room, but you are better than this. His Vice President pick, Pence, is the worst. This election and this Republican party are almost like the ISIS of Islam, you know what I mean? It's like all the fundamentalist have taken over, and all the other Republicans are saying that this is not what they believe, but "it's my party". Well then, don't be a German in Nazi Germany. Stand up. Say something.

I also think that as a comic, there is not just the Trump factor, but the hatred of Hillary Clinton. It's very interesting, never endlessly interesting. I can't wait for the whole sexist bullshit about how she's making decisions or something like that. The complete sexism that has been revealed by this whole thing is actually the most revealing thing of all. It's so deep. There is so much hatred and aggression. I sometimes wonder, what is your problem?
Do you find that when you talk or do comedy you like a political angle or you prefer the fun and frivolous topics like "Housewives" and "RuPaul's Drag Race"?
I like a mix. I don't like to stay on one topic for too long or become too preachy and do to much of anything really. I want to talk about silly bullshit as well and I want everything to somehow connect. I always try to think how I can make the stories connect. I think the audience wants a mix too, I don't think they want to much of one thing. I like to try to move things around and bring it back to the original topic, I definitely like a tossed salad of sorts.
I try to save things like Bravo and the Housewives for things that are conversational like the podcast. For stand-up, I try to go with a more conceptual vibe. I'm not like Kathy Griffin, I'm not trying to name names or something like that with a celebrity. Unless something super hilarious happened LOL! I'm more like, I'm pissed off, I'm irritated, "I was at the pool and I hate my body", something like that.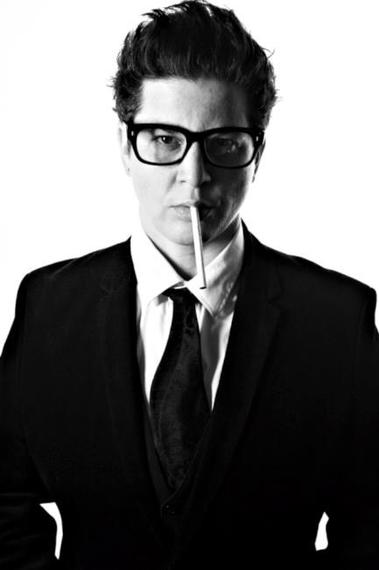 The boys on the "Watch What Crappens" podcast told a hilarious story about taking Lea Black to PUMP a few months back and she drove the whole crew! You certainly must be getting to meet some of your fellow Bravo network stars.
That is correct. You know, I've hung out with Lea a couple times since then and she's amazeballs! I wish she was back on t.v., she's fucking cool. Funny, awesome, and I've met her husband Roy and her son and they are such fun people. I wish they'd bring that show back. She's truly the way she appeared on the show. She's super liberal too, which is so cool!
Are you and Brandy Howard happy to be the breakout stars of Bravo's "The People's Couch"?
Yeah we fucking love it! You know, I was doing stand up before and she was acting, so we both wanted it to become something that could help our careers. So far it definitely has. We love it and want to keep doing "The People's Couch" but we still want to do other things to. If and when there i a leap to take, we will take it, but right now we are happy just doing that and to keep doing other things too.

You are doing the #PumpRules after show for "Vanderpump Rules" when that show is airing and you recently did a Livestream of the "Real Housewives of New Jersey" premiere at Melissa Gorga's house. It's so fantastic that you guys are such reality fans also.
That's the thing about Brandy and I, we are true fans! We watched the show with them and then interviewed she and Teresa. They had a party afterward and Dorinda Medley and her boyfriend John from the "New York" cast showed up.
I think RHONJ is going to be real "Jersey" with Jacqueline and Teresa. Meeting her she was so pretty and could not have been nicer. We met all her kids, they were all so cute and nice and such good kids. There was something about being around her family that made me feel a "protectiveness" of sorts, and her kids really had such a set of manners about them. I really liked Teresa a lot.
Seeing people like Jonny McGovern with his successful podcast and YouTube channel and Kate McKinnon on "Saturday Night Live" as the breakout star and now in the new "Ghostbusters" remake must be so surreal. Is it almost like your high school classmates who have gone on to do other things?
Of course, absolutely. It's great and everyone should be successful. Kate has blown up so fast too. We've all been doing this for so many years, and especially when you are gay and in this gay niche, it's an uphill battle all the way, and you get this show that you think is going to change your life and it ends up changing someone else's life, it's shitty. At the same time though, Kate is super talented and really funny and deserves every amount of success she has. Any bad feelings anyone would feel are more about yourself than anything else.

It's been such a rough year, and 2016 needs to really be a wrap in my opinion. Coming from a television perspective as an out gay woman, what does "pride" mean to you?
You know it's changed so much. It's like, fifteen or twenty years ago, you couldn't wait to get to Pride. Going to the parade, the club, "no one can hold us back" kind of thing. I think now, being older and going through a bunch of shit, it's changed. I also think that in a way, "trans is the new gay". I think people are thinking now that coming out is not as important, or you don't feel the pride that we used to since the whole movement forward. Like the events at Pulse in Orlando, it's almost like it brought attention and put the gays and the issues "back on the map" in a weird way. The trans movement has caused a confusion for what's gender, what is sexuality, and what they are really proud of. I am proud of being a lesbian woman who has gone through these years and come up through the people who came before me. It's like a historical pride about being who I fucking am, without having to expect the world to stop for me.
REAL LIFE. REAL NEWS. REAL VOICES.
Help us tell more of the stories that matter from voices that too often remain unheard.