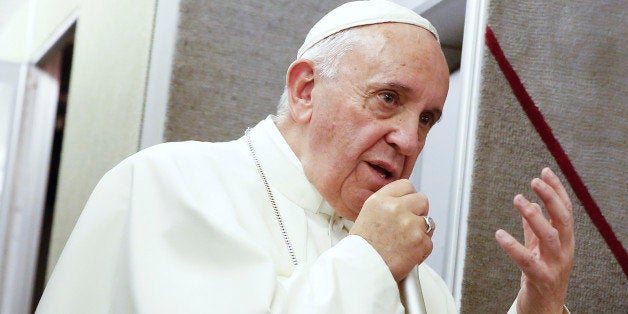 I did my doctoral work in theology at the University of Toronto. The university encompasses the Toronto School of Theology (TST) which is comprised of 7 denominational seminaries where students have the luxury of taking courses from any of the 7 schools. I am a Presbyterian and have been all my life. But during my doctoral studies, I took many courses at Regis College, the Jesuit faculty of Theology. There I enjoyed learning from some of the best scholars, priests and professors in the Jesuit tradition; there I was drawn to the Jesuit tradition.
I continue to be drawn to the Jesuit tradition, particularly as exemplified by Pope Francis. An ordained Presbyterian (U.S.A.) minister I have growing interest in Pope Francis. And I am not alone. Pope Francis is beloved by a growing number of people around the world. He draws crowds wherever he travels as if he is a rock star. He even made the cover of the of the Rolling Stones magazine (January 2014).
He has become the People's Pope.
He has broken from traditions and lives his faith in ways that no other Popes have done in recent memory. Pope Francis ruffled some feathers when he washed the feet of two women in the juvenile detention center.
This breaks tradition as only men's feet are washed. Jesus only washed men's feet, and this was the part of the apostolic tradition. When he arrived in the U.S., he drove in a Fiat that was dwarfed by the Presidential limousines.
While many of us are annoyed when children make noise during church services, Pope Francis welcomes them. There was the time when a little boy went up to the Pope as he delivered an address on Family Day at the Vatican. Some cardinals tried to get the boy away, but the Pope welcomed him. The little boy just hugged the Pope's leg and even sat on the Pope's chair. In his recent visit to the U.S, the Pope was 20 minutes late for a White House event as he took many selfies with school children.
Pope Francis is able to attract the masses as they thirst for hope and hunger for love. As we struggle with the dangers of climate change, social inequality, racial division, and xenophobia, the Pope does not turn a blind eye to these issues, he challenges us to face them and to make changes and act to work for justice.
The Pope welcomes everyone: people who are disfigured or sick, people who are young and old. Pope Francis is able to express joy and radiate compassion and empathy for others. This may be due to his experiences of pain and weariness. He rose quickly within the ranks of the Society of Jesus and this caused tensions which caused enough Jesuits to despise his leadership. As a result, when he was just 50 years old, his Jesuit community stripped him of all responsibility and he was exiled to Cordoba, Argentina. That experience was humiliating and also humbling. It eventually made him more merciful and kind as he experienced what is sometimes called a "dark night of the soul."
Because he knows deep pain and despair too well, Pope Francis is able to emulate and embody the compassion and love that Jesus showed. We are all broken and in need of compassion, understanding and love. This draws thousands to listen to and meet the Pope as he stands in solidarity with those who suffer and are in need of hope, mercy and grace.
Pope Francis, following the example of Jesus invites us to pay careful attention to those we meet. He calls us to look past surface appearances, past the wounds and scars and hurts of living we all bear and to see each person we meet as a precious child of God. And then, the Pope shows us, we can treat each other accordingly with dignity, grace, and love.
Speaking to the United States Congress on September 24, 2015, Pope Francis cited a teaching of Jesus, a teaching that resonates in most of the world's religions. He said "Let us remember the Golden Rule: 'Do unto others as you would have them do unto you' (Mt 7:12). This Rule points us in a clear direction. Let us treat others with the same passion and compassion with which we want to be treated. Let us seek for others the same possibilities which we seek for ourselves. Let us help others to grow, as we would like to be helped ourselves."
Through his words to Congress, Pope Francis challenges the world, challenges us, to consider how we live and relate to each other. It is a challenge he accepts for himself and his own life.
When Pope Francis spoke in Cuba (September 20, 2015), it started to rain. They brought the papal umbrella to cover him up but he refused it as there were so many in the crowd without an umbrella. Pope Francis is the People's Pope, because he stands in solidarity with the people, "even in the rain."
Related
Popular in the Community