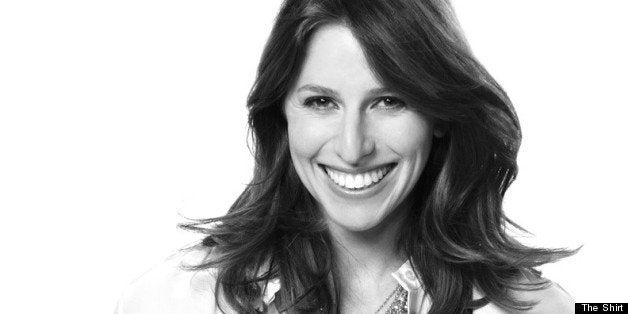 Over the past 6 months, I have seriously cleaned out my closet. I have taken pieces to the tailor, given clothes to Goodwill, sent really cute items to my similarly-sized BFFs when I decided they just weren't for me anymore. Which means that now, I have a very specific list of what I am missing, what I need to replace, what I need to shop for.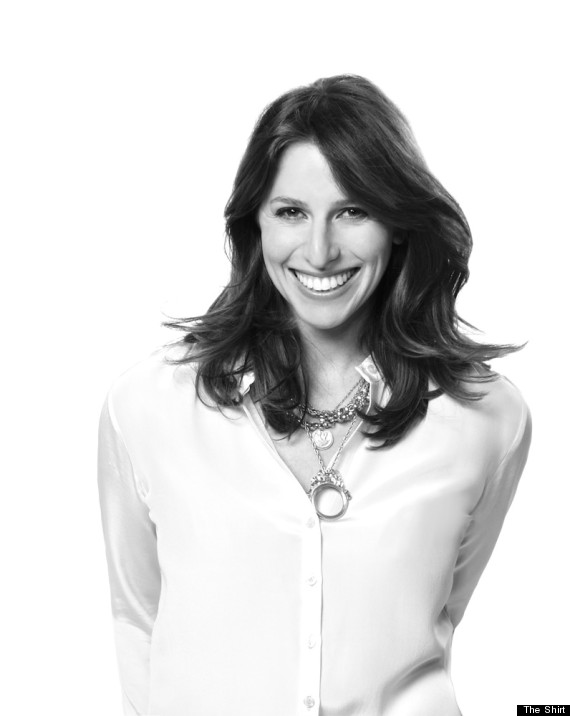 Credit: The Shirt.
Item #1 on this list -- one (maybe three?) button down shirts. Believe it or not, there is not a single button down shirt in my closet right now. Granted I don't work in corporate Washington, so this is not part of my daily uniform, still, that doesn't seem right. I started day dreaming about the perfect, classic, somewhat sexy white shirt. Then I started thinking about all the questions that come with purchasing a new button-down... and turned to my fellow Washingtonian Rochelle Behrens, from The Shirt, for some answers.
Rochelle set out in 2011 to fix a common problem for women in the corporate world: gaping shirts; a problem she herself faced. "I would always need to safety-pin my shirt at the button," she says. "If the shirt fit across my bust, it was too large everywhere else, and vice versa. I got so fed up, I could think of nothing else but how to solve that problem." And so she did. In 2011, Oprah called her shirt the "must have fashion item of the year." Her company, The Shirt by Rochelle Behrens, was thus born. Today, her shirts, having since been featured in People, In Style, Glamour Magazine, Marie-Claire and more, are available online and at select Bloomingdales locations.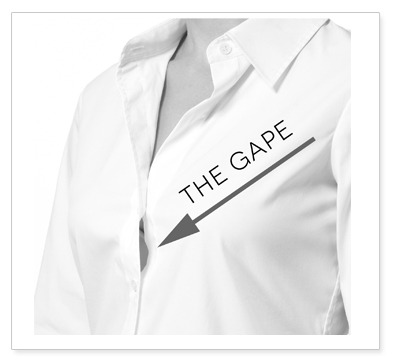 Credit: The Shirt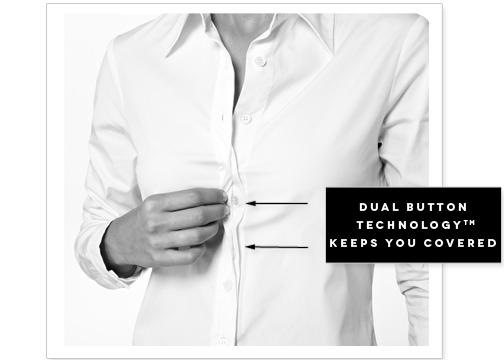 Credit: The Shirt
Here are her answers to my most pressing questions about button-down shirts.

Ada Polla: Of course, I had to start by asking what to do if shirts "gape" at the bust?
Rochelle Behrens: That's an easy answer, try The Shirt. It will solve your problem and save you the frustration of pinning or taping your shirt so that it fits. Before I launched my shirt, the typical response was to size up, or to wear a tank top under your shirt and open up the top buttons.
AP: How do you keep a white shirt white?
RB: I love talking about the classic white shirt... and I have to admit that the reality is that it is really hard to keep a white shirt white. They need to be replaced often. I would say a white shirt has a lifespan of a year to 18 months, no longer.
Even though dry cleaning is expensive, I do recommend dry cleaning white shirts. This will make the shirt retain its color and shape and crispness as long as possible. Also, I do not believe you need to clean your shirt after every wear; you should be able to get at least two wears before you need to wash or dry clean it.
Remember to avoid spraying perfume on a white shirt. Don't rub your makeup on it. Be careful with deodorant application, as that is what causes yellowing in the armpits.
Bleach is a wonderful thing... if it's a sturdy cotton shirt, you can use bleach as maintenance. Otherwise, with synthetics and stretch and higher-end cotton, be careful with bleach.
AP: How can I make sure my shirt stays tucked in my pants or skirts?
RB: This is tough, and really depends on your body type: if you are long-waisted, this will be a more significant concern than if you are short-waisted. Look for shirts with a long tail, which helps them stay tucked in. Specifically, by long tail, I mean the tail should cover your bottom, and hit right around the bottom of your bottom. But don't size up, don't buy a shirt that has too much extra fabric, otherwise you won't be able to fit all of that fabric in to your pants or skirt. Also, while there should always be a scoop on the side, make sure that the scooped area is also on the side. If it scoops up too high it will pull out of your pants of skirt.
AP: Do you recommend different cuts of shirts for different body types and shapes?
RB: It is less about cuts than about how you wear it. If you are really trim or athletic, a very tightly tucked in shirt will be very chic. If you are more voluptuous, a slightly blousy look will be more flattering. Just remember that the natural inclination of the shirt during the day will be to come out a bit, so don't start too blousy. If you are short-waisted, tying the shirt in a knot is very current and summery, and if done in a sophisticated way, without showing midriff, can be very office appropriate. Finally, long-waisted people can wear shirts (in particular slim-fits) untucked, for a breezy look.
AP: What are your words of wisdom about sleeve length?
RB: I usually recommend that if you are going to wear a shirt with the cuffs buttoned all the way down, the cuffs should hit right below the wrist. However, there are a lot of modifications possible.
To give you a really trim, slender look, hitting just at the wrist can also be perfect. My personal favorite way of wearing shirts (which I wear every day!) is to rather have the sleeves buttoned and pushed up, or unbuttoned and rolled up. The sexiest length is to mid-forearm, you don't want to push the sleeve up much more, because otherwise it looks too casual.
In terms of short sleeves, what is important is to make sure the sleeve comes down to the mid upper arm, meaning closer to the elbow than to the shoulder. This creates a nice casing for the upper arm, which is often not a favorite body part... And make sure the fit is perfect, because too tight is uncomfortable.
If you want to go sleeveless, which is kind of retro, but having a resurgence, make sure the arm holes are cut quite close to the armpit, so that your bra is not exposed. Also make sure that the shoulder part is not too wide so as to hide your shoulders, but wide enough so that, again, your bra strap is not showing.
In general, regardless of sleeve length, the fit in shoulders is the key. Pay attention to where the shoulder seams hit -- they should be squarely on your shoulders, not above or below. And just say no to shoulder pads.
AP: Is there ever an occasion when a button-down shirt is not appropriate?
RB: The wonderful thing about shirts is how versatile they are. Shirts are inherently appropriate, as long as they fit. You can wear a long one as a tunic to the beach. You can wear a tailored one tucked into pants to the office. You can wear them with jeans. You can ever wear one to a black tie event! Think of Carolina Herrera, with her princely white shirts, pearls, and a long ball skirt! Maybe if you are the mother of the bride, a button-down shirt is not the best look...
AP: How would you accessorize a shirt?
RB: I love necklaces with shirts! There are really two ways of wearing necklaces with button down shirts. For fall and winter, I love to button up my shirt all the way to the collar and to wear a very editorial, big statement necklace under the collar. The length should be right at the clavicle. I call this "making the collar the statement."
Alternately, unbutton your shirt low and to wear long necklaces, which dangle over the open neckline, and should hit at the top of your bust. If the necklace is too long, they dangle off your bust and then become awkward looking.
AP: What are 3 shirts every woman should have?
RB: With these three items you could build an entire wardrobe:
1.A white cotton long sleeve
2.A black cotton long sleeve
3.A cream colored silk long sleeve.
Related