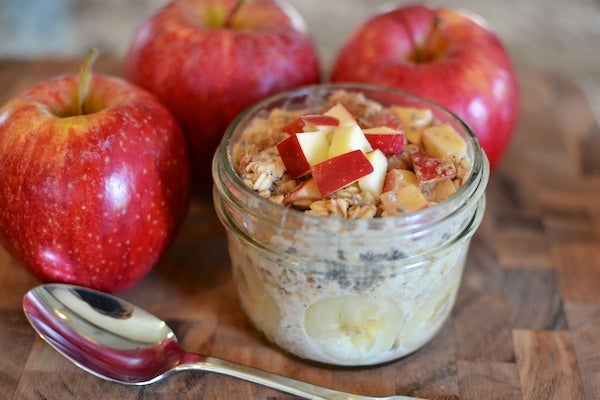 If you haven't tried overnight oats yet, then it's time to hop on the bandwagon.
The best part about this whole food breakfast is that all of the work is done the night before, so all you have to do is enjoy it the next morning for breakfast.
Apples are full of vitamins, phytonutrients, and fiber. There are many of varieties of apples available which allows you to customize any dish that you use them in. Choose a pink lady apple if you like a little tang, or a gala if you like balanced sweetness. Just grab your favorite variety and whip up some Apple Pie Overnight Oats — you won't regret it. If apples aren't in-season you can substitute any fresh or frozen fruit that you love.
In this recipe, the combination of apples, cinnamon, vanilla and maple is simply divine. This healthful breakfast is gluten-free, dairy-free, full of fiber, and absolutely delicious.
Even if you're not an oatmeal fan give overnight oats a try. I've never cared for hot oatmeal so I avoided overnight oats until I was at a business breakfast and it was the only thing available. I was so glad I tried it; the texture of soaked and chilled oats is much more appealing than I had expected.
Oats are gluten-free by nature but are often stored in close proximity to gluten-containing grains. If you have a severe gluten allergy or sensitivity look for oats specifically labeled gluten-free.
Apples are on the Environmental Working Groups "Dirty Dozen," meaning that they tend to be sprayed with high levels of pesticides, so choose organic if you can. Also, choose organic oats if you can — they tend to be a really great price in the bulk bins of your natural grocery store.
The recipe below makes two servings and I usually double it to prepare four servings at a time. You can line the jars up assembly-line style and make four days worth of breakfasts in one fell swoop. I even take a jar of overnight oats on the plane with me when I travel sometimes for a healthy lunch; if they are fully soaked (no liquid) you can take it though security.
Healthy Apple Pie Overnight Oats Recipe
Prep time: less than 10 minutes Total time: 6–12 hours to soak
1 banana, sliced
1/2 of an apple, diced
1–2 tablespoons of unsweetened almond butter
2 teaspoons chia seeds
1 cup of whole rolled oats (not instant)
1 cup of unsweetened almond milk (or any unsweetened nut milk)
1 teaspoon organic maple syrup (100% real maple syrup), or raw honey
1/2 teaspoon cinnamon (more or less to taste)
1/4 teaspoon high-quality vanilla extract
You'll also need a one wide-mouth pint-sized mason jar or similar glass container with a secure fitting lid. Or, split the two servings between two half-pint mason jars for single serve oats (as pictured here).
In a separate container, mix your nut milk, natural sweetener, cinnamon and vanilla extract. Set aside.
In your mason jar, layer the ingredients as follows:
4–5 slices of banana, I like to press them around the bottom edges
sprinkle of diced apple
2–3 dollops of almond butter
1/2 cup oats
1 teaspoon of chia seeds
sprinkle of diced apple
2–3 dollops of almond butter
(if using a full pint jar, repeat to create another layer)
Leave a slight gap at the top after the last layer for room for the nut milk and soaking.
Pour your nut milk mixture over the oats leaving a slight gap at the top to allow your oats to expand as they soak. Stick a knife or fork to the bottom of the jar a few times to make sure the milk soaks all the way through. Cover tightly and refrigerate overnight, or at least up to 6 hours. Will keep up to four days in your refrigerator.
Enjoy cold or warm through in a saucepan on the stove if you prefer. Overnight oats will keep up to three days in the refrigerator, so feel free to make as many servings as you need a few days in advance.
If you like this post, you can follow me on Instagram for more healthy recipes and wellness inspirations.
Calling all HuffPost superfans!
Sign up for membership to become a founding member and help shape HuffPost's next chapter
This post was published on the now-closed HuffPost Contributor platform. Contributors control their own work and posted freely to our site. If you need to flag this entry as abusive,
send us an email
.