In 1988, a provocative retrospective of Robert Mapplethorpe's work entitled "The Perfect Moment" opened in Philadelphia. Known for refined portrayals of deviant physical experiences in his photography, Mapplethorpe introduced a new vision of beauty to the world. When I recently visited the studio of Tanya Batura, she told me about seeing the exhibition as a teenager and how the aptly titled show was a significant moment for her.
Now in talking about her own work, Batura describes her desire to cultivate a moment for the viewer. You can see where her affinity with Mapplethorpe comes through in her elegantly pristine sculptures with allusions to the abnormalities and pathologies of the human body. Balancing the macabre and absurd with delicacy, her work sucks you into the pleasures of aberration, making a perfectly deviant moment.
Virginia Broersma: What are you working on right now?
Tanya Batura: I'm working on a variety of things, as you can see. The biggest thing in here right now is a series of photographs. I'm also working on multiple heads that are independent of the photographs. I also have these smaller components -- parts that are somehow going to be made into objects that will be photographed -- so they won't be objects that are immediately recognizable as my current body of work. They may be inanimate things that then come together to create a feeling, or a strange moment. I think these works are worlds apart, but I don't see a problem with that because I'm just playing around with some new ideas.
One of the new photographs is of a ceramic object you created but is not a head shape. Is this the first time in a while (or maybe ever) that you've veered away from the head?
Yes, everything has been pretty much head related for 13 or 14 years. Before that I worked with the figure, cutting that up into sections. There was a brief portion of time where I worked in some other materials, but they were all leading back to interacting with the body, or referencing the body. So yes, this is very different for me.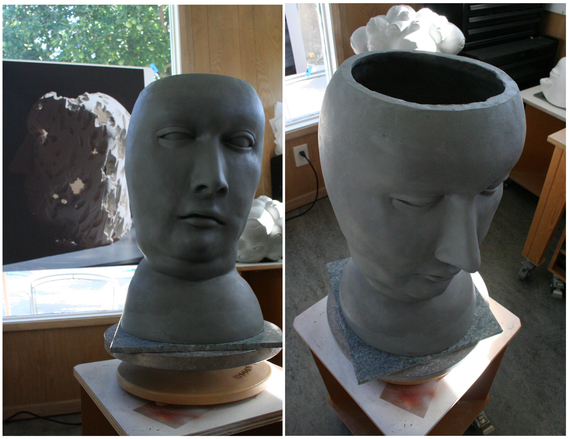 Have you been able to work with the head for such a long period of time because it continues to be a rich subject matter to delve into?
Yes, I think I've had longevity with that as a subject for myself because ultimately I don't see myself as a figurative artist, strangely enough. I look at things that interest me and take that in and create an internal vocabulary. I feel like a lot of these pieces are about feeling and projecting emotions -- or moments -- and really allowing people to interact with them and to have their own experiences with the piece. Ultimately that's what my work is about.
It's interesting that you talk about emotions and the viewer's projection; to me the heads seem somewhat stoic, or dead or...not completely lifeless but maybe anesthetized, and the emotional quality perhaps comes from how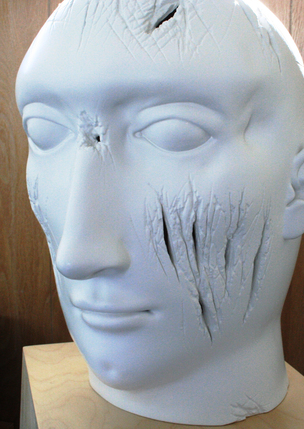 you handle either the surface, or the gesture of the whole form. But when it comes to the expression or the face, they're almost docile in some way.
There's definitely no anger, or anything like that. There is some violence occurring in the most current work you're looking at, but it's not the piece being violent -- it's violence being enacted upon it in the form of deconstruction. These three pieces that you're seeing -- the newest ones -- each piece is like a different method or tool of destruction that I've used on it. I've thought about it as a parallel to drawing and mark making. There is a bit of violence there with that. In general, people say there is a note of underlying violence in my work because the imagery I tend to look at or have looked at in the past -- lifeless bodies in the form of memorial photography, or....
I actually collected a list of source material that a google search on your work comes up with -
Oh this should be interesting!
BDSM, serial killers, the occult -- seances and ectoplasm, human deformity, dental surgery, classical sculpture, fashion, close-ups and head shots of plastic surgery, pornography, burn trauma, facial prosthesis, strangulation, (I came up with that one)...
...and then I was also thinking about death portraits of the 18th and 19th century.
Yes, the memorial photography. That was huge for me.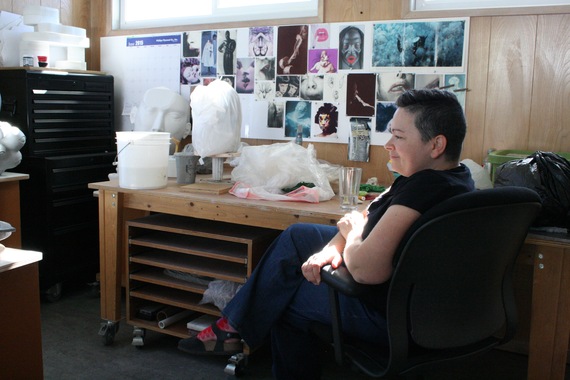 I found inspiration at the UCLA medical library while in graduate school; I didn't even know how to approach what I was looking for, so I just starting walking down the aisles and I'd spend hours and days in this library just pulling books out from the shelf. I pulled out a book on plastic surgery and it's the only book I've ever found that actually had pictures of people under anesthesia. Those pictures essentially inspired the body of work that I am most recognized for as well as informing my current work.
A lot of your heads exist in a moment right before or after some violence has been done, even if it's surgical and has some level of sanction. You talked about violence, but do you think there is any victimization in the work?
No, never. I met with someone recently and she asked me after we'd been talking for a couple hours, "so what really creates these pieces, where do they come from?" And I was like, are you asking me if I'm abused? I have been asked that on occasion after doing an artist's talk.
Basically, when I was around 15 I was exposed to some really unusual imagery that I think probably shaped my view of what I find interesting and beautiful. An older sister took me to see the controversial Mapplethorpe exhibit, which was rated 18 or over. I think he was hugely influential on what I find beautiful and acceptable, and there's a lot of difficult subject matter in some of his work, but extreme beauty is also a main part of his work. Even the most challenging things that he did were exceptionally lit and the photographs are pristine.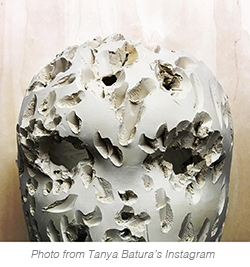 That same sister also took me to the Mutter Museum in Philadelphia, which is a medical museum. They have historical casts of the original Siamese twins: Ang and Chang, they have casts of skin diseases...it's actually really elegant. There's red carpet and red drapery; it's beautiful, and it's elegant, and it's horrific.
How do you think about gender in the work?
They are very androgynous, maybe leaning towards male at some times. Do you intentionally keep out signifiers of gender?
It's funny, because when I did work with other parts of the body, I never focused on the face. I always did penises, vaginas, breasts, things of that nature. For me, I feel like it isn't necessary -- like the hair -- it's extraneous. Gender -- it's extraneous.
To me it's about feeling that emotion or that moment; or it reminds you of something and, for me, that should overwhelm everything else.
What's your favorite part of your process?
That would definitely be building with the wet clay. I don't love the sanding or the painting either. I do enjoy adding the color though, but ultimately it's really about the wet material.
That's a little how the photography project came about for me. I wanted to have that immediacy and build upon the part that I enjoy.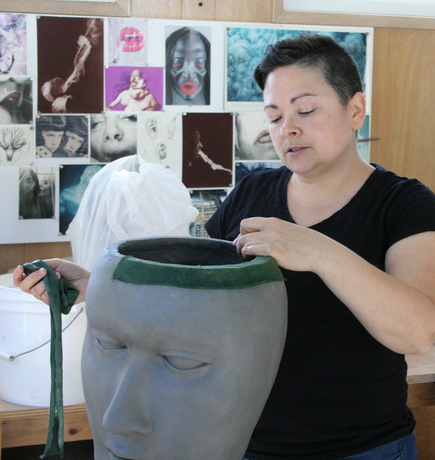 I played around with some wet clay pieces and I tried loosening up my technique, but I really didn't like what came out of it.
This piece I did not initially think I was going to photograph, or take it to this place, but I listened to the voices in my head and that's what they told me to do (laughs).
I'm finally starting to feel comfortable showing this work and sharing it with others. There's a level of finish, and there's a level of destruction, which I'm excited about.
What's the most challenging part of your process?
Approaching someone for a studio visit.
Really? Asking somebody to come to your studio?
Yes, yes. Even though I may be really enjoying what I am making, I think it's really hard to just make the assumption that somebody else might be interested too.
Well, do they have to be interested?
I don't know. Maybe that's someplace I need to go with that, because, yeah...I think you also have to be in the right mindset. I think just like you have parts of your career that are successful and parts that are not, I think there are times when you feel like YES, I really want to share this, and times where you're like, NO! And that happens too.
I'm feeling pretty positive about what's happening in the studio right now, and that is a good place to be.
Tanya Batura was recently included in We Must Risk Delight, an official collateral exhibition of the Venice Biennial as well as multiple exhibitions across Los Angeles. More of her work can be seen on her website.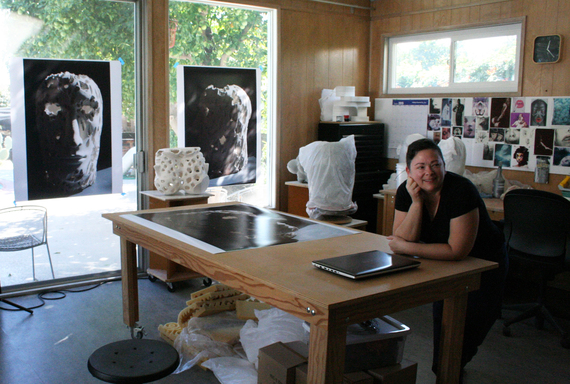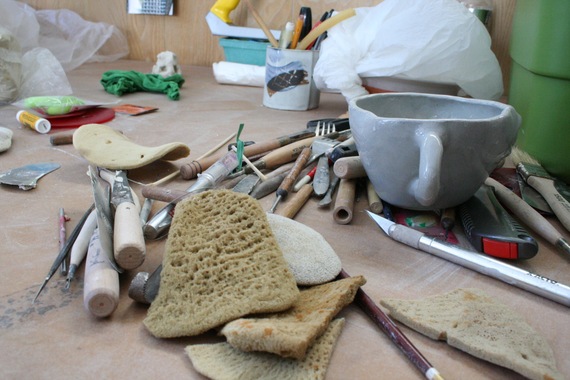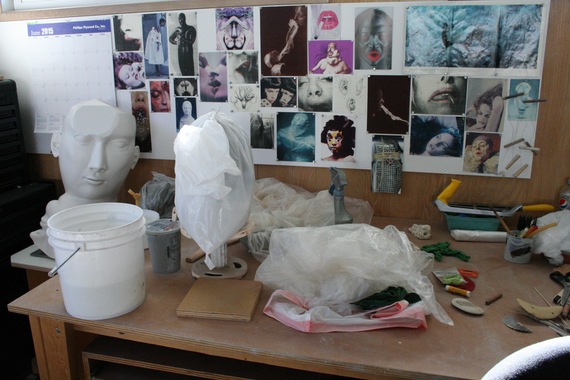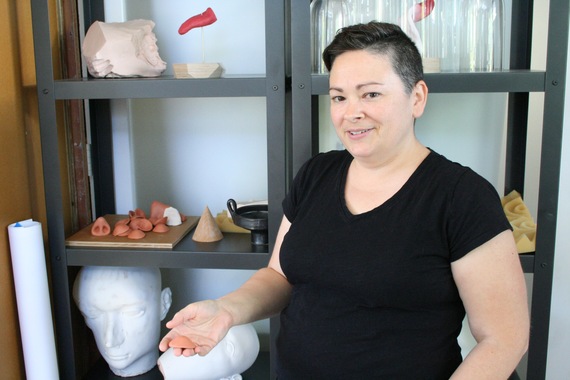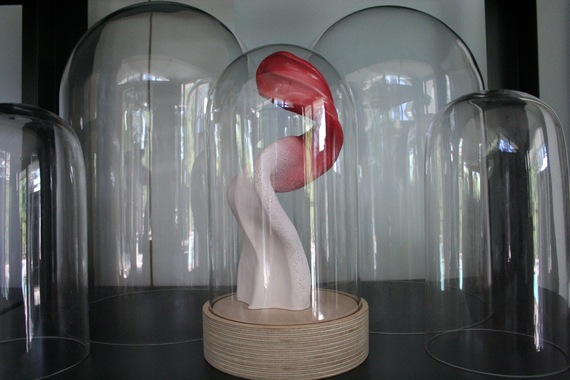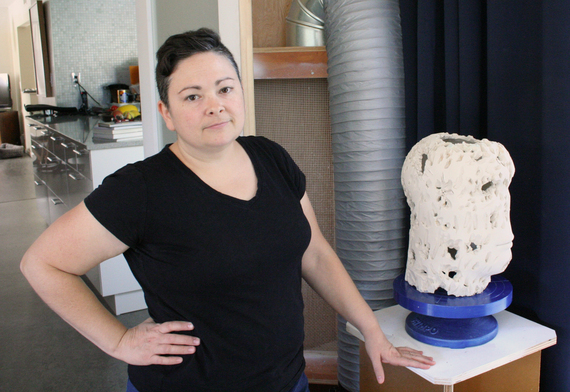 Popular in the Community