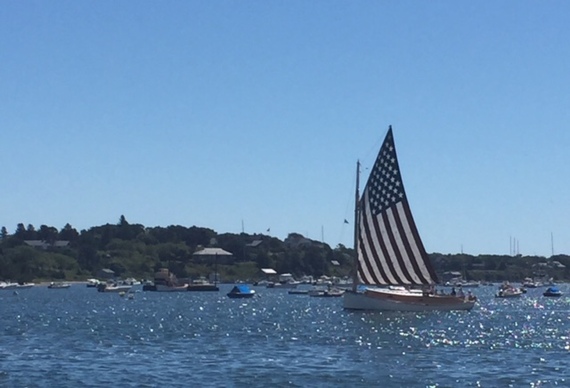 Working in a mother-daughter owned business can be riddled with lots of challenges. So we make sure to lovingly guard our precious personal relationship with regularly and much needed pleasure trips together. It's the time we intentionally take away from work to nurture our bodies, minds and souls and to bond as women spending quality time. We picked Martha's Vineyard for our end of summer trip and decided to share some of our experience together.
It's hard to imagine a better time to visit Martha's Vineyard than the end of August/early September; the majority of summer visitors have trekked back to real life, so we stepped into a calmer, quieter and more relaxed state of being. Plenty of openings at the best restaurant spots on the island (more about those later) and enough space available to hop aboard for a sailboat ride or two for some cruising around this idyllic town.
Sharon: Planting myself in an authentic slice of Americana, we made a good choice to stay at the historic Harbor View Hotel (circa 1891). We could easily walk on Water Street into Edgartown, a street lined with original homes of the Whaling Captains that originally worked in this region of New England and right from there hop on a sailboat to cruise around the harbor much like the boats that sailed these waters for centuries. Spending time in Martha's Vineyard makes me feel truly a part of the American dream.
Alexis: Sailing was by far the highlight of the trip for me. We opted for two sails--one with Magic Carpet, a group sail charter run by husband-wife duo Todd and Lee Taylor, and the other with Captain Kurt of Catboat Charters. You can spot Captain Kurt's patriotic sailboat from anywhere on the island--an artist, he spent 3 days painting the American flag on the sail, creating a near-perfect replica of a sailboat from the 1880s that heeded a much-needed patriotism after the Civil War.
I was captivated by the gorgeous homes that dotted the shore, of course, but what I loved most was the incredible spirit and warmth of artist-and-sailor Captain Kurt (who impressed us with Instagram shots of his gorgeous maritime paintings and even busted out his guitar to serenade us mid-sail--his original was SO good!), and stories the Taylors told us (Todd is a native with 6 siblings who all stayed on the island, and Lee, despite running Magic Carpet with Todd for 23 years is still considered a "washashore"by the Vineyard locals). I was my absolute happiest out on the water.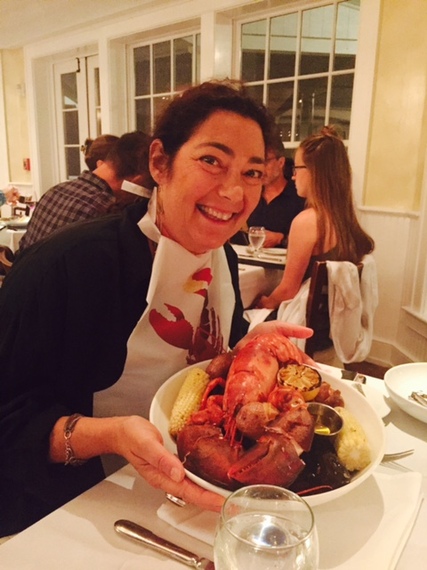 Sharon: You know the expression, when in Rome.... well when in Martha's Vineyard one must try and eat shellfish as often as possible. I did an exceptional job sampling much of the local seafood fare - oysters, clams and tons of lobster in every variation. Served whole, wok fried, boiled and dipped in butter, rolled, made into a taco, and heaped on a salad. Every inch of my 3000 mile long journey to lobster land was worth it just for the seafood. Especially the dinner experience and presentation at the Lighthouse Grill in the Harbor View Hotel and Atria restaurant on Main Street. Both dining spots served a 2 lb. lobster whole, draping over a huge bowl accompanied with the shell cracking tools and lots of napkins. Lighthouse Grill served their lobster over dozens of mussels in a Chorizo broth while Atria rested their lobster on a bed of mashed potatoes. Atria's unique wok fried version is not to be missed. Alexis' favorite definitely was the starter mini lobster tacos at Lighthouse Grill. Nothing can really compete with bib wearing lobster dinners in New England to make for happy lasting memories.
Alexis: A culinary highlight for me was undoubtedly Red Cat Kitchen in the town of Oak Bluffs. Known for its gingerbread cottages, Oak Bluffs had a different character than Edgartown and vibrated a welcome edginess. And Red Cat Kitchen embraced the funkiness of its neighborhood with perfection--each dish we ordered was more inventive than the last. My personal favorite was the fishcake on a bed of polenta. I had to force myself to save room for dessert made by the chef's wife Erica McCarron, known around town as The Tiny Baker.
And I'd be remiss if I didn't mention the coffee at Toccopuro Coffee. This coffee was arguably the best I've ever had. They even cold drip your iced coffee. I'd go back to Edgartown just for this coffee every day!
Sharon: Even a rainy day could not squelch the charm of Edgartown. We grabbed umbrellas and walked the side streets to take in the manicured gardens, quaintly decorated porch fronts and old world charm of the homes that proudly paint their original building date above the front door. Lots of homes dated back to the 1800's and were restored to perfection. The hibiscus and hydrangeas were blooming some of the largest blossoms we had ever seen!
Popular in the Community