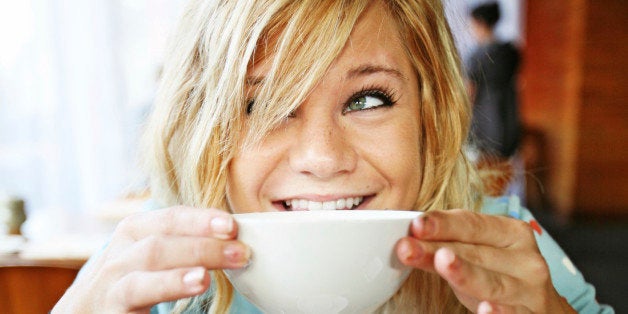 "What is mindful parenting anyway?" I get that question all the time. Being able to stay in the moment, breath and connect to peace are some of the tools of positive parenting. I have created a recipe for "peaceful soup" that gives parents the ingredients to parent mindfully. Let's make "peaceful soup" together. Get a big pot and add some intention, forgiveness and gratitude. Let it simmer, then add the magic ingredient that blends it all together: love.
The first ingredient to throw into the pot is intention. Intention is the force that sets everything in motion. Have you ever thought about what your intention is for raising your children? This is a powerful parenting tool that helps you define what you want for your children. Intention steers your parenting style. I was very clear that my intention for my girls was that they follow their hearts and to let their intuition guide them. I helped them do that by teaching them to quiet the mind and connect with their hearts. We would practice asking their hearts a question by closing their eyes and taking some deep breaths. They would visualize their hearts and ask a question, then we would trust and act on the first answer they got. Once they made their minds up about what felt right to them, I would support them in making their dreams and wishes come true.
The second ingredient for peaceful soup is forgiveness. Forgive yourself for not being the perfect parent. No judgment or comparisons allowed. Even though other mothers may look like they have got it all together, trust me, they don't. You are perfect, whole, and complete exactly the way you are. Now take a deep breath and let's add the next ingredient.
Gratitude! That is my favorite because it is the gift that keeps on giving. Focus on the positive aspects of your child and tell them all the time. "I am so grateful that you are..." What we focus on grows. Focus on the positive and be grateful for those qualities that your child has. They will feel it and those qualities will outshine the others.
Model the behaviors that you want them to copy. Children mirror you. If you want them to be confident, then show them what confidence looks like. If you look in the mirror and say negative things about yourself like, "I need to lose ten pounds," then they will do the same. They will judge themselves and feel not good enough if that's what you do. Be aware of your actions when you are in front of them and model the behavior that you want them to mirror.
Stir all those ingredients in a pot and let them simmer. Then, sprinkle the soup with love. Love is the magic ingredient that makes everything better. When I get up in the morning before I even get out of bed, I send love from my heart to my children's hearts. It feels amazing, and I know they feel it. No matter how stressful life gets, love is the key. Love is a vibration that lives in your children's hearts forever. Enjoy!