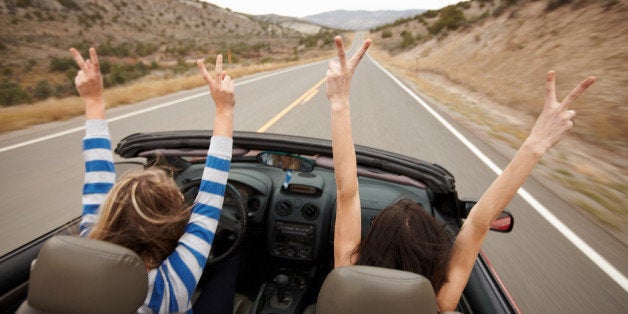 We know staycations are awesome, but sometimes you truly need to get a breath of fresh air away from your city, right? As much as a quick flight to the opposite coast sounds lovely, the summer season's destination weddings, music festivals, and all-out parties can have a negative impact on your bank account. When money is tight but you've got the time, opt for a road trip -- and make sure you follow these crucial steps.
1. Step One: Choose the Right Vehicle.
Having the right ride for a road trip is critical. Space is obviously a must, whether you're riding in something classy or something sporty, so place more value on comfort in a car than you would on a flight. Also, don't overlook the significance of large windows. When you're headed out to West Texas (Austin Localeur Wilson Hack recommends Chinati Hot Springs) or Napa Valley (Bay Area Localeur Alicia Mooty recommends Frog's Leap Winery), you're going to want plenty of sweeping views for the journey out. Other major factors: Have air conditioning so you don't melt, have cruise control so you won't get a leg cramp after a few hours of driving and have a great playlist so you don't have to switch up the music too often.
2. Step Two: Choose the Right Company.
Some destinations are better in the company of a significant other and others are more suited for the whole crew -- and knowing which is which is key. For something like a secluded forest town with hiking options nearby (LA Localeur Micha Thomas recommends the artist community Idyllwild), we suggest taking the nature-loving boyfriend or girlfriend. But a place like the Storm King Art Center, recommended by New York Localeur Sarah Baldwin, could be a nice little adventure for you and your artsy friends.
Regardless of your company, make sure attitudes are upbeat (a good playlist helps), your budgets are kept in check (because if you were going to throw down, you'd have flown instead), and that at least one friend is handy with fixing a flat tire or giving directions.
3. Step Three: Choose Your Own Adventure.
If there's anything that makes road trips so damn special, it's the opportunity they provide for choosing your own path. More than likely, you don't have to stay on the main highway to get where you're headed. Sure, you may lose 30 minutes taking that one-lane country road, but your Instagram feed and followers will appreciate you more for it. More importantly, the memories you'll make with the people you bring along aren't going to be nearly as awesome if you're stopping at McDonald's every 100 miles and seeing billboards and semi-trucks more than you're actually seeing nature.
Veer off the main road, take pleasure in not being on a cramped, full flight, and let your car do what it was made to do. With the right car, the right company and the right attitude about the journey, the behind-the-wheel world is your oyster for the summer.