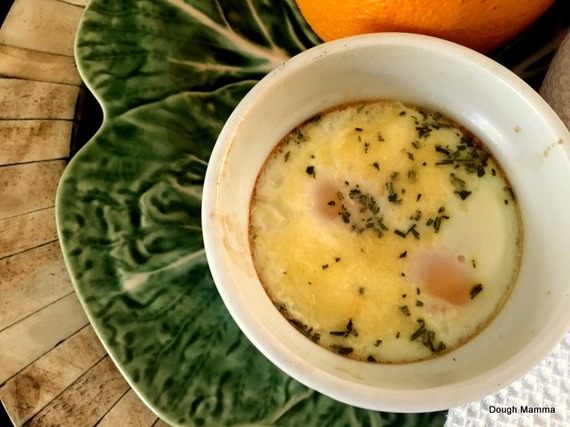 If you have never heard of a shirred egg before, you are not alone. Shirred eggs are simply baked eggs with the addition of cream, cheese and herbs. The beauty of the shirred egg is, one can bake many at a time, making this the perfect dish for any brunch. The yolks are creamy and luscious while the whites are just firm enough to use a fork.
As for perfection, I did attempt to find the magical time and temperature for the shirred egg. First I tried baking single eggs in ramekins, then I tried using water baths. Next I tried baking the eggs at 350 degrees and 375 degrees. After my experimentation was complete, I concluded: water baths are unnecessary, 375 degrees appears to be the best temperature and baking two eggs in the same dish cook more evenly then when cooked alone.
Enjoy!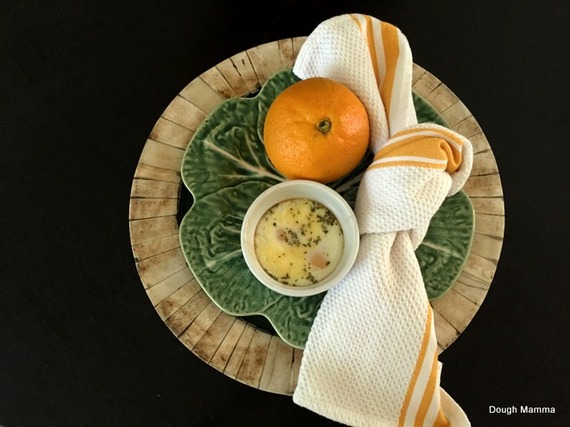 Title: The "Perfect" Shirred Egg
Author: Doughmamma
Prep time: 7 mins
Cook time: 18 mins
Total time: 25 mins
Serves: 2
Notes: You will need ramekins or very small ceramic bowls. Since eggs are so sensitive and ovens have different "hot" spots, this recipe works best if you know your oven well. I highly recommend having an oven thermometer to keep inside your oven at all times. At the 15 minute mark or sooner, you will want to start checking your eggs. Remember, every time you open your oven, you loose about 10 degrees, which means if you check too often, it will take longer to cook. Also, since these will be served in the ramekins they are baked in, they will be hot to the touch when removed from the oven and the eggs will also continue to cook - or firm up.
Ingredients
4 eggs
4 Tbsp of cream
2 Tbsp of shredded cheese
1 Tbsp of chopped herbs
1 Tbsp butter
Instructions
Pre-heat your oven to 375 degrees.
Take your butter and grease two ramekins. Place ramekins on a baking sheet.
Crack two eggs into each ramekin. Divide the remainder of the ingredients into the two ramekins.
Bake for a total of 18 minutes or until your desired egg is achieved.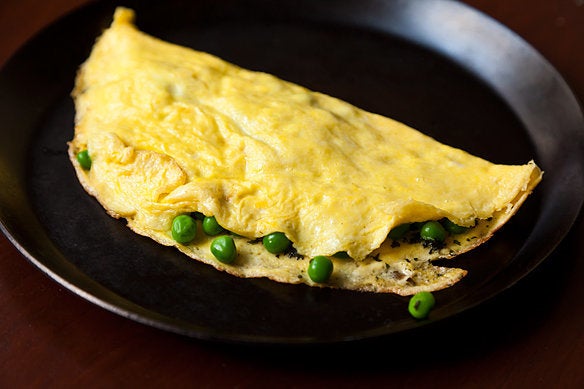 Egg Recipes
Popular in the Community