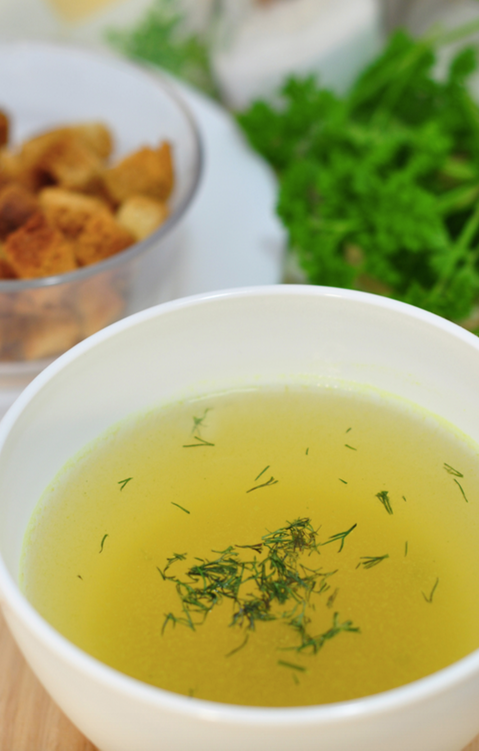 There are recipes that, at least in Italy, are more than food: they are therapy for body and soul, a journey back in time, a familiar novel. One of these is meat stock.
A steaming mug of broth is consolation for a broken heart, getting over the flu, if you're sad but also to celebrate with friends. It's wonderful any time
of the year, but is at its best in winter. You can pour it into a mug and sip it on its own. Or enjoy it with a sprinkling of tiny pasta (that takes no more than 10 minutes to cook), egg noodles (5 minutes), vegetable ravioli or meat tortellini (4 minutes if fresh). Among family recipes, the one for stock is up there with the ones for pasta (or maybe just ahead of or behind it, depending on whether you come from north or south of Rome).
This basic recipe is a golden rule, but it also lends itself to a few tips that will make this stock memorable.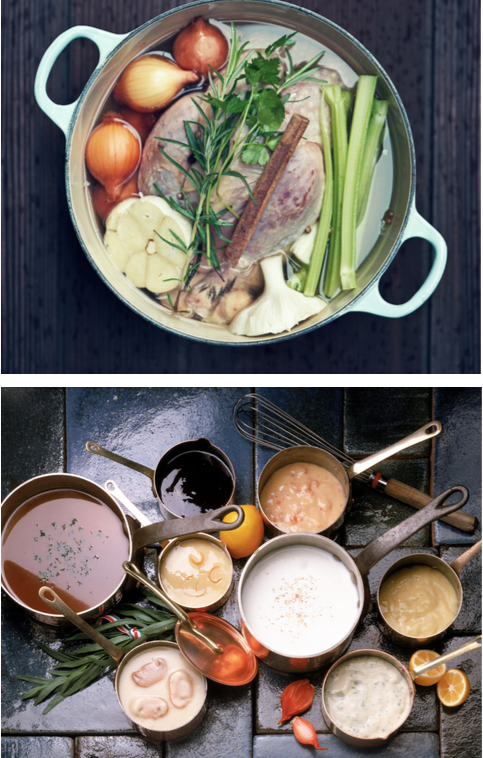 INGREDIENTS FOR FOUR SERVINGS
Use a cut of beef (300 g/10.5 oz shin, chuck, round or clod) or two chicken wings. Some people use two kinds of meat together, but I prefer one at a time, as it is lighter and the flavor is more defined.
Put the meat in 2 liters (2 quarts) of cold water. Bring the meat to a boil. After about 10 minutes, when grayish foam has risen to the top, remove the pot from the heat and drain off the water. Add 4 liters (4 quarts) of clean water (this will yield clear, "clean" stock).
Proceed as follows. Peel a rather large carrot, trim a stalk of celery and peel a medium-large onion, and add to the pot. Then add 2 cloves (no more), a grain of long pepper (if you don't have any, then a few white or black peppercorns) and a pinch of coarse salt. Cover and simmer for at least 3 hours (if you are using a pressure cooker, then 90 minutes from when the pressure regulator starts to "whistle"). When done, remove from the burner and stir in a few basil leaves. Leave them in the hot liquid for a few minutes and then remove (otherwise
they will turn black and are unappealing in the bowl).
Filter the liquid through a sieve into a clean pot. Your stock is ready. You can also use it to make risotto with your favorite recipe – with saffron, zucchini, sausage ... any ingredient that comes to mind is fine! Risotto is never disappointing, especially if you have a base like this. If you serve it as broth in a cup, grate some Parmigiano over it or, if you're feeling sophisticated, a bit of nutmeg, or chopped chives or parsley.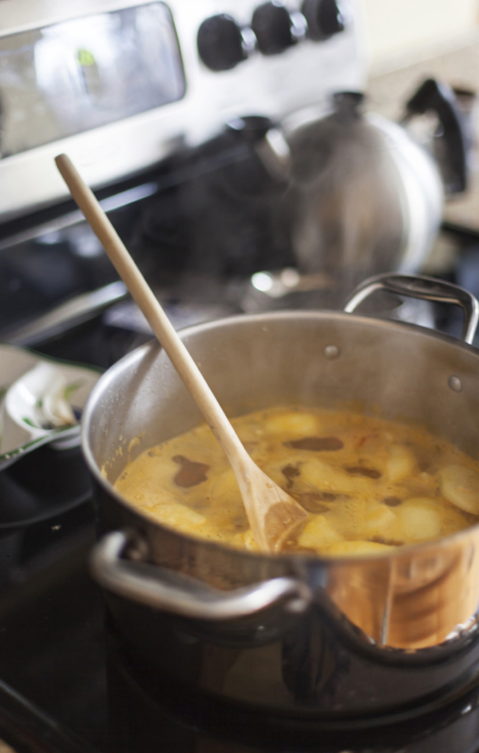 What about the meat? It isn't worth much from a nutritional standpoint. As opposed to classic boiled meat, which calls for placing the meat in boiling water to seal in all its juices, stock meat has already released its juices into the liquid. However, it is excellent sliced thinly. Place it on a hot serving platter and grind a little black pepper over it. Then serve it with horseradish, radishes or wasabi. You won't be disappointed.
And, as they say in Italy, buon appetito!