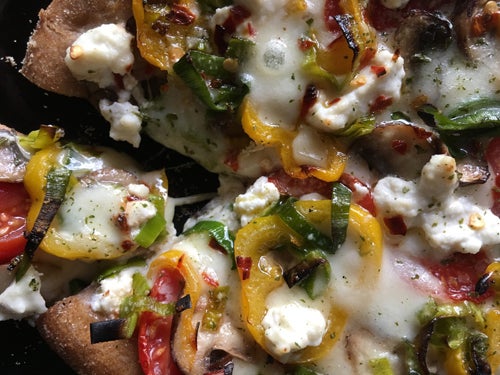 The Perfect Storm of Revolutionary Global Food Production is at Hand
Thanks to Paris Winston and Dr. Iain Cleator, conquering the ubiquitous deadly epidemics of diabetes and heart disease is in sight. Partnering together to form Churchill Global, they are changing the world of grains, convections and cereals on a grand scale. While Dr. Cleator is a doctor of Gastroenterology, Winston has been called "The Doctor of High Finance."
I recently had the great pleasure of being introduced by my long-time friend, Abby, to the giant of a man, Paris Winston, a throwback to a different breed of pre-internet entrepreneurs. A well-known fixture of Park Avenue, Abby has her finger on the pulse of who's who in Manhattan. Having listened to both of our tales, she immediately recognized that given our parallel passions for and experience with healthful nutritious foods, we would benefit by meeting. The moment Mr. Winston started talking to me about his newest passion of organically growing and whole-grain milling of heirloom Red Fife Wheat, my heart leapt with joyful tears of hope. His expansive vision for affordable world-wide distribution of this wholesome non-toxic, pure organic, non-GMO grain has the potential to at once reverse the downward spiral of failing health and address the world's need for abundant and nutritious food.
Over the years Mr. Winston has been likened to South America's equivalent of Richard Branson, with success in a multitude of grand scale industrial and agricultural projects and market development in Latin America. After graduating from law school he turned down a position at one of New York's highly prestigious law firms. Instead, he took a job in Colombia, in a nylon factory owned by Leon Bigio, a successful South American industrialist. Thus began Mr. Winston's remarkable legacy of success behind the scenes of pragmatic projects in capital ventures across Latin America, ranging from large-scale shrimp farming, to PVC manufacturing, and the facilitation of a massive Amazonian agricultural project owned by Daniel Ludwig, considered by Forbes to be one of the wealthiest Americans of that era. He culminated his career in South America with his most notable success, a foray into gasohol production while it was in its infancy.
Winston's consultancy roles for the influential and powerful, has brought about some highly innovative projects. A man of old-school values and character, Mr. Winston reached the height of his success at a time when quiet humility was favored to the social media notoriety of today. Fittingly, conducting my due diligence on him led me from the computer to compendiums of old periodicals, and personal interviews. Until now Mr. Winston has remained in the background, preferring to use his foresight, intellect, talent and heart for the betterment of the world without the encumbrance of fame. But whether it is old articles or old acquaintances, they all tell the story of a man with great vision. After owning and operating a steel company, he transitioned to early retirement, until the day he could find the passion for a new endeavor. Now he has chosen to step into the foreground to promote a project that is poised to change the lens through which we view topics of nutrition and food security.
Winston adheres to the premise that vertically integrated agricultural projects based on a foundation of sound organic farming practices, are the best investments for global economic growth, as well as health for the planet and our bodies. He showed me this excerpt from a letter written by Thomas Jefferson to George Washington:
"Agriculture ... is our wisest pursuit, because it will in the end contribute most to real wealth, good morals & happiness." August 14, 1787
Jim Rogers, a major hedge fund creator, states a similar sentiment in a recent blog predicting that large scale farmers will be the next generation of financial barons, only they will be helping the planet instead of destroying it.
Mr. Winston's partner, Dr. Iain Cleator, is a renowned gastrointestinal surgeon, now retired. Merging his lifelong devotion to health and human welfare with his passion for the land, this former president of the Canadian Association of Gastroenterology, and now, Professor Emeritus at the University of British Columbia, founded Cleator Organic Farms, a fully certified organic farm, free of all synthetic chemicals, antibiotics, fertilizers or hormones. In addition to growing and processing Red Fife Wheat on a large scale, the farm also grows and produces oats, hemp, green peas and camelina. In coming together to form Churchill Global, the two gentlemen recognized that feeding the world is the primary challenge of our time. Combining decades of expertise, a shared passion for quality, and an inspired vision for a vertically integrated agricultural enterprise, Churchill Global aims to transform "Industrial Agriculture" into "Industrial Organic Agriculture".
So many people I talk to these days are trying to cut wheat from their diets, forfeiting many things they love to eat because of health problems such as high blood sugar, high blood pressure, gluten intolerance and Irritable Bowl Syndrome. Red Fife Wheat is the answer to all of these issues and more. It has been found that it does not contribute to or promote celiac, gastro-intestinal diseases, acid reflux and other life threatening bodily conditions as the current modified wheat. I find that deprivation of food pleasure leads to cravings, unhappiness and ultimately, binge eating. Having a healthy alternative that provides both pleasure and health, promotes a happy, balanced and nurtured life.
When I was developing the recipes using Dr. Cleator's Red Fife Whole Grain Milled Wheat Flour I consulted many sources. I developed my own recipes. Red Fife has some of its own parameters. It is heirloom. It is a hard wheat with a major protein profile. It absorbs slightly more liquid in recipes. Red Fife Wheat is said to be "The newest taste sensation in the Canadian Artisan Bread World."
Here are some photos of my recipes made with Cleator's Red Fife Flour:
Frangipani Apple Linzer Tart: Crust made with Cleator's Red Fife Wheat Flour. The Frangipani cream filling is made with coconut sugar and coconut oil, whipped with egg yolk & ground almonds. Sliced apples are baked into the tart, then glazed with homemade, no sugar added, dried apricot-golden raisin fresh cranberry preserves.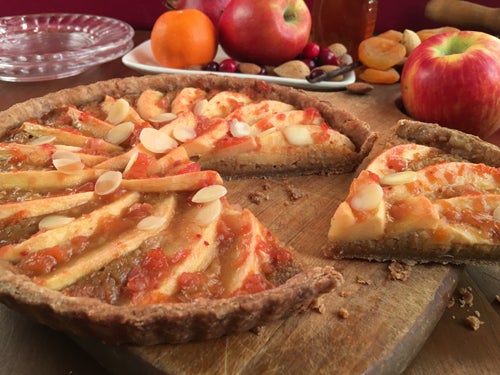 Thick Crust Mushroom and Vegetable Personal Pizza: Crust made with Cleator's Red Fife Wheat, Ricotta, Baby Bocconcini Mozzarella, Grape Tomatoes, Yellow Fresno Peppers, Leeks, Pecorino Romano and Dried Red Pepperoncini Flakes.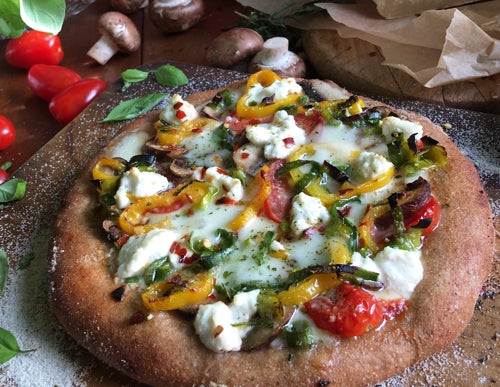 Thin Crust Pizza Made with Cleator's Red Fife Wheat: Ricotta, Baby Bocconcini Mozzarella, Grape Tomatoes, Pesto, Fresh Basil, Pinenuts, Pecorino Romano and Dried Red Pepperoncini Flakes.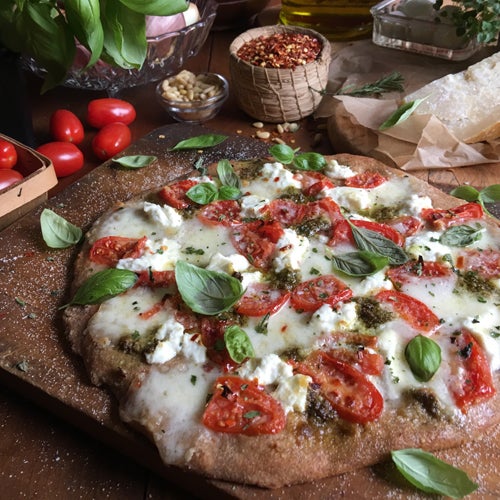 Fruity-Nutty Scones: Batter made with Cleator's Red Fife Wheat, Plu Gras Butter and Heavy Cream: Dried Cherries, Apricots, White Raisins & Prunes Macerated in Cognac, Chopped Cashews & Almonds, and Toasted Pepitas & Sunflower Seeds, topped with a tiny sprinkling of Sanding Sugar. They are crunchy on the outside and moist on the inside.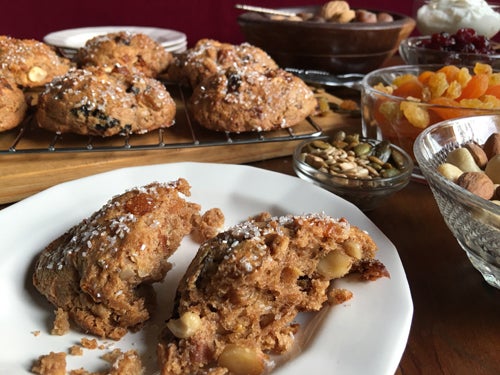 Related
Popular in the Community