"We're looking for a lot of different locations for the movie," my husband Ed said, using the fact that we were producing an indie film as cocktail conversation. "Including a church where the two main characters -- a young gay couple -- get married."
My dad was celebrating his 80th birthday, and Mom had thrown him a dinner party. Being super social, she'd made sure to arrange for a cocktail hour, where the guests could mingle and meet before the sit-down meal.
Mom had invited a large number of people, including friends that she and Dad had recently made at their new LGBT-friendly, open-and-affirming church here in Sarasota.
It had been about a year since they'd discovered that their former church was anti-gay. Unwilling to belong to a church that wouldn't welcome Jason, the grandson that they'd always loved and supported, they set out to find a new place to worship, and found a home at a wonderful UCC church.
One of their new church's pastors was at Dad's party.
"I have a church," he said, joining our conversation with a smile.
I chimed in, careful to explain.
"Our movie is a romantic comedy with a hero and a hero. Boy meets boy, boy loses boy, boy wins boy," I said, stressing all those boys, to be sure he understood.
After over a decade of witnessing sanctioned hatred aimed at my son, I wasn't yet convinced that organized religion and LGBT rights could happily coexist. In fact, I wasn't sure if equality would ever come to Florida.
"Like most rom-coms, our two main characters get married at the end," I said.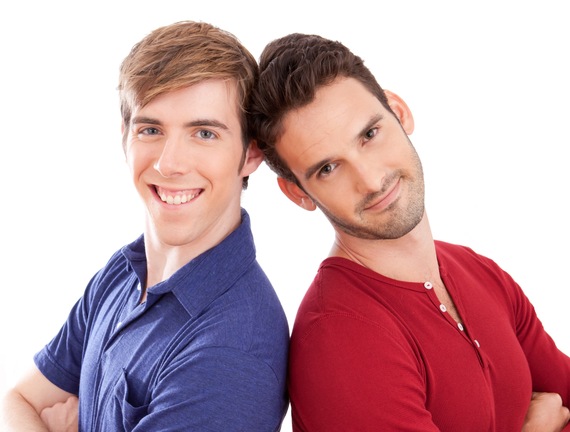 The Perfect Wedding (from Wolfe Releasing) stars Jason T. Gaffney and Eric Aragon. Photo credit: Shirin Tinati
"The movie's called The Perfect Wedding and it's set in Florida, during the Christmas holidays," Ed told the pastor. "And even though equal marriage isn't legal here yet, it's important to the plot that our two leading men get married in a big church, with tuxes, flowers, the whole nine yards. If we need to, for reality's sake, we can put in a subtitle saying that the church wedding is taking place up in Boston. But because of our low budget, we hope to film the scene here, in a church in Sarasota."
The pastor was nodding throughout both of our explanations. And he said it again, "I have a church."
"Seriously?" I think my voice might've cracked.
He laughed, "Yes. I think it's wonderful, and I can't wait until the day that all people can marry the person they love. I would love for you to make your movie in our church. I think the whole congregation will be thrilled to welcome you."
Okay, I'm paraphrasing, because in the emotion of this moment, I've forgotten exactly what the pastor said. But that is the gist of what he told us. What I heard was, "Yes. Love, love love. Love-love LOVE. Love." I still tear up, just thinking about his message of inclusion and hope.
Later, when Ed and I told Mom that the pastor had volunteered her new church for the big climactic wedding scene in our movie, she was not surprised. And she was already deep into the logistics. We had to visit the church and decide if we wanted to use the main sanctuary or the smaller chapel. (We chose the big gorgeous sanctuary). She had a friend, Michael, who wanted to arrange the flowers. (Also beautiful!)
Oh, and the church fellowship hall would, absolutely, serve as a great location for an AA meeting that takes place early in the movie. And? So many people from church had already expressed interest in the fact that we were making a film. If it was okay, Mom would start taking names and phone numbers of those interested in being extras. We were going to need extras, right?
And thus, my eighty-year-old mother became our LGBT rom-com indie movie's extra wrangler. Not only did she get scores of congregation and community members to volunteer to come on set and stay for hours and hours (most of making a movie is waiting for the next shot to be set up), but she got them to show up dressed in clothing appropriate for that big final wedding scene.
And remember me? Being so cautious when making sure the church's pastor knew our love story was between two gay men? I kept checking in with Mom, too. "And you're telling everyone that the scene is a same-sex wedding . . . ?"
The last thing I wanted was to bring negative energy onto our set. Even though this wedding scene appears at the end of the movie, it was the very first scene we filmed with our entire cast, including our big-name stars, James Rebhorn (Independence Day, and the current Showtime hit Homeland) and the amazing Kristine Sutherland (Buffy the Vampire Slayer). It was important that any and all anti-gay sentiment stay far from our talented troupe of actors.
But my mother eventually reached her exasperation point.
"Suzanne," she said. She still calls me Suzanne when I'm about to get into trouble. "Everyone is excited not just because you're making a movie, but because you're making this movie. They want to participate because it's a same-sex wedding."
This was Florida, so I didn't quite believe her. But all doubt was erased on the day that we filmed at the church, when I found a crowd of friendly extras, eager to participate, with smiles on their faces.
Everything took longer than it should have -- which is status quo on any movie set. But our extras were prepared for that, and happy to wait. My job on set that day, as one of the writer-producers, was to entertain them. I spoke to them about writing my books, I spoke about being the mother of a gay son, I spoke about the message we were sending by making The Perfect Wedding, a movie in which two young gay men, both out of the closet and loved and supported by their family and friends, connect and spark and fall in love over the Christmas holidays. (And just like in a Hollywood rom-com, high-jinks and silliness ensue, but love wins in the end!) We were helping to redefine normal. We were showing, through this movie, what our normal, modern American family looks like.
Finally the extras were called onto the "set." They were led into the sanctuary of the church where so many of them worship every Sunday, where our lights and cameras were in place.
Two men volunteered to be stand-ins for our two young stars, who were in makeup. Our impromptu stand-ins stood on the altar, surrounded by our crew, grinning at each other, happy to help.
And when Eric Aragon and Jason T. Gaffney (my own son, who helped write the script) walked on to the set, when the director said, "Action!" and those two actors, portraying men who have just promised to love one another forever, seal their vows with a kiss...
The energy in that church was amazing. There was applause, just like there would be at a real wedding. There were smiles and laughter. Some of our extras cried -- every single time we filmed that sweet symbol of commitment, over and over again.
In the end, we decided not to subtitle our movie's big church wedding as taking place in Massachusetts. This was Florida.
And it will be Florida. Marriage equality is coming, and not merely to a theater near you. Thanks to my mom and the wonderful people who attend her church, all doubt I had about that is gone.
Popular in the Community