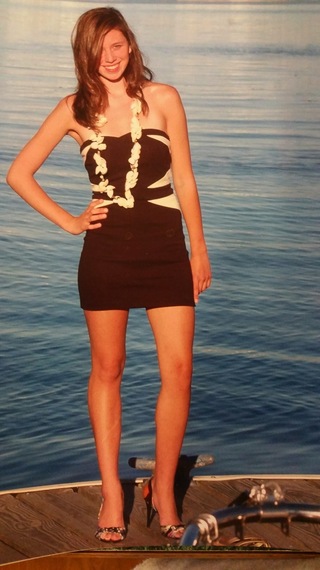 If you're worried about your teenage daughters (and sons, of course, too) heading off into downtown (any town) for Tolo, Prom, Homecoming, etc., for a fun-filled night of dinner, dancing, and a number of unmentionable things that we parents try to forget we were doing at their age (their minuscule dresses, stiletto heels, perfectly arched eyebrows, expertly applied MAC make-up, newly mani'd/pedi'd nails, "updo'd" hair, glitter-soaked skin, and testosterone-fueled boyfriends, notwithstanding)... simply allow them to hire a limousine service to shepherd them safely around town.
Rest assured that they -- along with, perhaps, a dozen of their best friends -- will be Safe in the City. Right? Wrong. As parents, we (sometimes) assume too much. We teach our children about Danger Stranger, Mr. Yuk, teenage pregnancy, STDs, WMDs, DUIs, etc., but some of us unwittingly allow them to step into a vehicle (with an adult we've never met before), who is operating a "limousine" (which we trust is in safe operating order, and looks, perhaps, just like the glamorous, Hollywood-esque stretch limo pictured on the website). And, above all else, we trust that he or she will do his or her best, to keep our children out of harm's way.
I guess that thinking is as naïve as when I, 22 years ago, failed to tell my first (and last) neighborhood babysitter that she (obviously) wasn't to exit the building while she was "babysitting" my beloved first born. (The babysitter -- or babyleaver, in this case -- thought it was ok to go home early, because my 1-year-old daughter had fallen asleep in her crib.) There's nothing like discovering that your sleeping baby has been left alone in the dark, in your unlocked home.

There are, of course, exceptions to what I'm about to tell you. I've had many a (relatively) safe drives to-and-from the airport, via limousine services offered in far more diverse cities than my own; such as, New York, Istanbul, Mexico City, Tokyo, Prague, and, St. Petersburg (sorry Jakarta, I can't include you in this list). So, this isn't a limo/taxi-driver bashing story, because after all, they take their chances, too.
We live on Bainbridge Island, (very) sleepy, bedroom community of Seattle, WA, (Go, Seahawks!) -- a 35 minute ferry ride from the city. We're nestled between the Cascade and Olympic Mountain Ranges, Mt. Rainier, the Straights of Juan De Fuca, and a strand of islands, known as the San Juans. It's a protected paradise, with equally protective, proactive, parents (where 88% of the high school kids head to college). However, part of the time-honored island tradition, is to allow "unescorted" teenagers, mainly juniors and seniors, to venture into the "big city" before-or-after Prom, Tolo, or Homecoming. (Not all parents allow them to do this, by the way.)
So, for Senior Prom, my daughter, Chloe, orchestrated all the city plans for her and her date, and four other couples. The kids arrived in Seattle, and were dismayed when the limo she ordered was nowhere to be seen. Suddenly, a dilapidated, grey, dented, anachronistic, virtual "'80s Airporter Shuttle Bus Time Machine," lurched their way.
The driver jumped out and informed them that the charge for their "party bus" was $450.00 (in cash) -- $50.00 more than the white, pristine, state-of-the-art limousine they thought they ordered from the website. They then watched and waited, as he, essentially, broke back into his own vehicle. Soon, the kids learned that the bus came with a few strange features: Either the doors were jammed shut when the kids were outside the (parked) vehicle. Or, jammed open when the kids were inside the (moving) vehicle. Lovely.
Once inside, they wondered, "What's up?" with the horseshoe-shaped seating. Their eyes trained on the sign above: "Please see instruction manual or video before use." Soon, they discovered that they all had front-row seats for a Stripper Pole, (thankfully, sans the stripper), that was located in the middle of the floor. Anxious to get the party started, they shrugged off this strangeness, and inserted a "Party CD" into the CD player -- but it didn't work. Instead, they settled for the radio music that blared from the one speaker that did work -- albeit, intermittently.
Uneventfully, they were driven to Wild Ginger, an upscale Asian restaurant, for dinner. Afterwards, because one of the Bainbridge moms feared for her daughter's life while in Seattle (as it turned out, she wasn't that far off the mark), they headed for a Fun Plex, across one of Lake Washington's floating bridges, to the affluent East side (where Bill and Melinda reside). As planned, the kids had a fun evening.
At 10:00 p.m. the driver arrived on schedule to bring them home. Like a bad omen, the doors were jammed closed, again. The kids laughed it off as he, again, pried the doors open. The laughter soon stopped, though, when they realized that he had left the doors open, and was now heading down the interstate, careening across the bridge, hitting speeds upwards of 75 mph, dodging between vehicles, and coming within inches of a collision. All the while, he was texting (illegally) and fiddling with his GPS. Terrified, the kids all linked arms, and in the words of one of them, prepared to die.
Soon, though, they were back in downtown Seattle, and could see the soft silhouette of the Olympic mountain range on the horizon, and a well-lit Washington State Ferry approaching the harbor. "I've never been so happy to see a ferry," Chloe said.
The calm ended abruptly, as they suddenly found themselves traveling down a steep hill at such high speeds that the kids were knocked from their seats. They all feared that the girl seated closest to the door, would be thrown from the bus. As if things couldn't get worse, the driver eventually hit a parked car, but kept going.
By the time they neared Red Robin by the ferry terminal, the kids practically threw themselves out of the bus, and my daughter called her dad (who happens to be an attorney). He immediately contacted the owner of the limousine service. "I'm not responsible," the owner told him. "I gave their business to a friend." He then casually offered Chloe's dad a free ride to the airport, if ever he needed one. In the meantime, the kids shared a few milkshakes.
It was quite dark as they made their way to the ferry. That's when they noticed the party bus parked ominously (like in a bad movie) across the street, under the viaduct. Next, they heard a door slam, and saw the driver sprinting after them. They all, instinctively, ran up the stairs to the ferry terminal. When Chloe went back to see what was happening, her friends came running at her, excitedly waving their arms for her to turn back. "OH, MY GOD, OH, MY GOD, CHLOE-E-E!" they screamed, in rapid-fire teenage speak. "THE DRIVER IS 'CONFUSED' AND RUNNING AROUND CALLING YOU BY NAME! RUN!... HIDE!..."
While Chloe hid in the women's restroom, and cried inconsolably, the agitated driver made his way into the terminal. When he suddenly reached for something in his pocket, the kids again braced themselves for the worst. We're all gonna die, one of them said he thought. Instead, the driver pulled out a wad of money, and shoved it into one of their hands. "Here's half your money back," he snarled. "Count it!" he urged. He then stomped away, angrily shaking his head and hands, and muttering incoherent things under his breath. It was as if they had somehow just unmade his day...
Postscript: In sharing this story, I'm not trying to be one of those killjoy moms, who wants to ruin any time-honored traditions. I'm just hopeful that during this year's high school dance seasons -- and all throughout the year -- that parents and their teenagers (and limousine drivers!) can work together to help keep teenage joy alive, without anyone getting hurt in the process. In spite of what I just said, it all makes me secretly wonder: Will I still be a "cool mom" when my youngest boy (he's only 13) wants to hire a limousine service to take his scantily clad girlfriend around town? Most likely, yes. But only if I'm the driver...
Related