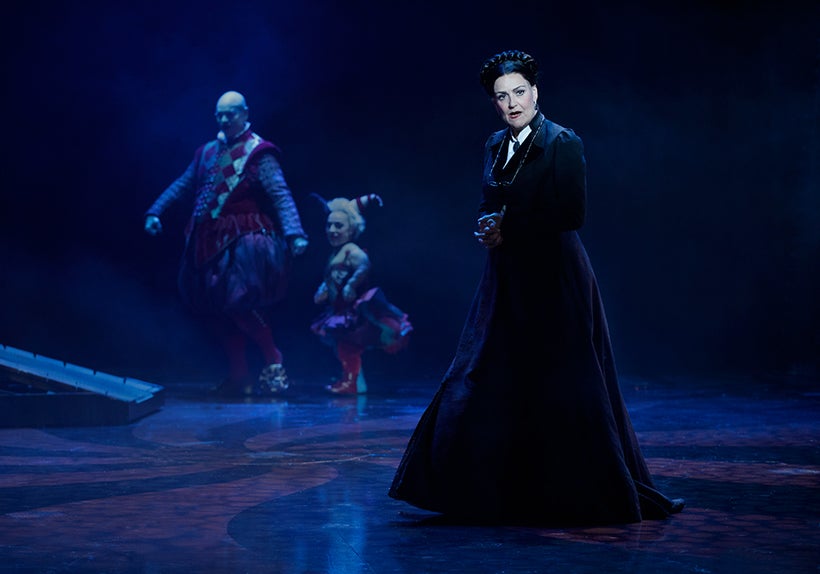 The Phantom of the Opera is a timeless classic, a tale of unrequited love. While Phantom celebrates its 30th anniversary this year, the story doesn't end there. Andrew Lloyd Webber brings us Love Never Dies, a sequel set in New York, 10 years after the Phantom flees the Paris Opera House. Living amongst the freak shows of Coney Island, Love Never Dies is a continuation of the original saga, with Christine Daaé still holding a place within the heart of The Phantom.
Since premiering in 2010, Love Never Dies has played worldwide in London, Australia, Denmark, Japan, and Germany, and will finally make its North American debut with a tour starting in Detroit at the Fisher Theatre on October 17th. Recently, I was able to chat with cast member Karen Mason, who plays the role of Madame Giry, and we talked about what makes Love Never Dies so special.
So you're launching the North American tour here in Detroit at the Fisher Theatre, there's been productions elsewhere around the world for the past 6-7 years since it premiered. How's it feel to be bringing this to this part of the world for the first time?
It's a fantastic show. I'm very proud to be a part of this. I have a connection with Andrew Lloyd Webber because I was the standby in the original US, LA, and New York productions of Sunset Boulevard. I stood by for Glenn Close, Betty Buckley, and Elaine Paige, so to be able to work for Lord Andrew Lloyd Webber again is nice. This is a beautiful score. It's a beautiful show. I'm thrilled to be a part of this. It's a great company of people. You're never quite sure when you start working with a new company how everybody is going to combine. It's an amazing company starting with Simon Phillips, the director. We knew we were in for a real wonderful working relationship. He's just a fantastic, smart, funny, brilliant man. The show is beautiful. It sounds beautiful. It looks beautiful. It's a great company. So wait a minute. What could go wrong? Nothing.
You play the role of Madame Giry. What did you have to do to prepare for this role?
Madame Giry is a very strong character. She is definitely, as far as I consider her, a lioness. She's very protection of her turf. She's worked very hard for what she has gotten. I just have to dig deep and discover that part of myself that wants to protect what I have. Madame Giry is not as perky as I am. She didn't grow up in the Midwest. I have to put that perky part of myself aside and really focus on the strengths, the part of her that is in control and wants to keep it that way.
Is there anything about this role that resembles your own self?
She's strong. I think of myself as a strong human being. With things that have gone on in my life, we all have those tests along the way where your mettle is tested. Listen, in a lifetime, you have many times when your ability to continue forward is tested. I've had some things in my life that have shocked me. Losing people. Having to fight for them as they are casting away or having to fight for things that I have and who I am. To me, that's exactly what Giry does. She fights for her daughter. She fights for herself. Yes, I think she has perhaps done some things that are maybe outside of what she thought she would do to protect her turf, but what person has not done that?
Love Never Dies is a sequel to The Phantom of the Opera. How does it stay true to the original Phantom, but how is its story unique in its own way?
It's a continuation, but 10 years later so, as with all stories, 10 years, a lot can happen. The Giry's, Meg and Madame Giry, and the Phantom are still connected. When he had to flee Paris, and it does make a great deal of sense, they ended up in the States in Coney Island. They ended up in New York. Coney Island, in the beginning of the 20th century, was kind of an escape place for people who were outside of the norm. It seemed to be a perfect place to just go and hide out in the open. They open up a show called Mister Y's Phantasma. The show is based in Coney Island, which really lends itself to some beautiful visuals. The characters have deepened over 10 years. A lot has happened. The Phantom and the Giry's have become even more connected over those 10 years. Christine Daaé is a big star over in Europe, a big operatic star, so everybody's life have continued on for the good, for the bad, in 10 years. It really does deepen their stories and their connections.
For Phantom of the Opera fans, what do you think they will get out of Love Never Dies?
Its still about the Phantom and his love for Christine. He's still manipulating the situation to get what he wants. Everybody around him has to try to fit into what those plans that he is creating are. The music is glorious. I have heard people say that Andrew Lloyd Webber feels that this is really one of his finest scores, that this is one of his favorites. It is, I think, one of his finest. The thing that happens when you get older too is that you are a little big freer and I think this feels like somebody who is at the peak of their abilities, that there's no holding back from expressing the beauty of this story, the drama of this story, and the depth of these characters. I think that really does show up in the music. We are traveling with a real orchestra. We have 14 pieces that we travel with on this tour and then fill it in with every city. The sound is just luxurious. It's so exciting to be able to sing with a beautiful orchestra. Visually, this is an amazing show. There's something for everyone.
The Phantom has been beloved by generations. What about it taps into the society of today?
I think it has to do with striving to pursue your dream, protecting what you have, holding on what you have trying to make it better, and working with other people. Sometimes, holding onto old loves cannot necessarily turn out the way that you want it to. Not moving on from your life can sometimes have a tough result. I think in our society today, I think we are a little lost right now. Sometimes, it doesn't feel like there's a great deal of love and commitment. On the other side, there's a lot of love and commitment in this show. I think that is a real beautiful part of this story that we are telling.
"Love Never Dies" launches their North American tour at the Fisher Theatre in Detroit on October 17th and will run through October 29th. For more information, visit broadwayindetroit.com or loveneverdies.com.
Calling all HuffPost superfans!
Sign up for membership to become a founding member and help shape HuffPost's next chapter
This post was published on the now-closed HuffPost Contributor platform. Contributors control their own work and posted freely to our site. If you need to flag this entry as abusive,
send us an email
.