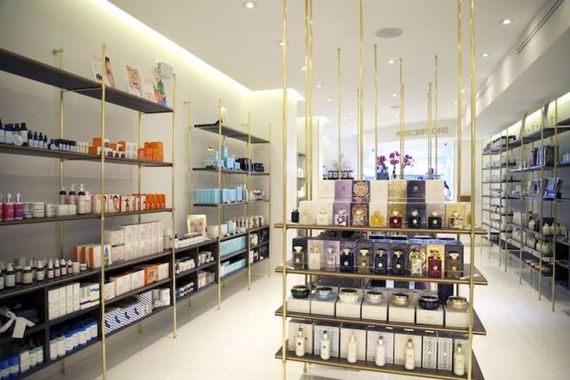 Ever felt Duane Reade and Rite Aid were just too plebeian for you? If so, luxury pharmacy Cedra may be the answer.
Cedra, which has one location in Manhattan and one in the Bronx, is a full-service pharmacy that fills prescriptions and sells supplements like any other pharmacy. The difference? Cedra is a members-preferred store. Customers who want to become members need to reach deep into their pockets for the $2500 to $6500 per month fees.
Anyone can shop at Cedra, but memberships offer perks like a personalized concierge service.
"It's not just going to the pharmacy," said Mazen Karnaby, CEO of Cedra. "It's like having your own concierge pharmacist with you every day, no matter the time of day. If you're in Italy and you need your medicine, we'll send it to you. We take a lot of the job of the doctor because they don't spend a lot of time with patients these days."
Karnaby said the program comes with personal nutritionists, masseuses, trainers and limo drivers who take patients to and from the doctor's office. Pharmacists also make house calls and thoroughly inform patients of any medications they are taking.
Cedra is not just for patients who want to be more informed about their prescriptions; Karnaby describes it as a "health concierge service."
"If you want a chef who comes to your house and teaches you how to cook healthy, we'll send them to your house," he said. "If you want someone to go to the supermarket and teach you how to buy healthy ingredients, we can send someone to teach you how to make smart choices."
What do patients get for their money? The Grand Cedra membership, which is the lowest rung, costs $2,500 and includes a blood glucose meter, 24-hour emergency support, free diabetic strips, a weekly at-home medication review with a pharmacist, a monthly nutritionist consultation, two massages a month, semi-weekly personal training, unlimited limo service to the doctor's and nurse accompaniment to the doctor's office.
The highest tier of membership at Cedra is Cedra Select, which, at $6,500 is for cancer patients who need extra attention. This includes the same perks as Grand Cedra, but also offers a monthly supply of vitamins and supplements and a customized personal care regimen, such as skin treatments, natural wigs, prosthetic fittings and more. Karnaby said Cedra Select also includes nurses who will stay with patients for days following chemotherapy sessions. In between Grand Cedra and Cedra Select are Medial Cedra ($3,500) and Feather Cedra ($5,000).
Customers who like the idea of a luxury pharmacy but can't afford the steep prices of a Cedra membership can still shop at Cedra and buy Cedra-branded supplements.
"We don't carry anyone else's lines," said Karnaby. "I guarantee my own ingredients that are only made in the U.S. They pass regulatory standards so we make our own vitamin lines."
Even cooler, Cedra can turn your prescription drugs into any form that is most palatable to you.
"If you son is taking an antibiotic that doesn't taste good, I can change the flavor and make it into a lollipop," said Karnaby. "We can make Viagra into lollipops and we just launched smoking cessation lollipops."
Cedra also sells beauty, skincare and hair care products in addition to medical accessories. The pharmacy's membership program currently has five members.