In 1969 I came to visit a place that would become my home. My whole generation fell in love with this city by the sea. We pushed every limit, made many mistakes, opened Pandora's Box never to have it closed again -- for good and for bad.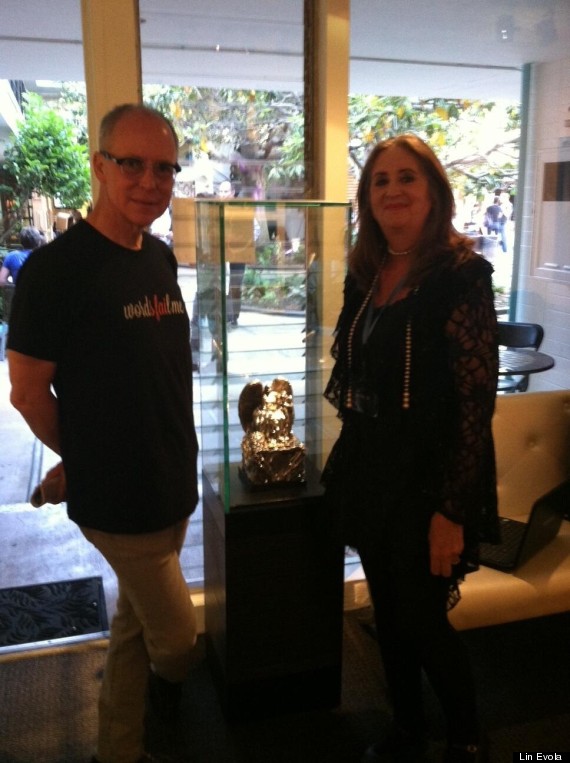 Charles Desmarais, President of San Francisco Art Institute.
In 2013 Chip Conley hosted his avant-garde event ArtPadSF at the Phoenix Hotel. I have known Chip since 1990 and he knew about the Peace Angels Project when it was solely a vision in 1993 when I carried the hopes of this movement from the streets of Los Angeles.
Chip's vision has included the Joie de Vivre Hotels since 1987. His Phoenix Hotel has hosted artists in his rooms amidst rock & roll royalty since soon thereafter. A San Francisco "legendmark" the Phoenix has myths and stories all it's own.
The Huffington Post called the ArtPadSF the "Bad Boy" of Art Fairs. How could I resist when Chip asked if I would like to preview the Peace Angels art with my art dealer Derek Cabaniss and his new gallery rêverie arts at this naughty art fair that is perfect San Francisco?
---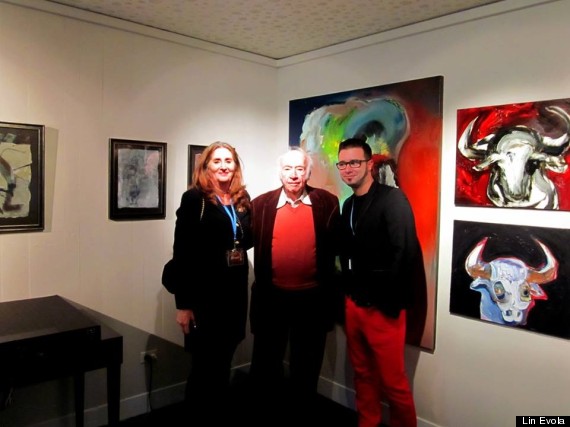 Peter Selz, Art Historian, Art Critic. Artist Adrian Ssegura.
My son is the cofounder and design director of the videogame company Wormhole Games. His founding partners make and collect art. This is the new breed. The children of those who carried flowers in their hair now carry the tech world of video games and high tech social media. ArtPadSF is their stomping ground in 2013.
The art at this fair is young, cool and alive. I must say that I like it. Energized and fierce, it resonates to me who never will sleep on this ride called life.
Somewhere there has to be a bad boy art fair left.
Do you know that I have had collectors tell me they wouldn't sponsor art with an edge... art created from weapons, has and always will have... an edge.
Peace Angels are conceptual push to pull. Weapons... Art... Money....
Throw chairs into windows as the Artist Dali did.
Witness the bullfight as the artist Picasso did. (See young and talented Spanish contemporary artist Adrian Ssegura.)
Face yourself as the artists Cindy Sherman and Lynn Hershman do.
Being the Bad Boy of Art Fairs showing art made of weapons is the least we can do.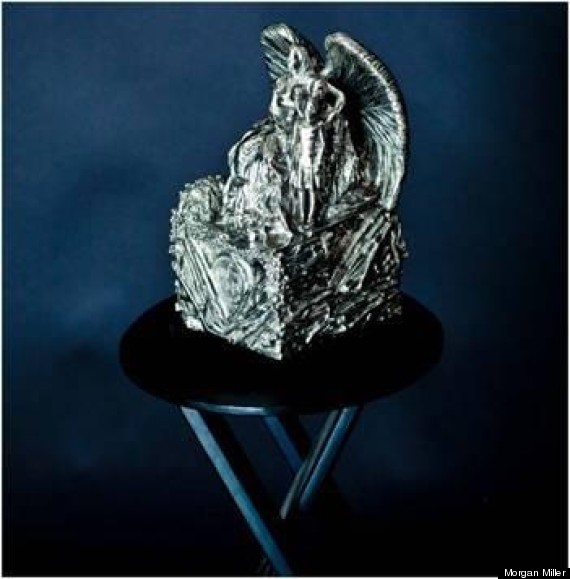 California Peace Angel, created from nuclear stainless & street weapons. Maquette for Los Angeles Peace Angel monument. Photograph: Morgan Miller
Chip Conley let me know that the first time that he walked into the Phoenix, he envisioned this space as a great site for parties and as a crossroads for creative people.
Pop-up exhibitions have become vogue but Chip Conley initiated some of the original pop-ups transforming Phoenix hotel/motel rooms into individuated art galleries. Chip feels that ArtPadSF attains the happiness and joy of the Phoenix pleasure dome as well as the seriousness of avant-garde art exhibitions. The art spaces flow truly with the California architecture of the unique spacial layout of the Phoenix.
Some of the established San Francisco galleries in attendance are: Toomey/Tourell Fine Art and The McLoughlin Gallery as well as the soon to open high end art gallery rêverie arts owned by Gallerist Derek Cabaniss who is previewing my Art at this event and has scheduled my opening exhibition for spring in San Francisco of 2014 to open his gallery.
On the wall at the entrance to the Phoenix you see a picture of David Hockney smiling in front of a very unique swimming pool, which he designed. There are only two: the Hollywood Roosevelt pool & the Phoenix pool. Wow.
In this pool of space as well as water, techie meets filmmaker, artist meets entrepreneur and you know it is San Francisco.
I asked Chip, my close friend, why he wanted the Peace Angels here and he said because he loves me. I love him too. He is my friend. I also remember in the early days, the hard work Chip put into this now very wonderful place. The times of violence and robbery were all too often. Those days are past but the violence surrounds us everyday and it is good to see the Peace Angels represent the transforming of violence into something peaceful.
At night, the Phoenix glows. It feels majestic... hypnotic... it feels like home. You know, the magic is coming.
That's why the Peace Angels are here... that is why they were created.
Chip asked me to be sure to let everyone know who comes into our space, the story of the Peace Angel sculptures and what they represent. I will....
REAL LIFE. REAL NEWS. REAL VOICES.
Help us tell more of the stories that matter from voices that too often remain unheard.