The image was supposed to illustrate post modern middle-Americana fun: In the center of the frame was Kid Rock, lunging forward, split-open cardboard Budweiser 24-pack box in his hand, aiming to cover the front of a woman revealing something -- the viewer could only assume body parts. But by the expressions of the overexposed audience -- some clutching Jim Beam bottles, all making bemused, aghast faces -- caught by photographer Andrew Hetherington on assignment for GQ, it was a safe hunch that the impromptu show astounded even its subject.
To put one over on Kid Rock is certainly a feat worth a photograph. However, Hetherington actually showed this particular picture last month to represent the subculture in which Rock participates. "I say that anyone who listens to Southern Heritage-infused Rap/Rock and goes on a four-day cruise with Kid Rock deserves subculture status," he blithely said to a packed gallery of people.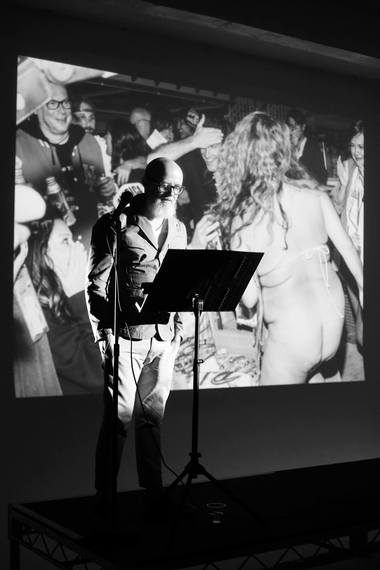 Hetherington had been invited to share the backstory behind the Kid Rock photograph for The BlowUp a quarterly event that is to "photo geeks what 'The Moth' is to literary ones", as Alison Zavos, The BlowUp's founder, put it. "Photographers are naturally curious people with incredible and often unparalleled access to people, places and events that normal people sitting at a computer all day -- like myself -- are not privy to. More often than not, they come away from their day with amazing and unique stories, and unless you are friends with photographers or happen to live with one, these stories can often go untold."
A native of Dublin who has traveled around the world shooting for almost every major U.S. magazine, including this one, Hetherington added that the Kid Rock photo was "also a snapshot of my own experience."
"You're on a cruise that is essentially the Spring Break for middle-aged, working-class people for four days with no escape. It's either your dream assignment or your worst nightmare", he said. Hetherington came away from the boat with 2,862 frames, adding that he had his "photojuice going."
Since its inception earlier this year, The BlowUp series has sold out and brought out some of the craft's legends. Larry Fink, who has exhibited both at the Whitney and MoMA and drawn comparisons to Walker Evans, showed slides from a Malcolm X rally he shot nearly 50 years ago.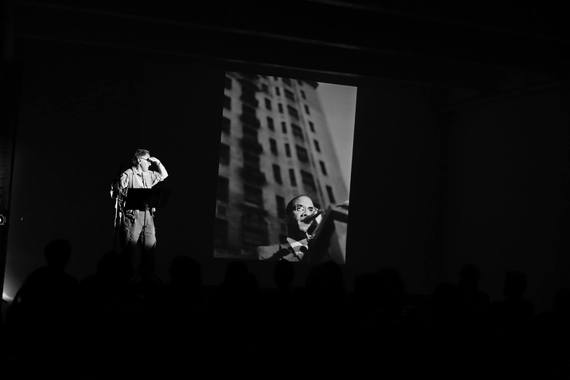 Former New York Post photojournalist Martha Cooper revived the graffiti work for which she became famous in the 1980s. Standing in front of her portrait of her "Alphabet City kid" straddling two trains and raising a can of spray paint in the early morning light, she recalled the moment: "I realized that what I thought were random acts of vandalism were actually carefully crafted acts of vandalism; that these kids were artists."
Deidre Schoo, a former photographer for the Village Voice, kicked off the night with photos of the subculture she discovered while on assignment to shoot Obama's 47th birthday party in Harlem. Flex dancing, characterized by twists and contortions unimagined of the human body, hit the streets of East New York just a few years before with the fervor of breakdancing. As Schoo pulled up a photo of one of her favorite dancers, Storyboard, she described him as a dancer "who would get on any surface he could find to show us his moves." But as Schoo got her shots, she also gained a dependent. "Storyboard was like most Flex dancers in that he had a contentious relationship with his father. And he was also diagnosed bipolar, so he would call me every day, stay at my house and really push those boundaries."
Zavos, who attended Parsons for graphic design, was about to graduate when her teacher suggested she had a greater talent for photography and should earn her degree for that, instead. "I didn't go back to school, but I did pursue photography, first as an aspiring photographer and later as a photo editor. Turns out, I was a much better photo editor than photographer, as well." In 2008, she launched Feature Shoot, a website that showcases the work of contemporary photographers in all genres -- from portraits of the "sexting phenomenon" to landscapes of European vacationers - while working for Inc. magazine "as way to collect all the amazing photographers and projects I was coming across". Since then, the site has gained a following of about 800,000 hits per month with more than 3,500 posts in the archives from 5,000 photographers.
Zavos is a strict curator, but it seemed, as the night wore on, that the theme only gave loose guidelines to some of the photographers' whims. Two of them, however, truly captured communities most people would have never known existed. Stefan Ruiz pulled up his portraits of Cholombianos, a group of teenagers banded together by their love of Cumbia music, apparel with religious icons and sculpted hair.
And although fetish is a subculture so examined, it might as well be a culture, Danny Ghitis, completely bewildered the crowd with his portrait of RileyKilo, a transgender age player -- a former boy who dressed up as a baby girl, sucking a pacifier, wearing a onesie and holding teddy bear as a part of the costume. "She didn't have the opportunity to grow up as a girl, so I think this is her way of experiencing that," explained Ghitis, who works for several national magazines and was a onetime nominee for UNICEF's photo of the year.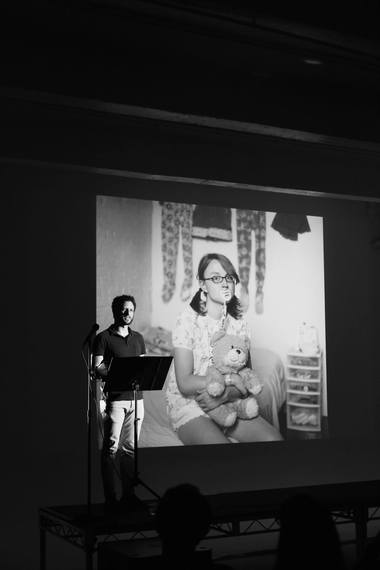 "(Fetishists) are actually more normal -- and it involves more people -- than everyone thinks. I photographed an alien master who was into alien abduction scenes. That guy works for the MTA".
ALL PHOTOS: Andy Jimenez.