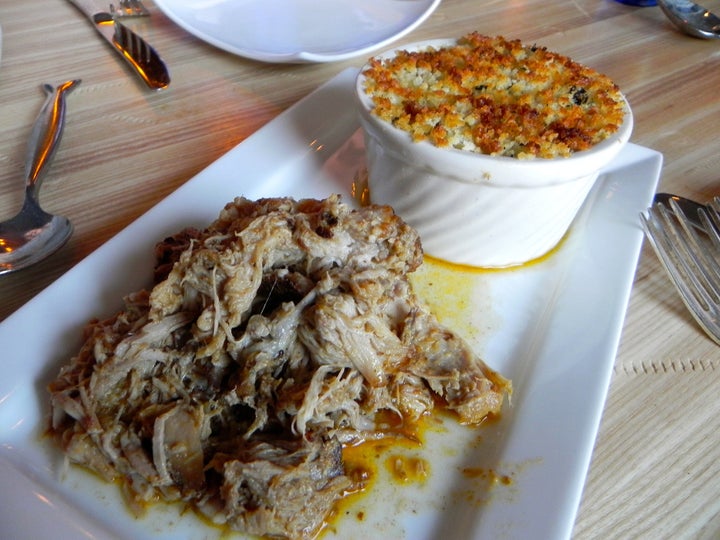 In case you have any doubts what a restaurant called The Pig specializes in, Roald Dahl's poem "The Pig" adorns the entrance to Logan Circle's newest eatery. Step into the bathroom and Porky Pig, Miss Piggy and their porcine friends plaster the walls. Open the drinks menu for a wine list divided into "Little Pig," "More Pig" and "Big Pig."
Yes, you're going to see a lot of pork.
But fear not, vegetarians and non-porkers. There's plenty here for you, too. But if there was ever a reason to hop off the vegetarian train for the night ("Hi, my name is Erin and I'm a vegetarian... 98 percent of the time."), it's at The Pig.
No pig goes to waste at EatWell DC's newest venture (the group is also behind The Heights, Grillfish, Logan Tavern and Commissary). The restaurant expects to use seven to 10 pigs a week, with no part left uneaten. Produce is sourced directly from EatWell's La Plata, Md., farm; a sign directly inside The Pig's front door lists other produce, meat and dairy suppliers.
A multi-page drinks menu ranges from seasonal cocktails (the Farmhouse Smash, with organic vodka, muddled strawberries, basil, lemon and clover honey, is the perfect summer refreshment; Miss Piggy's gin, sparkling wine, lavender and citrus dust combination is a little too heavy on the gin but smells like Provence) to wine and beer. A unique option is eco-friendly drawn wine -- wine on tap, essentially; a server described this as "porch-drinking wine," perfect to relax with and simply enjoy.
Like other small plates restaurants in D.C. -- which, these days, describes almost every new restaurant in the city -- food is meant to be shared, which gives diners the opportunity to try a variety of dishes and even branch out into something a little unusual (pig ears, anyone?).
The charred pork belly, served on top of celery root puree and watermelon jam, falls apart at first forkful, perfectly tender and juicy. Pork-and-lamb meatballs are topped with arugula, which brings a fresh, light element to the heavy dish. The grits mixed in taste more like ricotta; this dish wouldn't be out of place in any Italian restaurant.
Carolina pulled pork has a slight kick and is pleasantly not drowning in barbecue sauce; the truffle-crusted mac & cheese on the side turns tablemates into rivals vying for the last bite.
Step away from the pork for a couple of dishes to try flavorful wild boar ragu and veggie-friendly chickpea hash. Roast cauliflower with pine nuts and currants pairs well with the heavily-meat menu, although the dish could do with a few dozen fewer currants.
The only less-than-stellar dish is lamb manti dumplings. While delicious, the strongly Asian flavor is jarring in the midst of a southern-leaning meal.
Try to leave room for dessert. A brûléed cake of cream and crêpes, drizzled with raspberry coulis, is surprisingly light; for something totally unique, the Sundae Bloody Sundae comes with pig's blood chocolate ice cream.
The Pig plans to launch brunch service soon and will hopefully offer patio seating, too. In the meantime, it's already one of D.C.'s most exciting new restaurants and brings new life to this stretch of 14th Street. Diners leave full, satisfied, happy and optimistic that Logan Circle may soon become a spot for destination dining in D.C.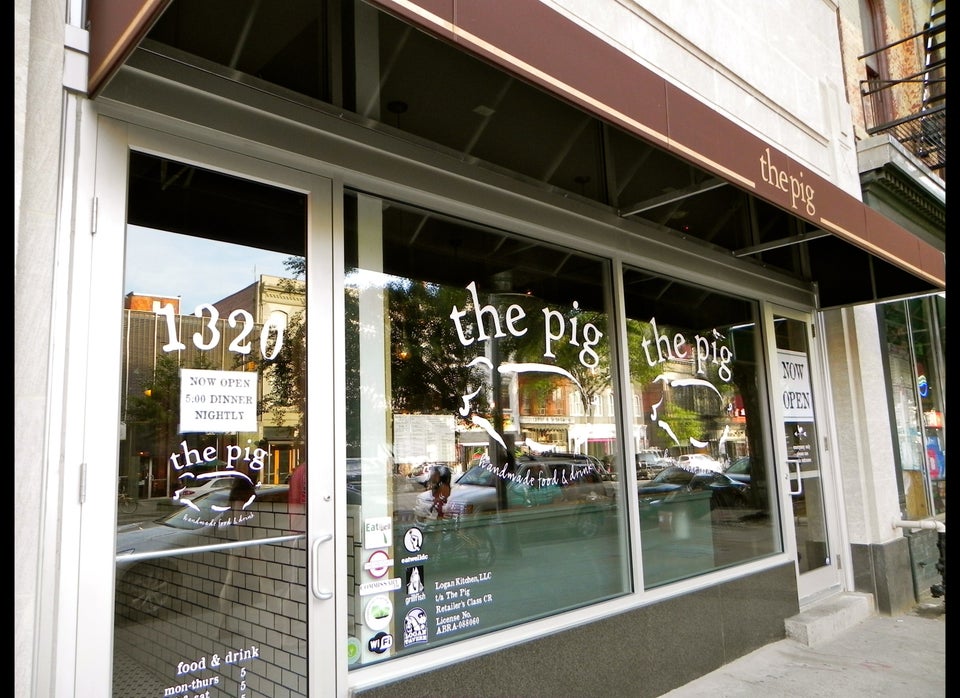 The Pig, Logan Circle
Related
Popular in the Community