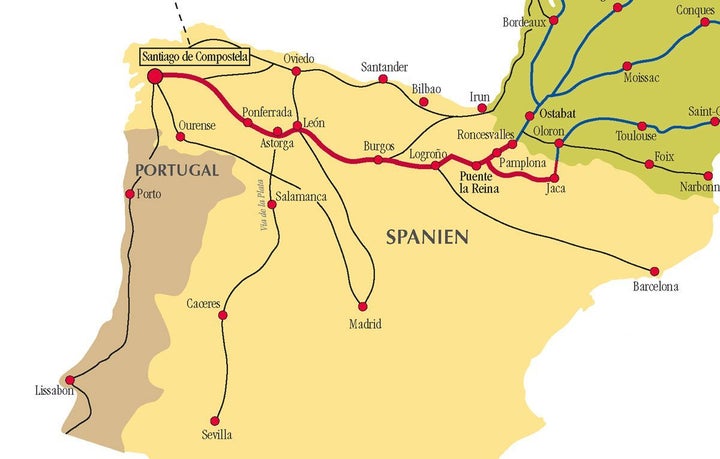 The Camino, Spanish Section, Northern Route
Buen Camino! - the universal salutation that wishes the pilgrim well.
While those familiar with the Santiago de Compostela pilgrimage may think of its Spanish section, 800 kilometers (500 miles) from the French crossing (now called the Napoleon Trail) over the Pyrenees, to the far northwest city of Santiago de Compostela, the most ancient trail begins in south central France. In the 10th C. the Bishop of Le Puy, in central France, began this now ancient tradition. The French section adds another 800 kilometers for a total of near to 1000 miles across two countries and delivering a grand physical, mental and spiritual adventure (Journey for Body and Soul: The St. Jacques de Compostelle Pilgrimage Trail)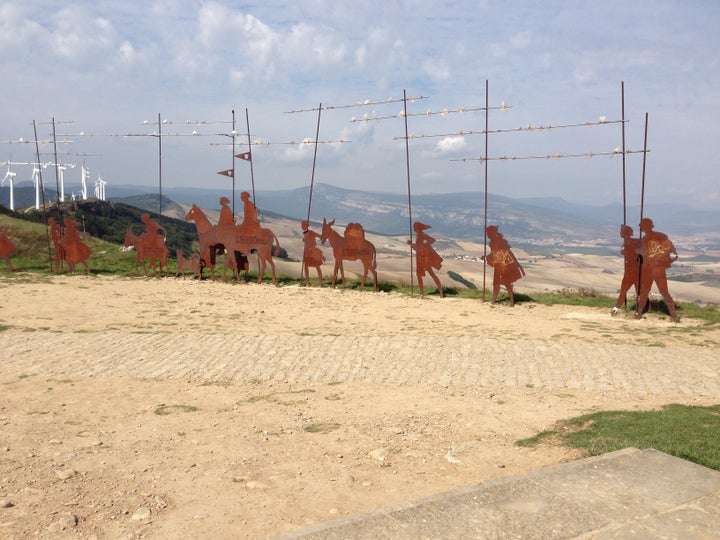 My wife and I began the pilgrimage in Le Puy, walking a week or so each year for nine years, always picking up where we last left off. We now have 300 kilometers to reach Santiago where pilgrims and tourists flock to honor the remains of Saint Santiago (St. Jacques, St. James) and to soak up Spanish hospitality, red wine (it is not far from the Rioja region), the remnants of a medieval past and a modern today, and the warmth of the locals and the southern sun.
This year we walked from Burgos to León, Spain, west of the gorgeous Rioja vineyards. This section of the Camino is about 150 kilometers (100 miles). Leaving Burgos, the walker soon encounters the meseta, with its 950-meter-high panoramic view, followed by mostly flat farmland. In October when we walked, the trail, always well marked with yellow arrows or stones, stretches past vast fields freshly harvested and plowed or planted with winter grass leaving the walker (and farmer) to imagine the year ahead. The sky blazes blue. It is all mesmerizingly monotonous, an elixir that creates the mental space to go who knows where.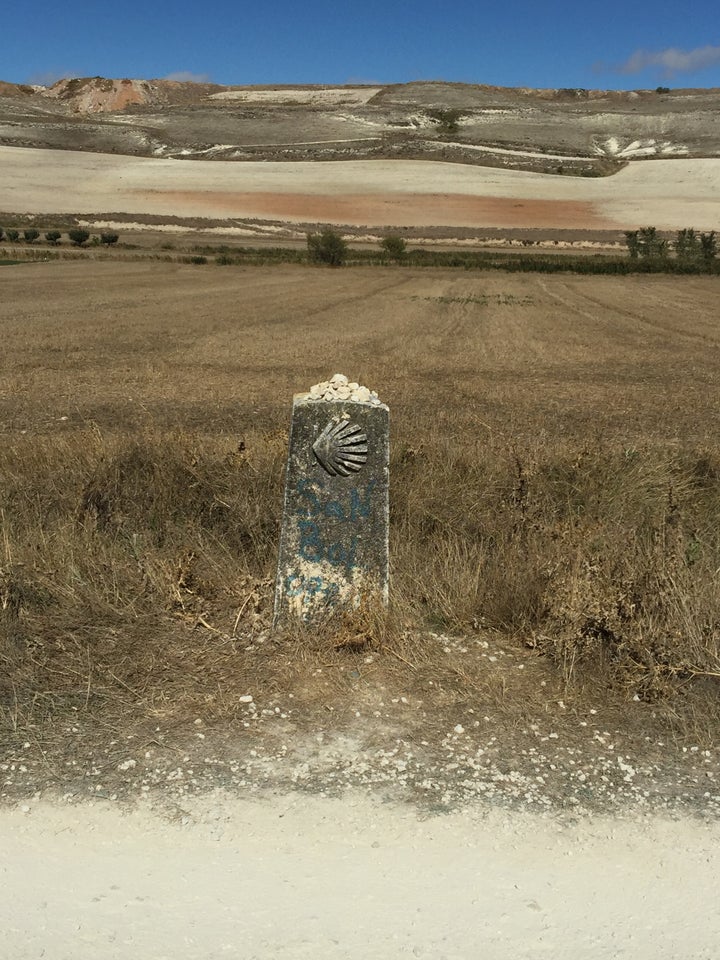 Camino Stone Marker, northcentral Spain
Walking 6-7 hours a day, even when mostly level, is not quite a stroll in the park. The pilgrim not only accepts but tries to welcome its demands - to recognize that hard work and reflection have their well won rewards. In Spain, we are perigrinos. In France, pelerins. Pilgrims everywhere, who walk the Camino for diverse reasons: for some it is religious, for others spiritual; for some it is to heal from a loss or illness, or misfortune; or a transition in their lives or work; families walk to bring them close; artists of all types walk to find a voice that eludes them, to seek their muse; some search for self-acceptance, an elusive yet essential state of mind; and for some, it is like the American Appalachian trail, a glorious adventure.
The last stretch of each day is always a stretch. But that's the point. The body resists and the mind ain't far behind. The back and knees feel it, and the straps of the rucksack are making a shallow trench in your shoulders. If you are unlucky, a toe or heel blister pings you with every other step or tendinitis burns your shin. And it's been a couple of hours since almuerzo (lunch - typically cheese, nuts, bread and fruit purchased early that morning at a tienda) and there are a couple hours, or more, until the day's destination.
Every day is unprecedented and uncertain, as is the paradox of our quotidian lives. But the Camino is different: the ultimate destination is clear - for the day or for fullness of "The Way", as the pilgrimage has been called. Yet the path to your destination takes many unexpected turns, some of our doing and some for reasons we cannot know. We can learn from every new turn, if we pay attention.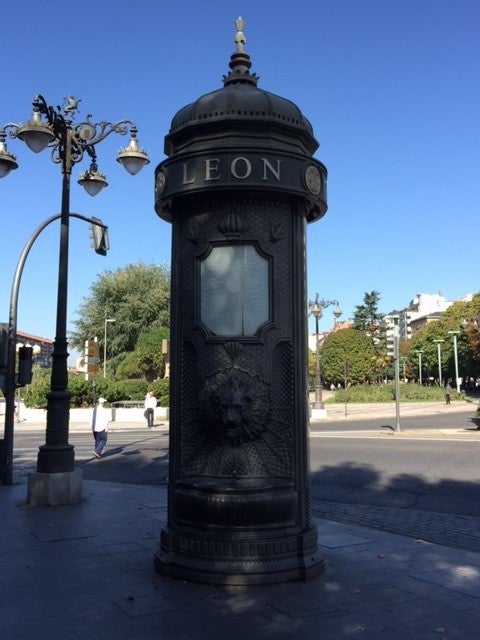 The evenings are for recovery, local exploration and red wine. Families frequent the town squares, and children run and play. Sometimes there is the companionship of fellow pilgrims. Solitude is fine too, if that suits you.
Yet this year I was both a pilgrim and patient.
I would have been unable to do the Camino this October were it not for my being a patient (again). Before we left, I received a non-surgical, anti-inflammatory treatment (that can last up to several years) after herniating my L5/S1 low back disc a couple months before our planned trip. I had barely been able to climb subway stairs and was enervated in the way pain can steal life's force away.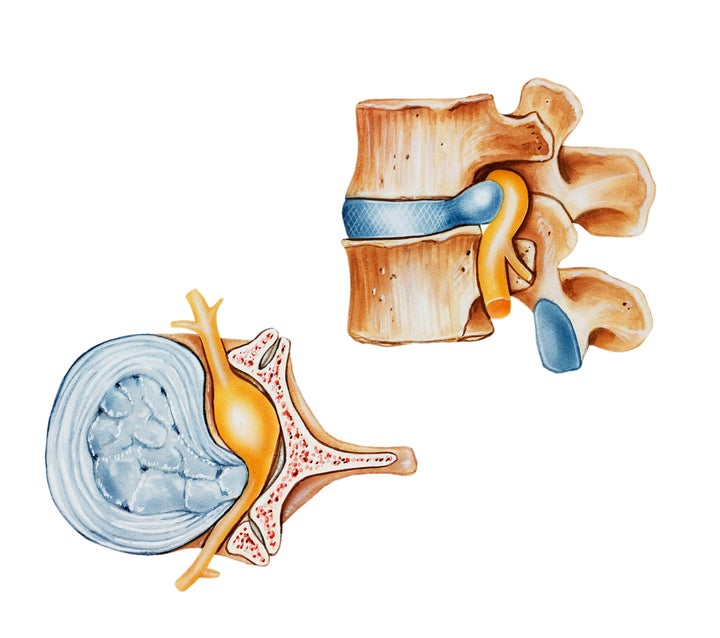 Herniated Disc (Shutterstock)
When I saw no progress from ibuprofen, physical therapy, and time I consulted my medical friends in Santa Monica, one of two places in this country where a unique treatment, Regenokine, is offered (for more information, including the cost, see my Atlantic.com 2012 article, An Arthritis Treatment Worthy of the Pope and Kobe). In a phone consultation before I began the treatment, I was told I had a "70 %" chance of improvement; I had responded to Regenokine before, though in my knees and shoulder so the back was going to be novel. Yet I knew these doctors were always prudent in their estimation of whether the treatment would help, or not.
My MRI had shown a herniated disc and an abundance of arthritic changes. Both foster inflammation - and its attendant swelling and pain. Persistent (chronic) inflammation is the enemy. It attacks joints; it lays down nasty, fatty plaques in our cardiac and cerebral arteries, thereby increasing risk for myocardial infarction and stroke; it destroys the insulin producing cells in our pancreas; and is well known to be associated with heart disease, diabetes, depression, PTSD, Alzheimer's and a host of other ails (see: Improving Mental Health: Four Secrets in Plain Sight). My disc was going to have a hard time receding with the continuing inflammation (it had not ruptured so it could reduce inside the disc space) and my back just hurt too much to bear even a light day pack and 7 long days on a trail - even mercifully one with few hills.
Two weeks before our scheduled flight to Spain I completed a five day Regenokine treatment in Santa Monica. Counting the local anesthetic injections, I had about 80 shots in all, bathing layers of tissue up and down both sides of the affected disc with a highly-concentrated solution of my own anti-inflammatory proteins, taken on day 1 of the treatment by blood draw and substantially replicated overnight. Each day's treatment lasted 20 minutes, under a fluoroscope. I returned the next day to continue.
I was sore, that's for sure, but the pain that brought me to California began to fade after a few days. After another week, I felt ready to walk the Camino. But only doing so would truly demonstrate this patient's response to treatment. The Camino would be a true test that would defeat any potential placebo response, and one I was going to try.
I wrote this pilgrim and patient travelogue on a high-speed train from León to Madrid, where we would board a trans-Atlantic flight back to New York. I am sitting with my wife in an almost empty coach watching the landscape of seven full days of walking pass in far less than two hours. To be honest, my calves ache, my knees want some ice and my back is sore; but those are all the price of walking so far for so long. No pain, no gain - I suppose, but that is not enough of an explanation.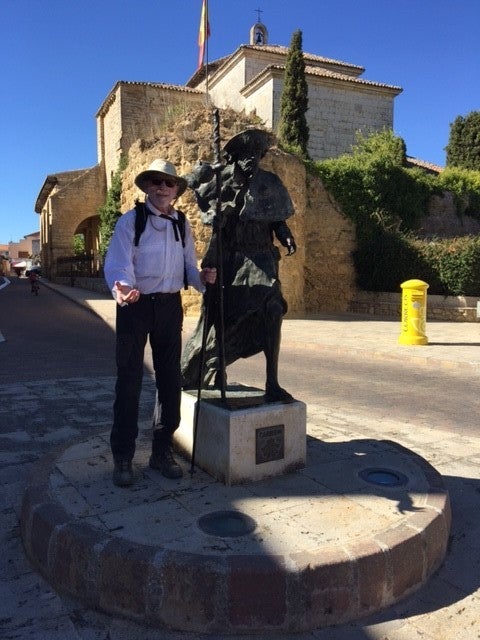 This pilgrim and patient, next to a statue of St. Jacques
Walking the Camino helps to reveal the boundless scope of life, the immanence of its forces everywhere we dare to look. In the villages, the fields, the streams, rivers and dry beds, the horizon, and in those we meet and those we love. It's a wonder and a non-sectarian blessing to be alive if we can get our head to see what surrounds us.
We are already planning next year's week-long walk going west out of León, which after another 7 days will take us midway on the remaining trail to Compostela. The aches and pains of today will fade but not the awakenings.
Dr. Lloyd Sederer is a psychiatrist and public health doctor. The opinions offered here are entirely his own.
His next book, The Addiction Solution: Treating Our Dependence on Opioids and Other Drugs, will be published by Scribner (Simon & Schuster) in 2018.
Related