This weekend I am honored and humbled to join President Obama and the rest of the First Family, Congressman and Civil Rights hero John Lewis, dozens of my other Congressional colleagues and thousands of people from around the country as we gather in Selma, Alabama to mark the 50th anniversary of the passage of the Voting Rights Act.

Key to the passage of the Voting Rights Act, were the highly visible marches across the Edmund Winston Pettus Bridge in Selma, organized by Dr. Martin Luther King, John Lewis and other esteemed leaders. Lewis will be leading us this weekend. In 1965, while crossing the bridge he was beaten so badly that his skull was fractured. On the third march across the bridge, the interfaith, multi-racial crowd was finally able to travel the distance from Selma to the Alabama state capital, Montgomery, to demand the right to register to vote. All these efforts encouraged Congress and President Lyndon B. Johnson to make the Voting Rights Act the law of the land.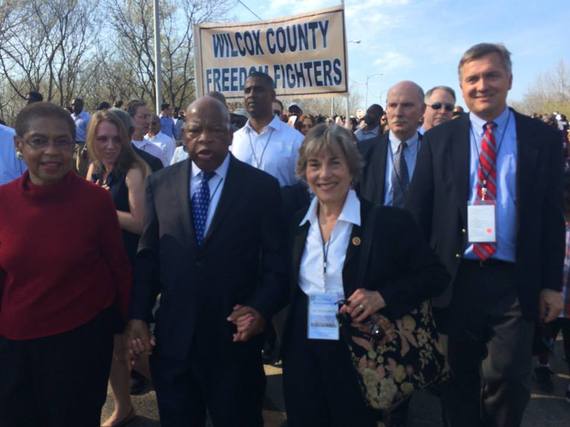 Marching with Congressman John Lewis and Congresswoman Eleanor Holmes-Norton during the Civil Rights Pilgrimage in 2014.

Unfortunately, the fight for voting rights is not over. Many states around the country, including Alabama, have recently moved to make it harder for Americans to cast their votes in elections by requiring photo identification and restricting early voting periods. Their actions have disproportionately impacted lower income Americans, people of color, and senior citizens. To make matters worse, in 2013, the Supreme Court's decision in Shelby County v. Holder gutted many of the protections in the Voting Rights Act that have done so much good for so long.

It is my hope that today's pilgrimage in Selma will be a pivotal national moment that will once again lead to the passage of the bipartisan Voting Rights Act, which will overturn and prevent measures to limit the franchise. We can best honor those who marched 50 years ago by reconfirming in law the American principle that all people truly have the right to vote.
Calling all HuffPost superfans!
Sign up for membership to become a founding member and help shape HuffPost's next chapter