Just in case you hadn't noticed your favorite retail establishments taking on a distinctive Pepto-Bismol cast recently, I'll fill you in: October is National Breast Cancer Awareness Month. Pink is the official color of BCA month, often a pastel pink, and often in the form of a pink ribbon. Most of us know by now what that pink ribbon stands for. Most of us, when we see a product or a business advertising that pink ribbon, assume that a portion of their proceeds are somehow benefiting the fight against breast cancer. And many of us will be swayed by that pink ribbon to buy something we might not have otherwise, because we want to help the fight against breast cancer too.
There's just one little problem. Some companies are keeping all the money you spend on their products for themselves. The contribution of some companies to the cause begins and ends with slapping a pink ribbon on a label. There's no law against it. They aren't lying, exactly. They're just relying on the consumer to make certain erroneous assumptions -- namely, that no one would be scummy enough to exploit cancer for profit.
This is not to disparage the BCA movement, which has raised both millions of dollars for research and raised women's awareness about a potentially life-threatening illness. There are many companies advertising pink ribbons who donate generously to breast cancer charities and organizations. Determining whether the company is giving to the cause is usually as simple as reading a label or checking out a website. Companies that donate to charity want to tell the consumer all about it!
Of course, not all charities are created equal. Corporate heavyweights Bloomingdale's, Campbell's Soup and the Lifetime Television Network all donate to BreastCancer.org, a "nonprofit organization dedicated to providing the most reliable, complete, and up-to-date information about breast cancer." That sounded great until I went to the website and tried to find information about where women could receive low-cost and free mammograms. Despite being in the midst of a recession, when so many of us are without steady incomes and health insurance, this information was not easy to locate on the site. And what I did uncover wasn't terribly helpful. BreastCancer.org essentially passed the buck -- providing weblinks to other organizations that might be useful to a woman searching for free or low-cost mammograms. I clicked all three links provided, and only one -- a taxpayer-funded government agency -- provided free mammograms. Where are all those charitable contributions going?
BreastCancer.org surely serves as a useful informational resource for some -- namely those with health insurance -- but I personally would rather support organizations that invest in medical research, provide care, and do outreach in low-income communities. And that means paying attention, reading the fine print, asking questions. Both watchdog group Think Before You Pink and the Better Business Bureau have guides to help the consumer decide for themselves if a company is making a valuable contribution to the breast cancer cause or not.
When handled responsibly, pink ribbon products can benefit everyone involved -- the company gets good PR, the consumer gets to feel that they've helped in some small way, and worthy breast cancer organizations get much-needed funds. In honor of that effort, I've compiled a shopping guide of beauty products from responsible companies that donate a percentage of the purchase price directly to reputable charities. Of course, nothing beats donating directly to a breast cancer organization. But if you want to buy yourself a little present, take a look: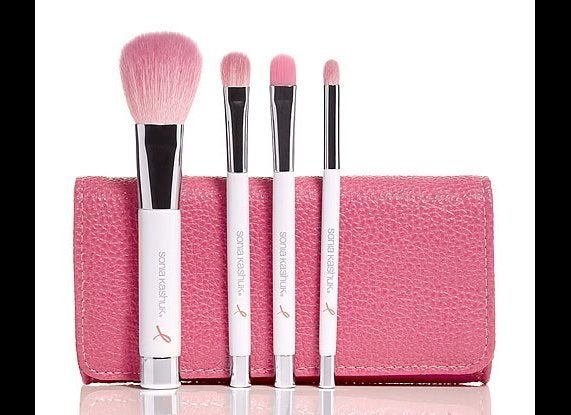 Breast Cancer Awareness Shopping