Hey, all you marketers out there: Ignoring Pinterest is no longer an option. But before you can add Pinterest to your marketing mix, there are a few things you should know.
It's a common problem for companies around the globe: You have a great product, but it's tough to get the word out in a noisy and overcrowded marketplace. Social media channels have finally matured in order to now give brands and retailers the ability to reach mass audiences without investing a lot of money. Pinterest is one way that companies like Zappos, Etsy, ZGallery, Wayfair.com, Gilt, Sephora, and Barney's have embraced social media in order to visually merchandize their products like never before.
Let's look at the inherent allure of Pinterest: It's a huge online pinboard that allows people to look through interesting things, "pin" the ones they like and leave comments below what was pinned. The great selling point of Pinterest that wins people over is its cool and captivating pictures. We are visual creatures and we love to look at images of beautiful people, designs, products, nature, and food. This is why brands need to start off by having evocative imagery on their websites before they start pinning.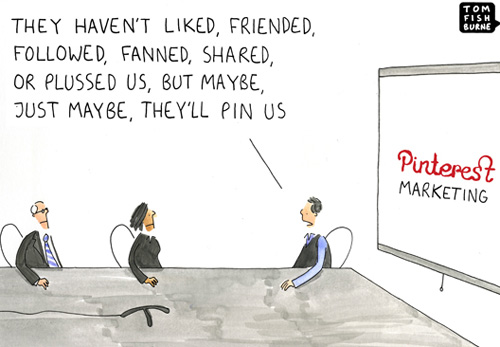 The vast majority of Pinterest users are women between the ages of 25 and 34, so it's a natural place for brands and retailers to spend time if they want to connect with this particular target audience. A recent Pew Internet & American Life Project survey of 1,000 U.S. adults found that nearly 20 percent of women using the Internet are now on Pinterest compared to just 5 percent of men. All told, 12 percent of U.S. Internet users are on the image-based social network.
Repinly reports that the most popular category on Pinterest is "food and drink" (11.1 percent of pins), followed by "DIY and crafts" (9.6 percent) and "home décor" (5.8 percent). However, looking at pinboards rather than single pins, home décor is actually the most popular category (11 percent), followed by "art" (10.7 percent) and "design" (10.3 percent).
According to Piqora, the Pinterest analytics company, the average brand using its platform increases website page visits per pin by 400 percent, doubles the page views per pin, and boosts revenue per pin by 50 percent, from $0.14 to $0.21. In the December shopping season, Piqora says, its clients took home a massive $0.64 in revenue per pin. Signing on with the platform gives companies competitor tracking, a marketing and analytics suite, and unlimited users, for an annual price that "fits on a credit card," according to VentureBeat.
Zappos isn't the only company to create Pinterest-specific campaigns and promotions. In December, Lands' End Canvas launched a Pinterest promotion called "Lands' End Canvas Pin It to Win It." Fans of the apparel brand were asked to pin items from landsendcanvas.com to designated Lands' End Canvas pinboards for a chance to win one of those items.
Barneys New York launched a similar campaign just before Valentine's Day. The Manhattan-based fashion retailer cross-promoted its Pinterest page from its other social channels like Facebook and Twitter, asking people to create a "Barneys New York Valentine's Day Wish List" board in the Women's or Men's Apparel categories. Participants were encouraged to pin anything they wanted to their boards, but at least five items were to be sourced from barneys.com to qualify for the contest.
One thing to keep in mind: The entire Pinterest Universe is based on the content that people want to see and re-share. Despite the millions of images being pinned now, it's not difficult to get your photos noticed and repined, but it is helpful to create themes or categories to drive targeted interest, like creating a board to showcase items that are only orange in color, or that reference the ocean. Remember, people on Pinterest like discovering new images, so if you can make them have fun while engaging with your brand, they are more likely to click through and convert.
Related
Popular in the Community