Have you ever dreamed of giving up on city life, moving to the countryside and living a simple existence on a farm? Blogger and author Ree Drummond has done just that, but unlike the average person (who would probably prefer a private existence), Drummond has publicized her life on her blog, The Pioneer Woman. For her site, she cooks, bakes, writes about raising and homeschooling her children, loving her husband, ranch life and much more. Drummond lives a domesticated life, and her die-hard fans, of whom there are many (Drummond's site gets 23.3 million page views monthly) love her for it. But many foodies aren't such big fans. Her second cookbook, "The Pioneer Woman Cooks: Food From My Frontier," which arrives March 13, gives us more recipes from her kitchen. However, many can be found for free on her blog. So is the book really worth buying?
First, for those who don't know that much about Drummond's backstory. Originally from Oklahoma, Drummond went to college in L.A. but fell in love with a real-life cowboy and found herself marrying and moving back to Oklahoma and having four kids. So much for city life -- the country wanted her back.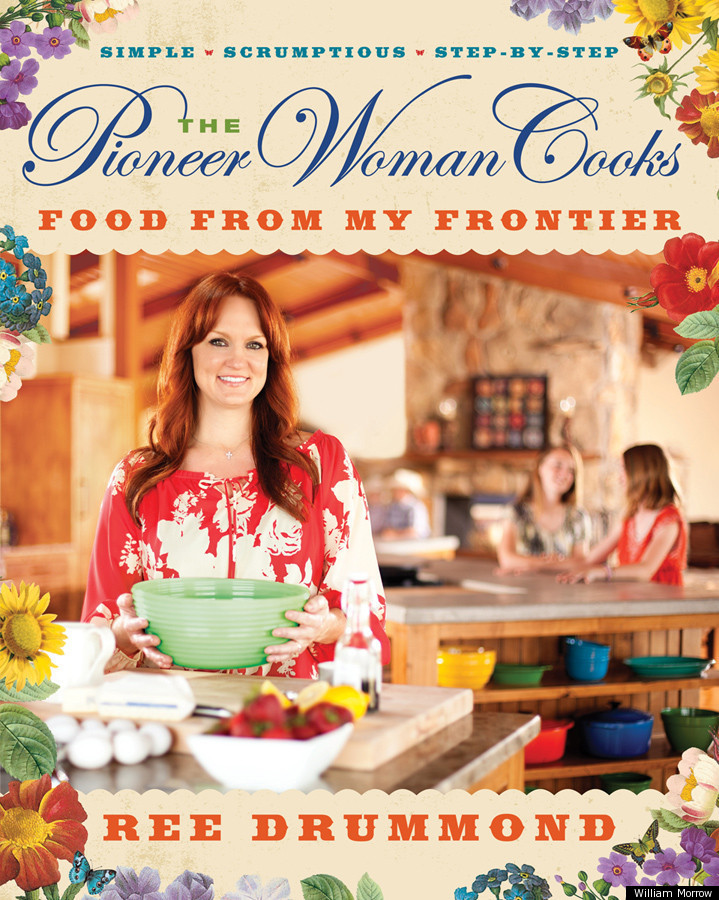 Someone who's not familiar with Drummond's persona may not know what to make of her. A little Googling shows that Ree is both loved and hated as a blogger/author figure -- some people despise Ree with a passion, calling her a fake (the fourth-highest search term for Drummond on Google is "Ree Drummond fake"). That may come as surprising if you watch the previews of her new Food Network cooking show [video below], which presents her as a sweet mom -- exactly the image she has created for herself.
Like her previous cookbook, this new cookbook offers a glimpse into Drummond's life -- it's a scrapbook of sorts filled with recipes and photos of her food as well as her family and their life on the ranch. One can appreciate her way of breaking down recipes into step-by-step instructions with photos to illustrate how each step should appear, but it's a bit much (it makes us feel like we're on a not-so-fun acid trip at grandma's house).
Her photos are passable, but not many of them make us salivate or want to reach in and grab the food, like a good cookbook should -- some photos just make the recipes look unappealing. Her recipes are all standard ones you would imagine anyone who lives on a farm or ranch would make for their family -- lots of meat, meat and more meat along with some simple baked goods and sweets. But there's nothing special about them. Drummond has said she makes classic recipes with a twist, but what actually are the twists? Does adding dry mustard to a mac and cheese recipe constitute a twist?
Overall rating, on a scale of 1-5: Overall, we give this cookbook a 3 for its average-near-mundane recipe content and so-so photography. You can easily customize any standard recipe to suit your tastes -- you don't need Ree Drummond to show you how.
What some of our editors thought:
I'm the kind of person who swoons over photos in cookbooks -- if a photo doesn't make me drool, I won't make the recipe. Unfortunately, the photos in Ree's book didn't do it for me, so the book had about a 3-second lifespan. While the step-by-step images are plentiful and admittedly helpful, they just don't make me want to -- well, eat. And that's a problem.

On a positive note, I can see how Ree's selection of recipes would be appealing to the masses. They're rich, down-home dishes that lack pretentiousness. Someone who's already a fan of Ree, her blog and her television show will probably find enjoyment in recreating the dishes that represent her lifestyle -- and that whole "city girl turned wife-of-a-cowboy country cook" schtick has proven to have broad appeal. But for those who aren't Ree fans in the first place, the book's collection of recipes just doesn't stand strong on its own. The main attraction of this book is its author, period.
If you're looking for a cookbook that will inspire dishes which make your whole family happy, this may be the one for you. The recipes you can find in Ree's book are not new, they're not inventive or even cohesive really, but they're certainly dishes that you can find on dining room tables across the country, with satisfied children to boot. With dishes like Thai Chicken Pizza, Chicken Parmesan, Best Grilled Cheese Ever, and French Toast with Berry Butter you can see that the theme rests heavily on typical crowd-pleasing meals. On the plus side, there are a great many to choose from.

And while the recipes are plentiful, so are the photographs. Ree Drummond translates her Pioneer Woman blog template to her cookbook, offering photos for every step of every recipe. While sometimes it's helpful to see exactly what a recipe direction means, we don't really need a photograph demonstrating how to slather a spread on a piece of toast -- if you don't understand how to do that, maybe you should not be in the kitchen. While this design decision may have been made with the best intention, in the end it works against the book. The pages are way too busy, and any good photograph gets lost. It's as they say: less is more.

On a final note: as much as I love cats, I could really do without photos of them in my cookbook.
What do you think of The Pioneer Woman? Leave a comment below.
WATCH: A Snippet from "The Pioneer Woman" on Food Network
Related