Florence is one of the most welcoming cities in the world. It's not just its perfect street layout that allows for an easy walk to any of the city's historic destinations; it isn't only the quality of the food offered here, always with a smile and a pretty decent bill to follow; and it isn't the shopping, that although phenomenal, is so plentiful that at times it's downright overwhelming. No, Florence offers something more. Yesterday afternoon, I met one woman visiting from New Jersey, on her way up to the rooftop of my hotel. She was glowing, and gushed, "I keep getting lost in Florence, in the most wonderful of ways."
Perhaps that woman has uncovered the secret of this magical city. Florence may just be the one place on earth where getting lost is allowed, it's actually required and encouraged, and the only repercussion of losing one's way here, will be the priceless adventures gained.
As Pitti Uomo kicks off its 90th edition, we mourn the outrageous loss of life in Orlando. There are reminders everywhere that we live in uncertain times. In front of the Uffizi Gallery, an armored car, and a soldier with the same kind of machine gun that the murderer used in Florida. The mere sight sent shivers up my spine, I can't even begin to imagine the terror the countless victims felt. This one carried by the soldier, is here to protect me, I thought, and it's still scary.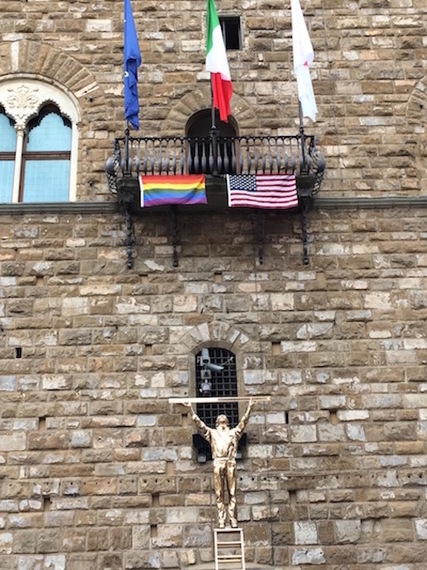 In front of the Palazzo Vecchio, where the opening ceremony of Pitti Uomo was held on Tuesday morning, an installation by artist Jan Fabre of his 1998 "Man who measures the clouds" golden statue, framed by an American flag and rainbow flag of LGBT pride. A classy tribute, by a classy city.
As they say, the show must go on. And in Florence it does, because ultimately fashion and culture are the best antidotes to hatred and insanity. There has never been a fashionable killer. Or one that could hold an interesting conversation about the latest world cinema trends. In an Al Jazeera segment I heard while searching for news this morning, a NYC psychologist mentioned that at the root of all mass murderers is a deep sense of non-belonging, and misogyny. It's the reason women don't usually kill. And members of the global fashion tribe that has descended on Florence for Pitti Uomo never will. But there is still plenty of security to keep them feeling safe.
The night before the fashion fair started, a few lucky invitees were treated to the most coveted ticket in town, the "Palazzo Pitti: Sounds and Lights" event. Hosted by Andrea Cavicchi, president of the Centro di Firenze per la Moda Italiana (the Florentine Center for Italian Fashion) and Eike Schmidt, the director of the Uffizi Gallery and the iconic Palazzo Pitti, the evening turned out to be a mystical trip down memory lane for me. During my family's entire stay in Florence, while I was a child, my father worked right across from the terrace where the dinner was held. I could see the small window that hovered high above the Pitti Square, I remembered the endless ramp of steep stairs that were required to reach the paintings conservation laboratory, where I first discovered a real talent for painting mustaches on antique paintings (preferably of ladies). But don't worry, my father only allowed me near the disposable works of art... Yes, Florence has some of those. Because art here, as fashion too of course, is not an occasional thing, it's a way of life.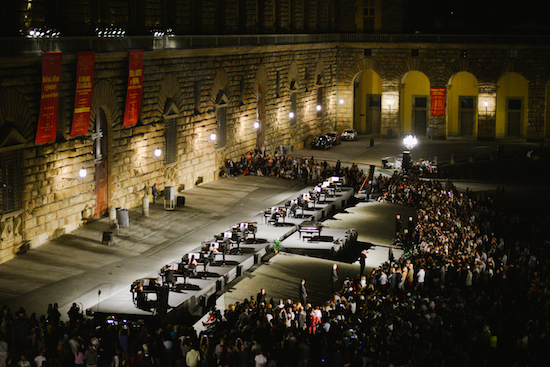 The dinner itself was courtesy of some outstanding catering by Guido Guidi, with wines that included Ruinart Champagne and a Muffato della Sala by Antinori accompanying a fantastic champagne risotto with asparagus, a veal fillet with a fig sauce and potato millefoglie, and ending at a table of cakes, sweet delicacies and fresh fruit. A food lover's dream come true.
But the highlight of the evening for me was the piano concert, courtesy of the Ensemble Piano Twelve and later, the maestro Giovanni Allevi. If you've always wondered what "Viva La Vida" by Coldplay would sound like on twelve synchronized pianos in a grand plaza, as the lights went down over the Florentine monuments... Well, it was incredible.
At the opening ceremony slash press conference to kick off this 90th edition of Pitti Uomo -- the most respected menswear fair in the world which this time around celebrates 45 years since its inception and more than 60 years of the "Made in Italy" concept -- Florence Mayor Dario Nardella offered some of the wisdom I've come to associate with him. He said, "there can be no great fashion strategies without youths who can hold a needle and thread. Because you can't create, without being able to make." And that's what Florence is best known for, its world-class artisans, those who for centuries have made the city a pioneer in style, class and fashion.
Pitti Uomo runs at the Fortezza da Basso in Florence through June 17th.
Photos from the "CFMI Presents Palazzo Pitti: Sound and Lights" event by Vanni Bassetti courtesy of Pitti Immagine, used with permission.