At a morning preview for his event at Pitti Uomo, I asked Russian designer Gosha Rubchinskiy if he believes fashion is a way for people to unite, to find common ground -- to belong.
"Right now, it's better to be together than separated," he said, and his longtime collaborator, stylist Lotta Volkova continued, "in a way Gosha has become what connects teenagers from all over the world, they are obsessed with his fashions." In a recent Financial Times interview, writer Charlie Porter wittily added that though his fashion is directed at teenagers worldwide, Rubchinskiy "has amassed a wide following of adult men who still think of themselves as teenagers."
Perhaps that's the clue to the industry's wild success, even in dire times. Fashion is about never growing up, playing dress-up forever, being a male or female Peter Pan. Tinker Bell is of course replaced by the voice of a fashion conscience of our liking, be that Karl Lagerfeld, Marc Jacobs or, in this case, at this very moment, Gosha Rubchinskiy who is man of the hour in trendiness. But walking around Pitti Uomo's main venue, the Fortezza da Basso, one can observe this wondrous parade of boys and girls -- and I use that term in the most loving way possible -- dressing up every day in the clothes of their dreams.
I'll admit, I'm a Peter Pan too. I refuse to grow up, or worse yet, grow old. I'm more at home in a summer white lace dress than in a tailored suit because a dress to me offers endless possibilities. And for a man like the one pictured below, even a suit becomes a feat of the imagination, veering away from traditional colors and cuts, to become the stuff tailored dreams are made of.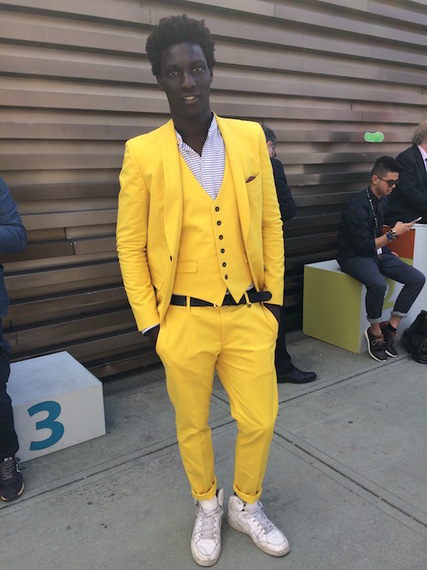 Perhaps it's a sign of the times, perhaps it's the great momentum the "Made in Italy" brand has been enjoying, but Florence for Pitti Uomo this time around feels energized, alive, refreshed and refreshing. With one foot planted into the past of the city where modern civilization started, designers are also looking to the future.
It may be a combination of things. Designers are becoming more away of the whimsical aspect of fashion. At a interview with a Swedish brand's creative director, he basically said that those making and selling fashion need to lighten up. The consumer, he admitted, has it right, possesses the joy necessary to appreciate fashion, but those working behind the scenes are taking themselves a little too seriously.
There is also here in Florence a wonderfully cooperative spirit going on at the moment. The newly appointed director of the Uffizi Gallery, German art historian Eike Schmidt admitted in an interview earlier today that he'd always dreamed of bringing fashion into the art venues, and never imagined it would happen so quickly. This time around, art museums, famous landmarks and antique squares have been sprinkled with the mischievous spice of fashion. It's as if the art and fashion world are showing us the way. If the world is going to be OK after all, it's going to be through inclusion, not exclusion.

So how is the business of fashion going? I think Gaetano Marzotto, Chairman of Pitti Immagine, said it best at the opening ceremony for this Pitti Uomo 90 when he stated that "you express your personality with clothing." He pointed to the challenges ahead for Italian fashion, with a declining Russian market and a Chinese market slowing in growth, falling a bit behind expectations. The upside is that our own US market happens to be the most constant, most stable at growth for the 'Made in Italy' brand, and that's good news all around.
But perhaps most importantly, Marzotto reminded us of something even more important.
In 1952, fashion as we view it and purchase it today, was born in Florence, in the Sala Bianca of the Pitti Palace. There, the first official Italian fashion show was held and from then, there was no turning back.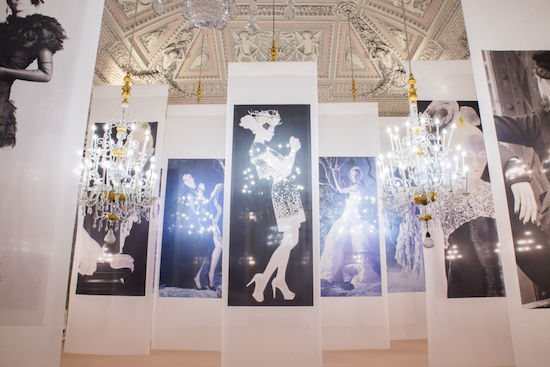 Today, at this edition of Pitti Uomo more than 60 years later, fashion legend Karl Lagerfeld has chosen that same venue to display his photography in an exhibit titled "Visions of Fashion". There, his images find a new temporary home, hanging from the ceiling as sparkling crystal chandeliers dangle teasingly nearby. To say that it has made for more than a few goosebumps moments while viewing Lagerfeld's exhibit is an understatement.
Raffaello paintings, frescoed ceilings, marble statues and iconic images by Lagerfeld made for an experience I'll never forget.
In the words of master filmmaker, poet and writer Pier Paolo Pasolini, whom Rubchinskiy named as his primary inspiration for the collection we're about to view, awaiting it with bated breath, "They'll teach you how to stop shining. And you, instead, must shine on."
Photos of Karl Lagerfeld's exhibit by Proj3ct Studio, courtesy of Pitti Immagine, used with permission.