Pitti Uomo can hardly be called small this season, by any stretch of the imagination. Never have I been so overwhelmed by an event, and yet left feeling every evening, so energized, refreshed and reassured. I came into the first day of the menswear fair with a heavy heart, after the murders in Orlando. My soul and my heart needed healing, and I was searching for renewed hope in humanity, having been left drained by the tragedy.
And here, in the midst of this global fashion tribe, I found it.
Here are my highlights so far, with still a bit more than a day to go, and some groundbreaking events ahead, like the inimitable Raf Simons later on Thursday. Not all my personal favorites have to do with men's fashion, or even fashion at all, but they all definitely are thanks to Pitti Uomo. The fashion event of endless possibilities.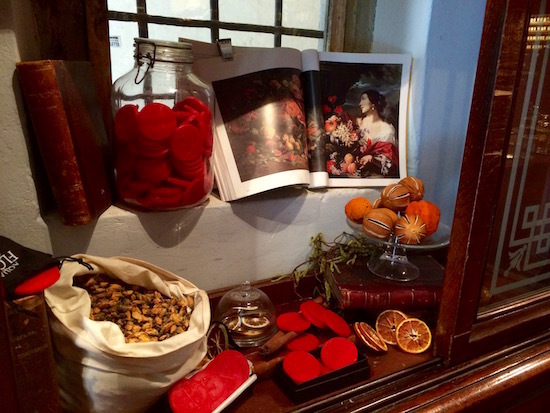 Tucked away on the medieval alley of Borgo Santa Croce, I first discovered the fragrance experience that is AquaFlor thanks to a little thought left in my room by the folks at Pitti Immagine. The store setting in itself is beautiful, the old apothecary atmosphere enchanting and I've now grown addicted to their flat little round soaps, available in fragrances that range from tomato leaf to jasmin, with a few stops through olfactory heaven in between. And this time I ventured into their perfume, choosing "Rosae", a layering of rose scents that makes me feel happy just putting it on, lifting that hefty glass bottle to my wrists and spritzing.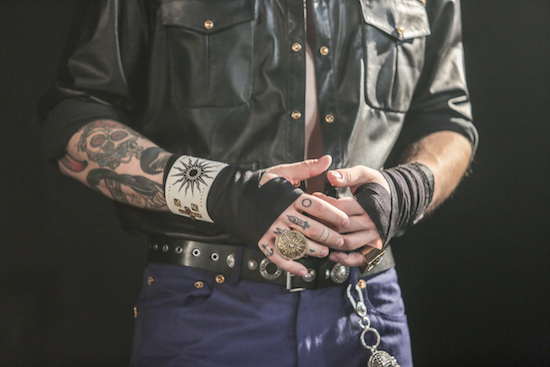 In these uncertain times, there can be no art, no fashion without a little consciousness. Whether a designer draws inspiration from the past or involves different disciplines into his or her work, elasticity and an awareness of the world around them is as important, if not more, as aesthetic beauty. So watching the Fausto Puglisi Pitti Italics presentation at the Stazione Leopolda, featuring not only the designer's vision of a Grecian mythical warrior who is part Neapolitan, part Sicilian and all Hip Hop badass -- pardon my language -- but also knowing that he'd involved six inmates from the rehabilitation house of Sollicciano, as well as thirteen professional players of the Historical Florentine Soccer in his line-up of models all assured for an incredible experience. Could we tell the difference between the baddies, the football players and the models? Absolutely not, and so standing in the ruby lit room, watching them watching us into the audience, while wearing Puglisi's dandy warrior "armors" turned out to be perfectly enigmatic, and very theatrical.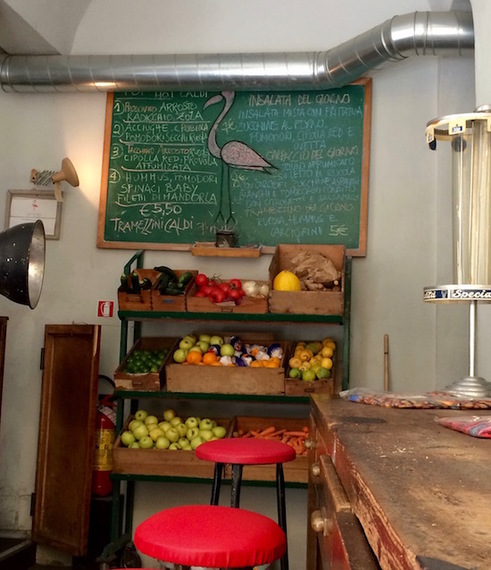 While the press lunch room provided for us at the Fortezza da Basso is certainly outstanding and offers a variety of choices that range from pasta to meat dishes to dessert, and even ice cream, there were times when I simply couldn't devote my time to sit-down meal, or a leisurely lunch. Thankfully, right around the corner of my hotel is one of the freshest, coolest, most welcoming eating joints in Florence, a tiny hole in the wall with outside seating called Amblè. Their tagline is "Fresh Food and Old Furniture" and in fact Amblè doubles as a vintage shop and occasional gallery space. But their forte is definitely the food, with an ambiance and wonderful service, by a crew of all handsome men, which definitely doesn't hurt. I felt at home there, whether I could spend a few minutes waiting for my sandwich to be warmed up, or a whole lunch with a deliciously spiced hummus sandwich, a fresh carrot/ginger/green apple and kiwi juice and fun conversation. Amblè has definitely become my new favorite food stop in this culinary city.
Monumental Minutiae by Marsèll
To those who are fashion connoisseurs, shoemakers Marsèll represent a kind of microcosm of style, form and contemporary sensibility. To a fashion lover, yet relative outsider like me, they crashed onto my radar as a company that makes pretty little things. Why? Because my introduction into this brand that boasts collaborations with Lucio Vanotti and even an eyewear collection happened by happy accident, when I introduced myself to journalist and style icon Angelo Flaccavento. His gold shoes started the conversation for me, they turned out to be Marsèll and the rest, as they say, is history. With my friend Philip Warkander in tow, he's the first of only three PhD's in fashion in the world and the fashion editor of the Swedish Plaza magazine, we attended a beautiful couture event unveiling the publication of a miniature book featuring words by Flaccavento. There we are Warkander and I, pictured above, turning the pages of this paper jewel together.
Cult streetwear designer Hiroki Nakamura staged his first ever true Visvim runway show at Pitti Uomo this June, and the man who admits to preferring an intimate setting to show his latest collection did manage to fill a long catwalk with excitement and a dynamic selection of everything the Japanese brand stands for. Prominent among Nakamura's influences are Americana, native indigenous cultures of North America and Northern Europe and of course, his own Japanese roots. Framed by a group of mature British swing dancers dressed in 1950s clothing by Visvim who entertained the audience and got a well-deserved standing ovation at the end of the show, Visvim blew me away. Partly because arriving to a runway show to find out we each would get a piece of the collection to take home with us, in the form of nylon printed coats in shades of brown mud dye, light indigo and cochineal made me feel like it was Christmas in July, and partly because the atmosphere of the venue, within the Boboli gardens, in the secretly tucked away Limonaia di Zanobi del Rosso, brought out the inner child in most fashionistas. Including yours truly.
I can't come to Florence without ending up at my favorite store -- Gerard. I've been coming to Gerard since I was a child and my mom bought her outfits from the owner-slash-designer then, whenever she needed something completely different. The venue may have changed location, the faces may have changed, though all still owned by the same family, but the concept of the brand remains the same. Gerard, for the past forty-some years has always been about making clothes that are only available here, at their shop. While now our globalized world offers everything for sale, online and everywhere, Gerard presents the opportunity to find something that is only available in Florence, a style that is so unique, and yet so easy to wear that whenever I put anything of theirs on -- from a dress in an oversized flowers print, to a leopard print suit -- people stop me on the street to ask me where I got it. Now housed in the perfect space, right across from the Cinema Odeon and around the corner from the Odeon Bistro, Gerard offers shopping that can be then followed by a film and a spot of dinner, all in one easy, compact location.