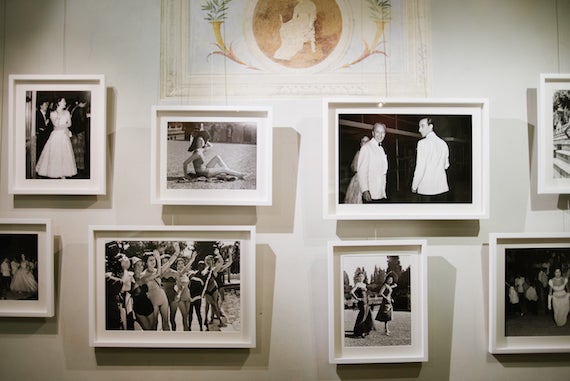 A man without a knowledge of his history is like a zebra without stripes.
As if channeling the wise words of the South African proverb I found written outside an Ndebele village years ago, Italians realize that fashion is about tradition — beyond the seasonal trends that may come and go. Nowhere is that more visible than at Pitti Uomo in Florence.
Florence. The city where the Made in Italy mark was born, 65 years ago, inside the iconic Sala Bianca (the White Room) of Palazzo Pitti. Where this season, Florentine menswear maestro Stefano Ricci will "reopen" the room, by showing his collection in the Sala Bianca, the first collection to be shown there since 1982 when the Pitti Palace was officially turned into a museum. A lucky mere 180 spectators will experience in full what I managed to sneak a peak of last night, on my way to the inauguration of the Foto Locchi exhibit. I heard music, I saw a crack in the door, and the rest is fashionista history, as they say. But back to Pitti Uomo and Foto Locchi for the moment.
When I was a child, I walked every corridor, ran down every staircase and hid in each nook and cranny of the Palazzo Pitti. My father worked there, in the Paintings Conservation cabinet, handling works of art that, at the time, I took for granted. Today, those same works hang in the Uffizi Galleries, occupy the walls of the Corridorio Vasariano — the hidden passage the Medici family used which runs along the roofs of Florence, from Pitti to the Uffizi, all along the Ponte Vecchio — and I, that disrespectful child who craved to draw mustaches on the pretty faces, am now in awe of their beauty and history. It's not often we get to revisit our childhood haunts, and I consider myself lucky to do it, time and time again thanks to Pitti Uomo and their ever-growing association with the museums and landmarks of Florence.
In most cities, you see, fashion is a mythical creature that comes to town twice a year, as in NY Fashion Week, and touches down on a few select locations for up to five days, only to disappear from sight until the following season. Most mere humans never get to experience it up close. In Florence instead fashion is a way of life, seamlessly shared between public spaces, seen on passersby and displayed in shop windows. There isn't much difference between what is shown on the runways of Pitti Uomo, and what Florentine men wear to attend those shows; a tourist to the city will experience the fashion fair, nearly the same way as a buyer or a journalist, if only they know where to visit, eat, stroll and sit — which isn't hard to find out. Fashion is a way of life in Florence and I'm not saying that because I'm a proud daughter of this magnificent city. I say it because I experience it, today, when I no longer can consider myself a Florentine in practice. All I have to do to go home again is stand still for a moment, and people watch.
Like last night, at the opening reception of the Foto Locchi exhibit. Surrounded by magnificent photographs of days gone by, all captured for posterity by the lensmen of the Florentine archive famous for its love of the city, I realized that I didn't know a living soul there. But what could have been an uncomfortable situation, turned into a wondrous opportunity to watch the world go by. Glass of white wine in hand and with a kind caterer who brought me, at discreet intervals, all the delicious artichoke risotto I could eat, I sat down in front of images of shoes maestro Salvatore Ferragamo with Audrey Hepburn, Gucci creations in all their original 1970s glory and Christian Dior in Florence.
There, I knew the spirit of Franca Sozzani, the Vogue Italia editor who recently, and tragically left us to fend for ourselves in this increasingly unfashionable world, accompanied me. I felt Mrs. Sozzani nudging me when a perfectly put together woman walked by, and nod in approval as some well-dressed men shared intimate conversations just behind my couch. Like Florence Mayor Dario Nardella said at the opening ceremony for Pitti Uomo 91 this is the "first time without the passion of Franca Sozzani." But perhaps she approved of this arctic cold washing over the city for the fashion fair, since it felt like the weather was yearning for her warmth. Magic? You bet. This is Florence and Pitti Uomo after all.
Oh, before I forget, Belgian designer Tim Coppens has just announced that his show in Florence will be streaming live on Instagram on Wednesday, January 11th at 2pm EST. And it's an event not to be missed, for those who love the great simplicity and elegance of Belgian menswear. But you'll need to be following the style maven on Instagram to access this luxury!
Top image courtesy of Pitti Immagine, used with permission.
Related
Popular in the Community