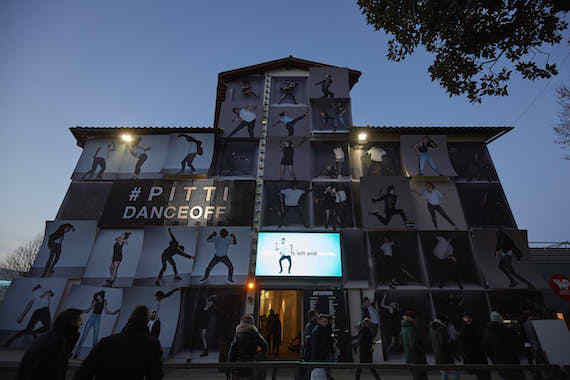 As soon as I met British war photographer Guy Martin, my view of fashion here at Pitti Uomo changed. There is something incredibly powerful, a spark alive in those who report from the front lines, and combined with the natural kindness photographers possess, Martin immediately dissolved all my natural defenses. Not to mention that when I started to see the menswear fashion arena through his eyes, I realized that it too is a war zone of sorts, a battle for who can make the world more stylish, and conquer the most fashionista hearts. More on Martin a bit later, but first things first. Starting from the kickoff show of the day for me, the Concept Korea event.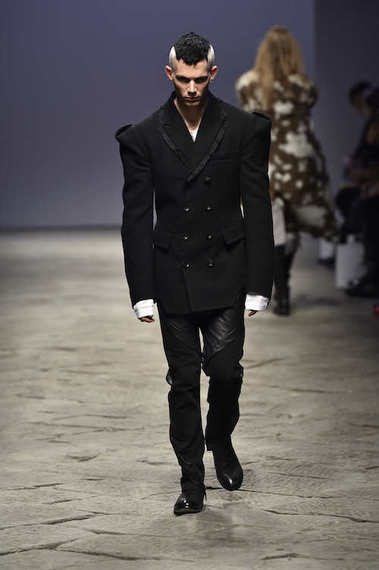 Concept Korea: Bmuet(te) and Ordinary People, and kimchi wings.
As soon as the Bmuet(te) men, and women, started to walk down the worn-out cobblestones runway of the Dogana in Florence, I felt like Neo had found his Darcy-like counterpart, in a next installment of the Matrix set in Victorian England. I loved the black to grey to white color palette, and once my eyes stopped concentrating on the endless cool details -- like Elizabethan-style collars, strings hanging from shirts like those worn by Orthodox Jews and those gorgeous flat lens sunglasses -- I realized the full cinematic impact of the collection. To say that I loved the womenswear influences used for menswear here would be an understatement. Extra-long sleeves, Victorian rounded shoulders and even skirts for men were all phenomenal, especially because each look could be -- and at times was -- worn by women too. I think Bryung-mun Seo and Ji-na Um are my new fashion idols.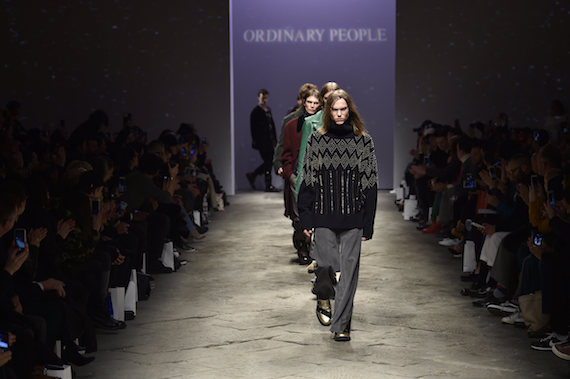 Ordinary People by Hyeong-cheol Jang also required a period of adjustment on my part, once his more colorful-dressed models started sliding down the runway. After viewing so much black and white, the studded black palazzo pants in velvet and poet shirt in what Benjamin Moore calls "Corlsbud Canyon" orange needed a deep breath from yours truly. But heeding the advice of the beautiful Andie MacDowell, who made us all breathe during a recent interview in Dubai, I found myself inhaling and exhaling deeply, only to discover that Ordinary People had some of the same themes I'd loved so much in the previous brand. Black velvet suits with cropped tight trousers, pearl studded sweaters and even a bright varnish green leather jacket could all be unisex. And although I'll skip the Ed Snowden look sported by some of the male models, I may just become a new Ordinary People customer too. Plus, you gotta love the name, of my favorite film growing up, directed by Robert Redford!
Class act alert: The Concept Korea presentation ended with a wonderful snack of kimchi wings and Korean sushi, to be washed down with a special cocktail, framed by a slice of pineapple.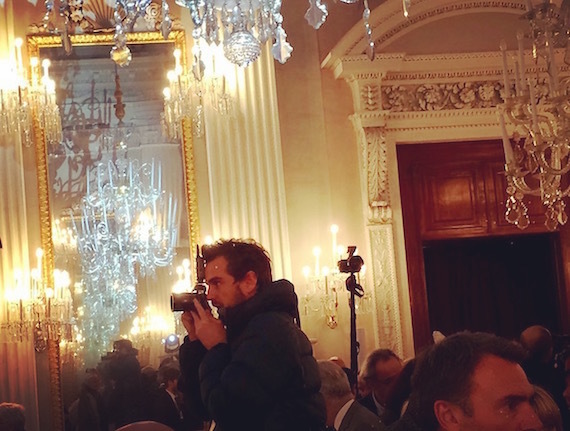 Guy Martin and the impossibility of living down one's incredible act of resilience.
When I interviewed photojournalist Guy Martin, I tried to avoid bringing up the 2011 deadly attack which resulted in Tim Hetherington's and Chris Hondros' death, and left Martin seriously injured and in the care of Libyan doctors. But although when meeting Martin today one could never imagine what the young photographer has been through, there is a depth to his persona, a wonderfully refreshing calm about him that points to the kind of person who has survived a great deal. It's impossible, I think, to separate the man from the photojournalist, and that photojournalist, who went through so much and still manages to entertain a conversation with a man at a party who wants to talk selling Swedish underwear to Saudi customers. Yes, I witnessed Martin kindly engage as one business owner tried to pick his brain -- as a photographer who has worked extensively in the Middle East -- for enticing customers from Saudi Arabia to his brand.
But meeting Martin also made me look at fashion differently, particularly the shows. We stand in lines outside in the cold for up to an hour, awaiting to be let into this magical world where in five minutes we watch a presentation and then it's all gone. Armies of fashionistas pose with serious, at times threatening faces while photographers capture their looks, and models reach the "front lines" of photographers at the end of the catwalk eager to shoot the perfect shot of them. Shoot, front lines, armies of fashionistas, the lingo doesn't stray far from war terms you see.
But much more on Martin and his project with Pitti Immagine, through a collaboration with nineteensixtyeight, in a full interview to follow next week.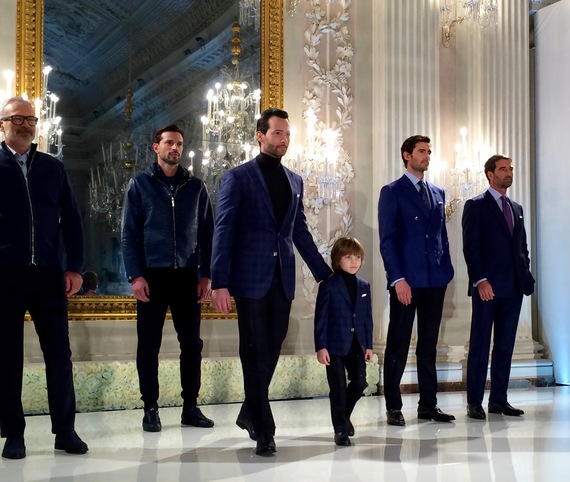 Stefano Ricci: A timeless designer presents his perfectly classic line inside an iconic fashion room.
Perhaps it was the gods of fashion that allowed me to view Stefano Ricci's presentation for a select few lucky members of the press, inside the iconic Sala Bianca of Palazzo Pitti. Or maybe it was a great combination of professional publicists who managed to squeeze me in and find me a seat in the front row of this spectacle of beauty, style and ageless class. Whatever the cause, I felt like I experienced fashion history in the making. The Sala Bianca of Palazzo Pitti is where the Made in Italy brand started, back in 1952. And the setting hasn't be utilized for fashion shows since 1982. So it was only natural that a legendary menswear brand from Florence should re-christen the venue so important for Italian fashion, on their own 45th Anniversary celebration.
Adding to the magic of the day, I went to watch the Stefano Ricci runway show with Guy Martin and knowing he was in the photographers' pit made me look at the event through different eyes. In fact, I took this shot of one of the little boys who showed along with the adults, and saw him in all his vulnerability as he walked away from the clicks of the cameras. A bit shaken for the wear yet still incredibly professional for his age.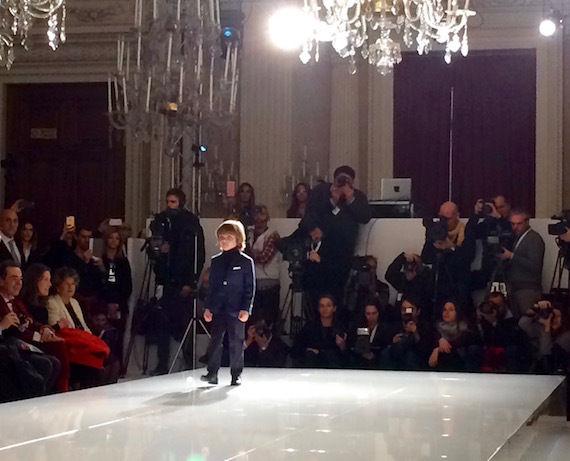 The collection was of course phenomenal. Full of what men really want to wear, to the office, on an evening out, to a gala, and even on their days off -- Stefano Ricci represents iconic Italian style. And the fact that real men, some with grey hair and all possessing their own individual style and gait, showed the clothes only made the experience more wonderful. Oh, and someone said the room was decorated with 30,000 white roses, lining walls and nestled in giant vases. Thirty thousand, wrap your head around that!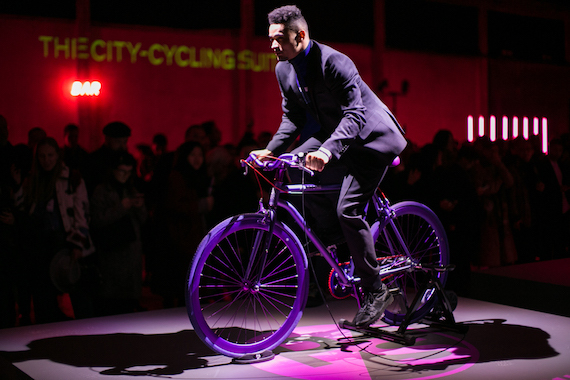 PS by Paul Smith, because a man needs to be able to wear a suit while riding a bike!
The PS by Paul Smith presentation saw us all walking through a pink neon lit doorway crowned by the designer's famous initial. Quintessential Paul Smith of course. But once inside, what awaited the fashion crowds were street wearable clothing pieces, like light reflecting windbreakers and suits that could be worn by everyday working guys, who ride their bikes to the office and don't want to worry about looking like the male equivalent of Bridget Jones at her worst upon arrival.
Smith is smart, as he is kind, and he knows his customer whom I believe likes to look good, but also be practical. Details have always been the best the designer has to offer, from his quintessentially colorful suit linings to the way his hems are stitched and this collection of active wear, for lack of a better term, is no exception. Plus, the dancers, acrobats and all around cool guys showing off the line made me yearn to go dancing.
Innocence and fragility by Chabaud, a classic scent.
Between shows, I felt like I needed a moment of zen. And I always find the best relaxation in scents. So I visited the Hi Beauty section of the Pitti Uomo fair, inside the Fortezza da Basso and headed for a stand I'd briefly stopped by the day before. Sophie Chabaud is the "nose" of Chabaud, a Maison de parfum from Montpellier and she kindly showed me around the line. I found respite in their "Innocente Fragilité", a white flower scent made of a blend of jasmine, orange blossom and gardenia. OK, time to get back to work now.
Most images courtesy of Pitti Immagine, used with permission.