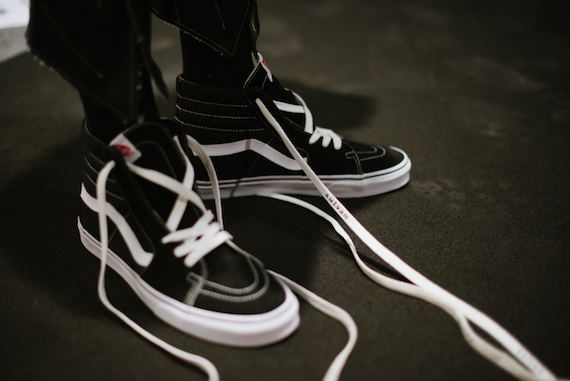 This season's Pitti Uomo, which went by the theme "Pitti Dance Off" has really been rocking. Of course, the whole "peacock" phenomenon is fading and a lot of people are getting quite tired of seeing men pretend to be on their cellphones to be noticed, and get photographed in their Sunday's finest. Honestly, I walked really fast past the crowds in front of the main pavilion of the Fortezza da Basso, myself bored by the endless display.
But Pitti Uomo as a fashion fair, the amount of talent overflowing in the collections I saw, and the excitement for brands that are revolutionizing fashion as we know it, has exploded in the couple of years I've been attending. An older Russian fashionista I know said that fashion is one of the few things that makes people happy these days and we need happiness in this world. She's right. And lets not even start talking about numbers and figures, because on a global scale making fashion employs millions of people.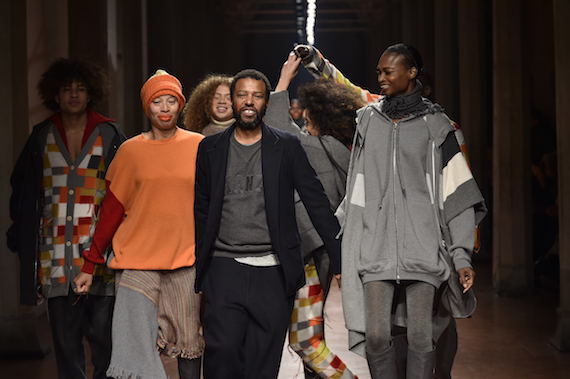 Sansovino 6 stands for fashion, freedom and human rights.
Cool music, models that redefine true beauty and clothes that feel and look like what dancers wear on their days off is what I've come to know and love about the Sansovino 6 line. Designed by American in Milan designer Edward Buchanan, the brand's tagline for this season read "An optimistic approach to dressing for the future with confidence and integrity." For sure, Buchanan's models are all that and more. The way they strode self assuredly down the runway, while the band played behind a giant screen, it made the fashionistas in the audience yearn to possess just one pair of those patchwork woolen pants; or that loose orange sweater with the golden triangle; or even the black knit suit that looked so chic and probably felt so good! There is something early Rodarte (but much more wearable) about the line and perhaps the choice of George Michael's "Freedom" to close the runway show made me emotional, but I think it was more of a combination of that and discovering that great fashion can also be incredibly kind and cuddly.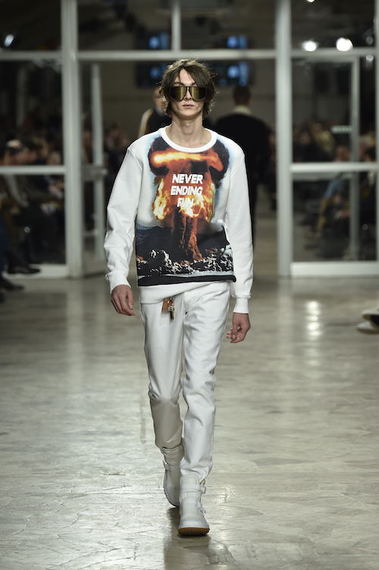 Tim Coppens and the challenges of pleasing a freezing audience.
I'm never one to put down others' work, because I know how much hardship, blood and tears go into making a film, creating a piece of art, or designing a line. But on Wednesday night, a combination of being forced to stand outside in the freezing cold for 45 minutes, tired seating that didn't allow for much of a view, models with caked on makeup that made them look sick and a collection that just didn't inspire me to dream made for an unpleasant experience at Tim Coppens. I love love love his aesthetics and I was truly disappointed because I wanted the show to be all the wow I expected it to be. In his description of the inspiration for this line, Coppens pointed to a man and a woman living in apocalyptic times, which of course made my cinematic taste buds water. The Belgian designer who typically shows at NY Fashion Week knows how to create a story that makes his customers yearn to wear his clothes. I give him that, even for this line, there are blasts of genius, like the white sweatshirt with the exploding atomic bomb graphic and lettering that read "Never Ending Fun". I'd buy that, it's a great conversation starter. But all in all, I didn't find myself smiling unabashedly throughout the line, perhaps too busy trying to defrost my toes and keeping warm near the giant glass windows.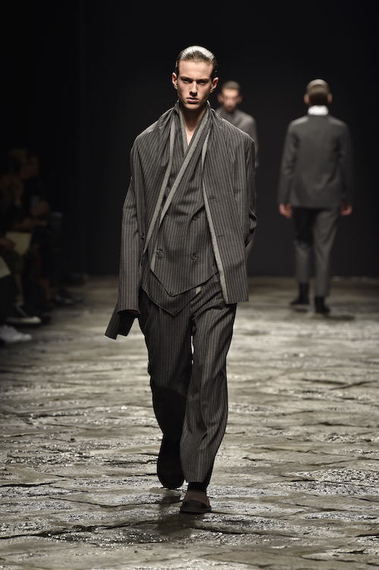 Lucio Vanotti "blurs the line between the sofa and the sidewalk".
If you're wondering, no I didn't come up with the above line on my own. It's part of the message of Lucio Vanotti's collection and it's simply genius. In a world that makes even getting a good night's sleep a challenge, to find clothing that allow a man to both look good and feel great, is a wondrous achievement. Vanotti does it time and time again, offers perfect suiting made in what looks like knit wool and lines that drape the male body in perfect harmony with their curves. Yes, men have curves too, they just sit in different places from ours and should be respected in the same way. Vanotti did, but he also was inspired by the Masai of Kenya, and irreverently but oh so fashionably, let fabric roll edges, knotted corners and unfinished hems dictate a whole new set of aesthetics for his audience.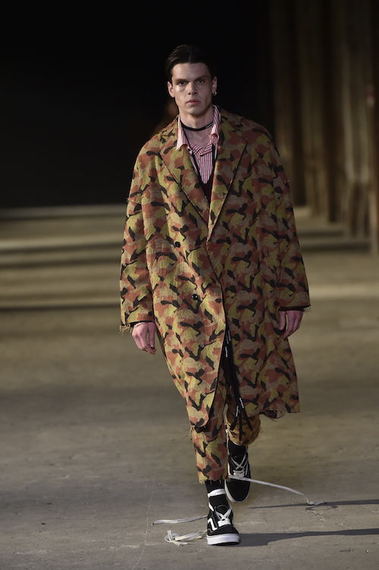 And then... Pitti closed with Sulvam, and all was right with the world!
OK, the "all was right with the world" may be a tiny bit of an overstatement, but when I am greeted for a fashion show with gourmet chocolates by "Les 3 chocolats" in Paris, premium sake and clothes that make me dream and wish I could be wearing them right now, I find the world to be just a little bit more beautiful. I smiled throughout the Sulvam collection by Japanese designer Teppei Fujita, a streetwise-looking fashionista who creates cravable yet absolutely wearable clothes. Fujita's eye for detail includes branded shoestrings in black and white hanging from his male and female models belt loops, flowing from their ankles and tied around their neck, choker style. Those deconstructed suits, with the lining showing just enough to seem like an added layer, the splashes of color and some camouflage prints I just happen to be currently craving, made for a fashion extravaganza that not only sealed my Pitti Uomo experience as magical, but also pasted a smile on my face for the rest of the evening.
Great fashion exhilarates, entertains and makes a person dream. Thank you Teppei Fujita for understanding that, deeply and fully.
All photos courtesy of Pitti Immagine, used with permission.