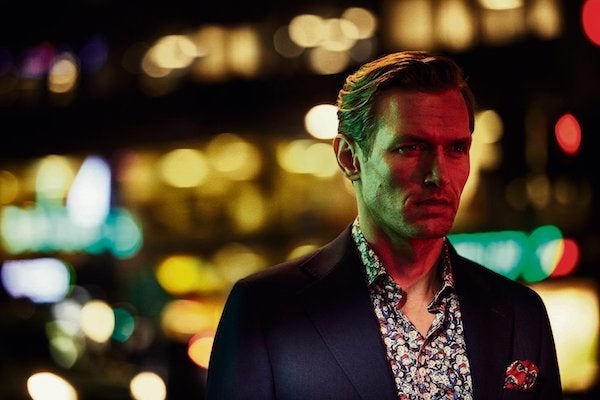 On my second full day of Pitti Uomo, I went on a journey eastward to Egypt, Korea and Japan, thanks to the vision and wit of four fashion brands.
I'll start with Eton, because for me Pitti Uomo always begins with Eton. The Swedish shirt brand has become synonymous with fashion with a conscience, and a symbol of how great ethics and cool designs can make for a powerful, winning combination in today's market. While some designers with attitudes, and their ungrateful PRs can create attention for almost anything for a season or two before disappearing into oblivion, these days it's with principles and great artistic vision that fashion houses thrive, time and time again. The inclusive atmosphere I experienced at the Gucci Garden launch party here in Florence only confirmed my theory.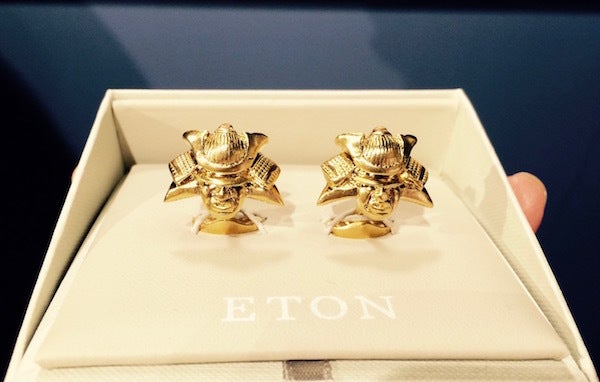 But back to Eton. This season, the company's Creative Director, Sebastian Dollinger took his loyal clientele, as well as those who will become for sure their newest customers after viewing this collection, on a journey to Kyoto. Dollinger spent weeks in the former imperial capital of Japan, and the result of that trip is simply spellbinding. He has captured the duality of Kyoto, where temples appear to have remained stuck in ancient times, while the city bustles with contemporary style. A place on earth where old and new "not only coexist but thrive" as the Eton catalogue points out.
The range of Eton's Fall/Winter 2018-19 collection runs the gamut from lightweight Japanese flanella to koi fish featured in a print on indigo denim, moving through to their Royal Oxford white crisp shirt, which is one of Dollinger's favorites (he admitted he wears it with his suits, over jeans and even with a pair of shorts). And finally ending on their tried and true dress shirts, which is the core of Eton's business. Hand painted prints of Kabuki scenes share the spotlight with iron-free striped business shirts, with just a hint of innovation, like an embroidered flower hidden just inside the collar. And all is accented by cool ties, tongue in cheek cufflink styles (see above) and pocket squares that appear more like wearable works of art.
Am I a fan of Eton? You bet, and anyone with a pulse, and eyes, probably is too.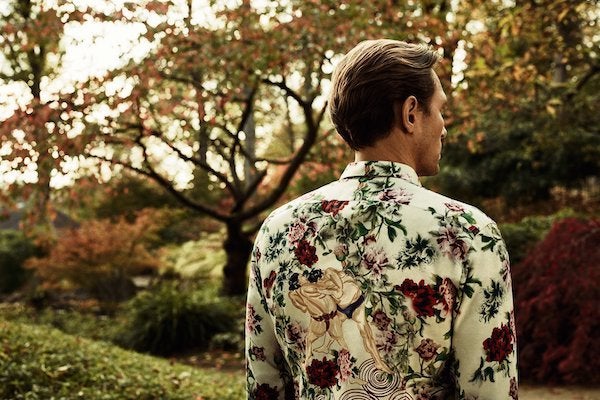 This time around, Eton also hosted a beautiful presentation inside Florentine hotspot Locale, where handsome models wore their coolest styles while guests were treated to mochi ice cream, sushi and signature drinks — which included an Old Fashioned made with Japanese whiskey. Yes, that right there to me is the perfect evening.
In the end, I found a shirt I fell in love with, truly, head over heels (see above). It's Eton's flower design over a white background which hides a rockstar detail to it — two Sumo wrestlers intertwined in a match on the back of the shirt. It's so perfectly wearable, yet dreamy and whimsical that my heart truly did skip a beat when I saw it. Oh and the pocket square that depicts the Ninnaji temple in autumn, made from virgin wool and silk that makes for a soft melange effect. I wear that as a neck kerchief and it's super chic.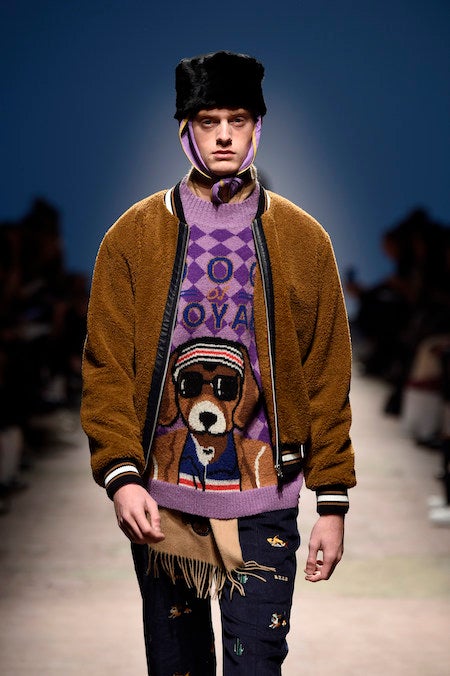 Leaving Eton's Japan I stepped into the Korean vision of design houses Bmuet(te) and Beyond Closet at the Concept Korea fashion show, inside the iconic Dogana. Perhaps for the first time during this Pitti Uomo, which has a cinematic theme to it titled "Pitti Live Movie" — complete with a box office, movie posters and marquees dotting the Fortezza da Basso main venue of the fair — I felt the film aspect of it. Well, actually it was hard to miss Beyond Closet's references to Wes Anderson's 'The Royal Tenenbaums' which were literally on every look marching down the runway. From Margot's iconic camel hued fur, to Richie's tennis headband (which of course Gucci has appropriated too) there was even a Buckley the dog print on sweaters and T's.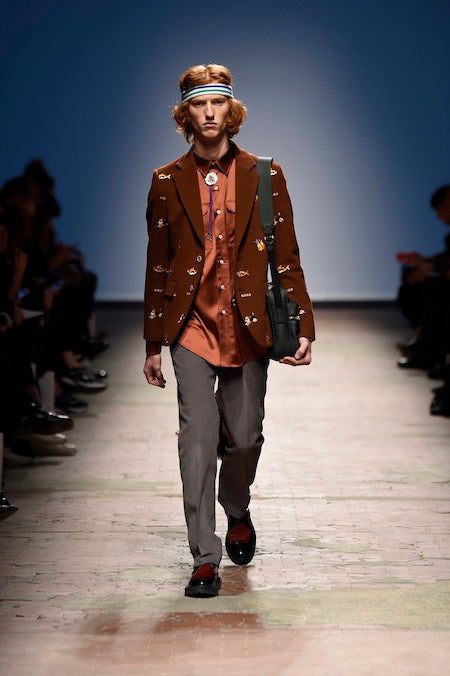 It all would have worked perfectly if not for the pesky Gucci references which jolted the viewer out of the cinematic fun and posed a question for these modern days, which is "has Alessandro Michele ruined all other designers for us?" For me, the answer at the moment is maybe, because while innovation is still around, and new visions are present, Michele's Gucci throws such a wide net over all things new, vintage and cool, it's difficult for anyone else to keep up, and nearly impossible to outdo.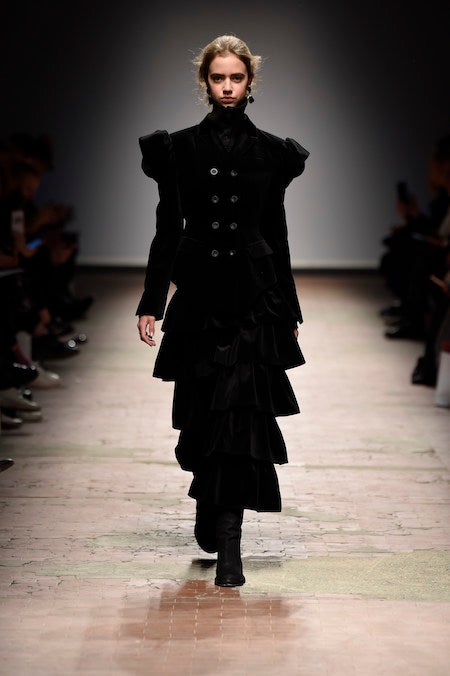 I enjoyed Bmuet(te)'s deconstructed Victorian looking pieces and the apron like strings hanging from their clothing. The brand continues to do things simply and elegantly, edgy mostly black and white, with hints of camel clothing and that was a refreshing twist from all the color around. Sexy is definitely part of the brand's DNA and I love the way they choose and style their models. Both the women and men seemed sultry and a bit undone, which only added to their rockstar vision of style.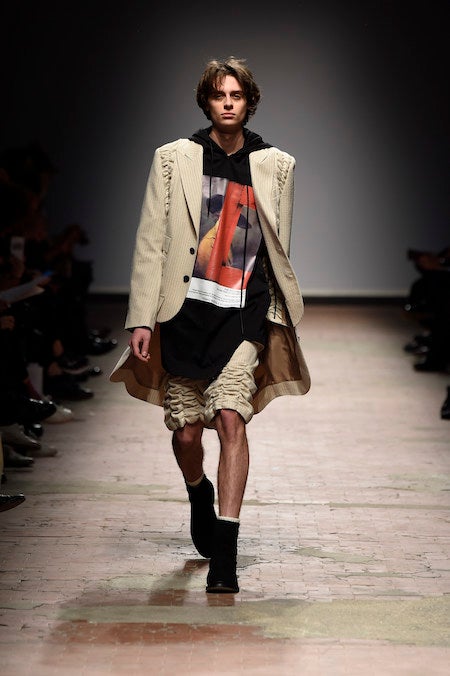 Finally, Turkish brand Les Benjamins, founded and designed by Bunyamin Aydin, took us through the Valley of the Kings inside the Teatro Niccolini, always an impressive venue with, well, hyper theatrical potentials.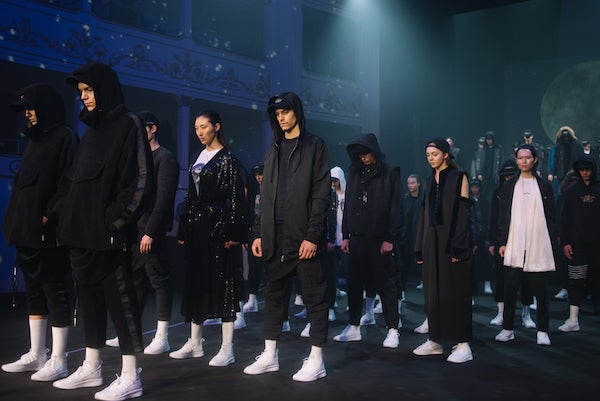 With a foot deeply planted in Turkish symbolism and traditions and one wandering throughout the world of hip hop and boxing, Les Benjamins feels utterly wearable and I enjoyed the presentation — which consisted of a full house of models standing in two pyramid formations outlines by laser lights, and two gilded robed belly dancers.
There was something haunting and cool about it all. Personal favorites included the black sequined boxing robe and the graphic T's peeking out from the hoodies and jackets. And a lithe scarf which nearly glowed in the dark. I kept hoping that would be in a gift bag waiting for us but after exiting through the gift shop, alas, it was not...
Calling all HuffPost superfans!
Sign up for membership to become a founding member and help shape HuffPost's next chapter
This post was published on the now-closed HuffPost Contributor platform. Contributors control their own work and posted freely to our site. If you need to flag this entry as abusive,
send us an email
.