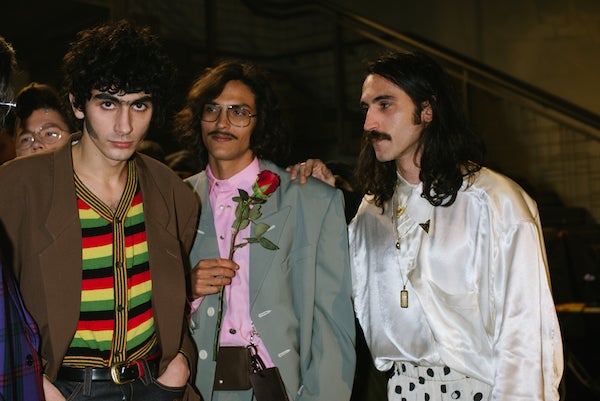 My third and last day of Pitti Uomo 93, Fall/Winter 2018-19 collections held some surprises. Most were pleasant, welcomed discoveries of designers who hadn't been on my radar, and now forever more will be. Yet one, at the very end of the day was a disturbing reminder that the #MeToo movement needs to evolve, and include models, young men and children. If we don't protect every victims — not just the attractive women stars of Hollywood who are looking for a second wind in their career — we are failing all the injured.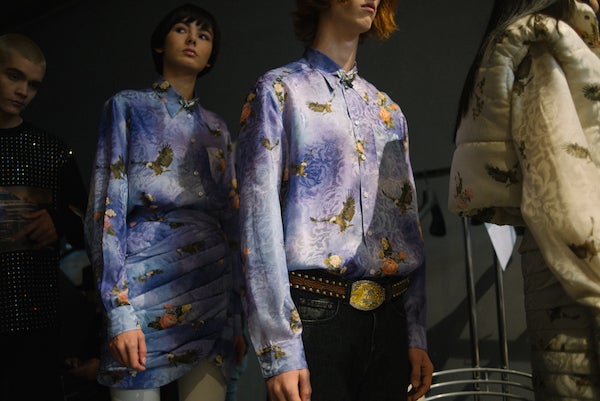 The first show of the day belonged to M1992, the renamed brainchild of Milanese DJ, designer and influencer Dorian Stefano Tarantini. I'll admit my brain turns off when I hear the word "influencer" in a sentence describing anyone in fashion today. Yes, they are the girls and boys occupying the front rows of most presentations these days, but how long is that concept really going to last? Or will it turn into another reminder that even when we vote these days, we look at followers and numbers that in the great scheme of things are inconsequential and dangerously un-cultural?
OK, I am starting to sound like my mother, but still... A brand needs to capture me beyond its gimmicky titles and pop-culture references. Tarantini did something witty, by inspiring the look of his clothes to a few movies like 'American Psycho' and 'Working Girl' — absolutely apparent in the M1992 presentation. His nods to the "Paninaro" street culture of Northern Italy in the 80s, highlighted by giant belt buckles hanging at the knees of his trousers and large "El Charro" graphics, made for a cool watch and the billowing denim "ballgowns" worn by the women models were definitely dreamy.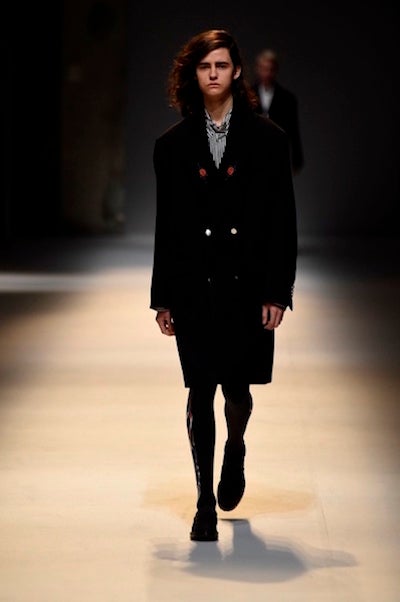 But to me, and my colleague and friend Dimeji Alara, Fashion Editor of Elle South Africa, the show belonged to one of the last looks, an oversized black coat suit worn by a androgynous looking model. That is my new coveted look, what I would search for M1992 in stores to find.
From M1992's nod to the 1980s I stepped into Magliano's homage to 1990s prom clothing, worn by everyday men and women — beautiful imperfections and all. Luca Magliano won the 2017 "Who Is On Next?" prize and he called his latest collection "The wardrobe of the man in love." And what was there not to love about it!
From a Harry Dean Stanton lookalike, to men who resembled the stars of Egyptian films in the late 1970s, from a real woman's woman, to young Rastafarians, Magliano showed true diversity. While I cannot imagine a man wearing that "bellissima" sash anytime soon, the majority of his clothing felt real, sane, wearable and cool. And there was even a broken heart necklace included in our invitation, which yours truly is wearing right now, with a bunch of coral chokers. Did I mention I like freebies with my invites?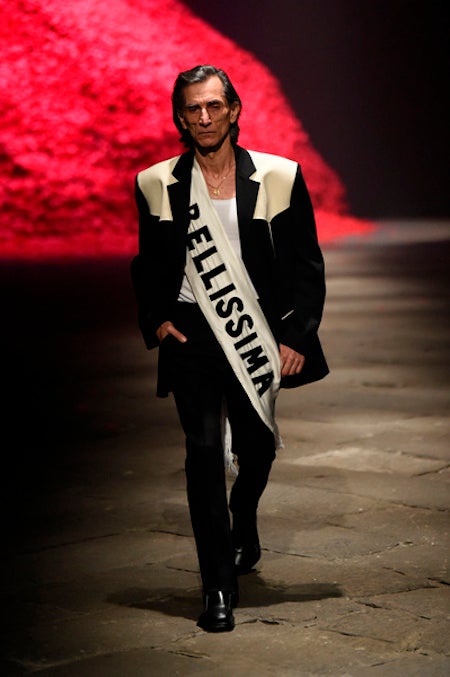 A bit later on, we moved through the nearly torrential rain to the other side of town, for the 032c presentation inside the historic Palazzo Medici Riccardi.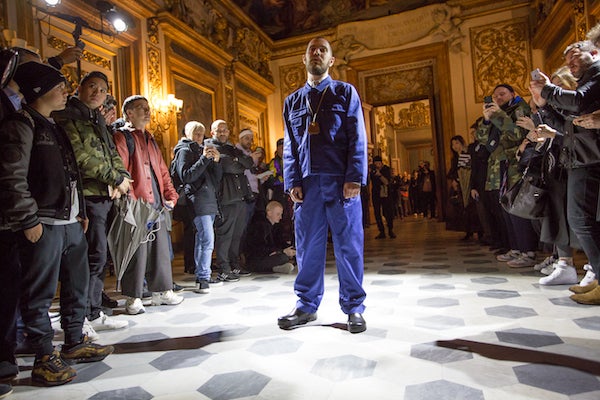 Personally, I wasn't impressed by the brand, the evolution into actual fashion by Berlin-based pop culture magazine 032c. Surrounded by uncool hipsters who pushed and shoved as we waited in line — yes, I said it — then crushed into a beautiful Medicean gilded room, I didn't connect the clothing. Perhaps because I ended up right behind the magnificent pole dancer who performed acrobatics in a nude leotard and who possessed absolutely zero body fat and perfect muscles. In awe of the beauty of a healthy body, I didn't see past her to the models and styles and ended up getting more inspiration from her performance than the brand. Plus, don't get me started about the final song, which had too much of an eerie feel for the granddaughter of a man who left Germany during its shameful days.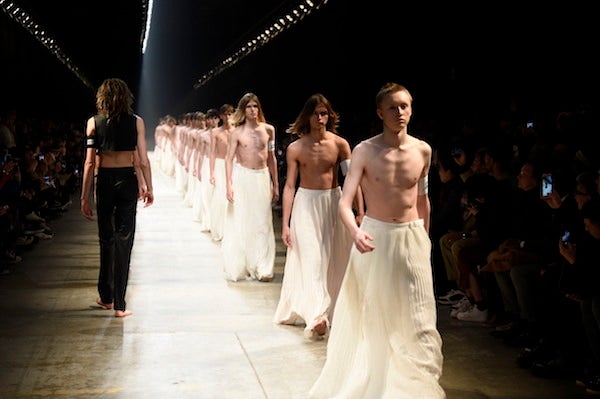 With a pitstop at the bar of the iconic Excelsior Hotel for an aperitif, I ended the evening at the "Order - Disorder" show from UNDERCOVER by Jun Takahanshi and TAKAHIROMIYASHITAThe Soloist. — the Pitti Uomo 93 Guest Designers.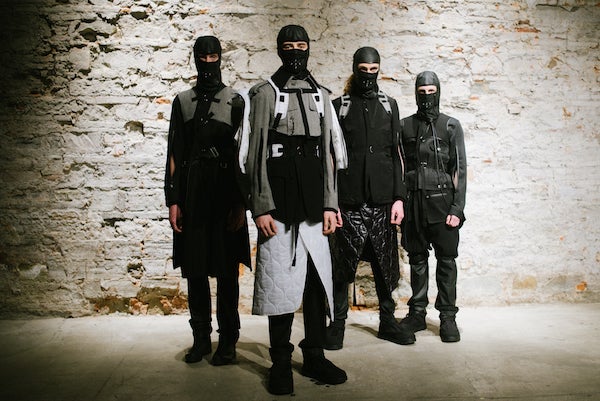 Again, there were cinematic nods to 'Star Wars', 'Batman' and 'Arrival' that felt exciting to me, but I failed to see where those looks would find their place on the regular everyday man. Yes, Adam Driver's Kylo Ren and Jeremy Renner in Denis Villeneuve's film could wear the black hooded cape and all orange utility suit respectively, but would the guys from various fashion publications sitting to my right and left be able to incorporate those looks into their daily routine? I would have to see the clothing up close and personal to know the answer.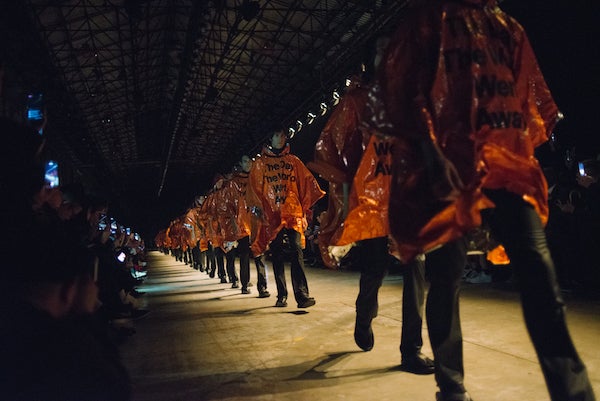 What I do know is that the models in this presentation didn't display enough diversity and their emaciated, way too young looks scared me. We complain so much about abuse on women and yet here it was in its male equivalent, on parade right in front of us, those bare chests chilled by the winter air and clearly underfed. While typically a fashion show will leave me exhilarated and invigorated, this one left me sad and worried.
Although the haunting image of about two dozen models marching down the immensely long runway inside the Stazione Leopolda wearing orange ponchos that read "The Day The World Went Away" while the namesake song by the Nine Inch Nails blasted through the speakers will remain with me for quite some time.
And perhaps inspire me to do better, be better, kinder when it comes to this beaten up world of ours.
Calling all HuffPost superfans!
Sign up for membership to become a founding member and help shape HuffPost's next chapter
This post was published on the now-closed HuffPost Contributor platform. Contributors control their own work and posted freely to our site. If you need to flag this entry as abusive,
send us an email
.