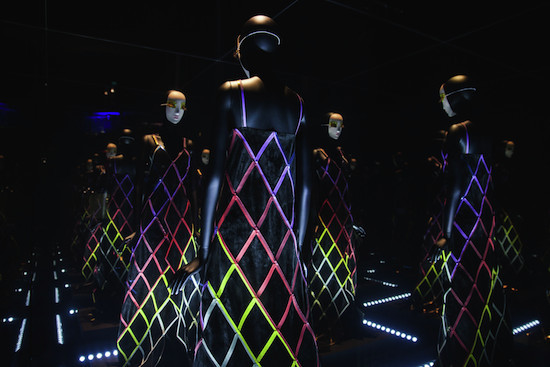 There is usually one key personality, an artist that strikes that extra chord of creativity, brilliance and beauty for me at an event. At a menswear fashion fair like Pitti Uomo, surrounded by the abundant talent that help make the opposite sex so attractive to us girls, I hardly expected it to be the Womenswear Guest Designer. But it was, because life is wonderful that way.
Marco de Vincenzo is a wonder, a creative force to be reckoned with and I'm not alone in thinking so. After years of collaborating with the maison Fendi, where these days he is their head designer of leather goods, his own namesake brand has just joined forces with fashion powerhouse LVMH. Hailing from Messina, Sicily, de Vincenzo carries himself as someone well beyond his hardly-forty years of age, with the wisdom of an old soul but the sensibilities of a hip, young, trend setting fashion-maker.
At Pitti Uomo, de Vincenzo presented an installation-cum-fashion-presentation titled "In-Lusionem" (watch the video here), a collaboration with Florentine visual artist Patrizio Travagli, inside the historic Teatro Niccolini, a breathtaking jewel of a theater which had been closed for the last twenty years. Using every bit of space in the venue as well as being inspired by its story, Travagli and de Vincenzo offered the lucky visitors -- which during the time I was there, included the legendary Suzy Menkes from Vogue -- a glimpse into our future. An IN-clusive, IN-maginative, IN-credibly beautiful and not so IN-possible to accept vision of what it all could be like if only we tore down the walls that divide the spectator from the spectacle.
I certainly felt, for the short while I was inside the Teatro Niccolini on Thursday afternoon, chocolate bonbons offered at every corner by smiling waiters and bathed in the warm, multicolored lights of the installation, that I was "IN". I was actively participating in something wonderful, and I was a part of a group that included all human beings, from many nations and all walks of life.
Catching up briefly with the coveted de Vincenzo helped me to understand just how personal this project is, to a man who clearly loves his work, adores fashion and, perhaps most importantly, believes in humanity.
For me art and culture are a way to understand the world. So, can fashion also help us understand each other?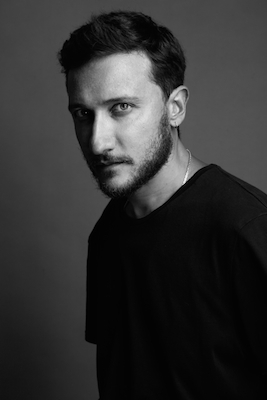 Marco de Vincenzo: Absolutely yes! It can help, it can address the identity of a country for example. I feel that Italy, in particular, had lost a bit its own identity and is finally today rediscovering it, also thanks to fashion. Fashion is absolutely the expression, the "fruit" of a culture and it has always told the story of a society at the time and so it is its DNA. And just like our DNA, it has a fundamental importance that goes far beyond the marketing of fashion, which of course is crucial because fashion is also an industry -- but foremost it's art. I think the approach of the designer and the artist are very similar, at its core it is the capacity of expression. We then choose the art path or the fashion path based on our instincts but what pushes an artist to paint a picture and what propels a designer to make a dress are the same thing. The result is different but the attitude is similar.
What was the inspiration for this project, how did it all come about?
Marco de Vincenzo: It was all born here. We were looking for a place and it was all born when I discovered this theater which had been closed for twenty years, I heard so many stories about this place and it fascinated me to reopen it for a different purpose. When I then thought about Patrizio Travagli, I imagined his passion for the illusion, this reflection of the same object to infinity, and I thought that this word, "illusion" was perfect for our obsessions and for a theater. Theater is an illusion, it is not real, it's therefore a performance. So we began each gathering ideas... I find it beautiful that nothing, no element in this installation can exist without the other. My fashions exist inside these boxes created by Travagli, it's beautiful exactly because it is a true collaboration, and each had fifty percent of the responsibility, which are then blended.
When you find someone who speaks your same language it's fantastic, it's so much easier!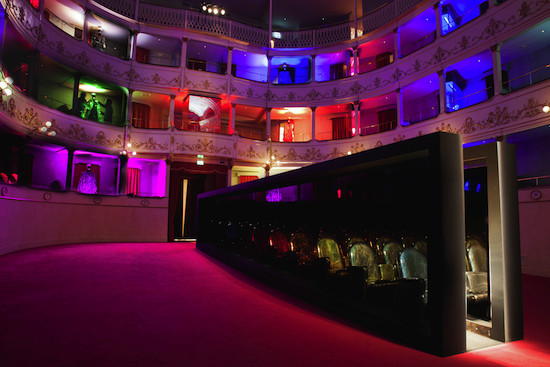 Can fashion, art, the theater, help us speak the same language then?
Marco de Vincenzo: Absolutely! I believe they are all very positive things, beautiful because they are expressions that a person decides to share with others. It is something inner that then becomes outer, bestowed upon those who wish to accept it. So I think they are all art forms that together create a great power.
We always talk about love as being so powerful, an engine to guide our lives and of course I think love is. But I also believe that art, culture and passion are just as important in the life of a person.
Color images by Proj3ct Studio, all images courtesy of Pitti Immagine, used with permission.