I'll admit that the fashion show I most look forward to at every edition of Pitti Uomo is the one organized by the folks at the Ethical Fashion Initiative, a program of the International Trade Center -- a joint agency of the UN and the WTO. This time around, the event was titled "Generation Africa", and it included four designers, four beautiful point of views and four different ways of looking at fashion.
But, for the first time in Florence, this edition of the fashion show also included three asylum seekers, as models, trained and aided by Lai-momo, an Italian association that promotes cross-cultural exchanges between Africa and Europe, "with the aim of reducing stereotypes and preconceptions," as the press release for the event pointed out. Could a fashion show be more perfect than that? In my book, well, you must know the short answer by now... The long answer? Calling someone simply "the Other" and forgetting about them is not ever going to solve the problems of this hyper-divided world of ours. We need inclusion to create harmony and security among us.
Back to the fashions. The four participating design houses were AKJP from South Africa and designed by Keith Henning and Jody Paulsen; Ikiré Jones by Walé Oyéjidé from Nigeria and based in the US; Lukhanyo Mdingi x Nicholas Coutts by namesake designers from South Africa; and U.Mi-1, from Nigerian designer Gozi Ochonogor who calls London, Tokyo and Lagos her homes.
Ikiré Jones kicked off the show, a collection inspired by "those who have crossed oceans and borders in search of a better home," as Oyéjidé disclosed. The line combined traditional mud-print looks, made with lighter more wearable fabrics and hidden within the prints, a bit of tongue in cheek humor. Samurai prints reinvented, as well as Italian paintings, to include African designs for a completely unique Oyéjidé look. The result, simply breathtaking.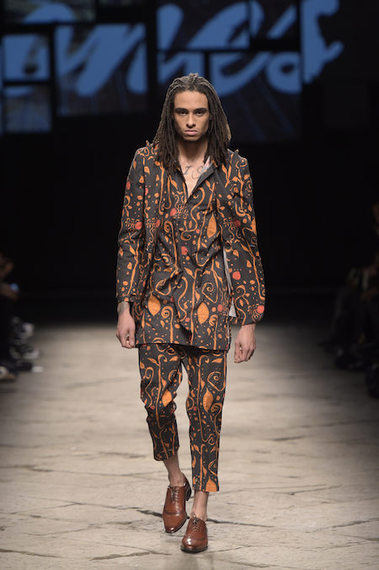 Lukhanyo Mdingi x Nicholas Coutts went with a more leisure-wear collection, which included a grey velour coat, with matching grey flannel pants, and some special effect by the way of a long, woolly, multi texture scarf. It is the one item that stayed on my mind, long after the show, and I found a few other editors and bloggers talking about it, hours after the presentation. Could it work on the street? Well, it takes a very special man to wear such an extraordinary scarf, but then again, remember that Lenny Kravitz look with the brown oversized scarf? Yeah, this look. It's like that, but reinvented, exaggerated and just over-the-moon fabulous.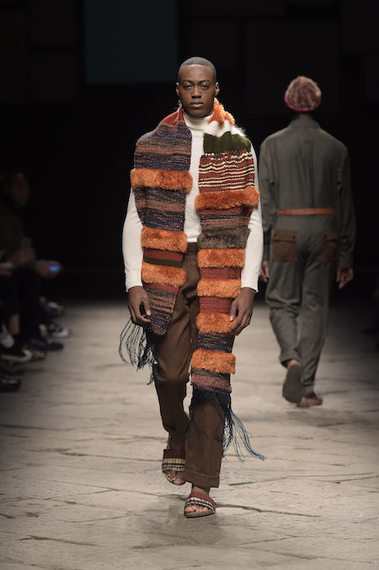 AKJP came next, with a line inspired by music, as the designers admitted, "we were inspired by the re-released version of Herbie Hancock's 1973 'Watermelon Man'." Then continued, "the iconic whistling sound in the intro and outdo of this song was made blowing into a beer bottle imitating Hindewhu, a style of singing/whistle-playing found in Pygmy music of Central Africa." The silhouettes created by Henning and Paulsen seemed easy and practical, a bit Huckleberry Finn in feel and Dries Van Noten in style. The pieces, all great together but also probably even better as separate accents for any wardrobe, were highlighted with giant appliqué bag and Matisse-inspired oversized silver broaches.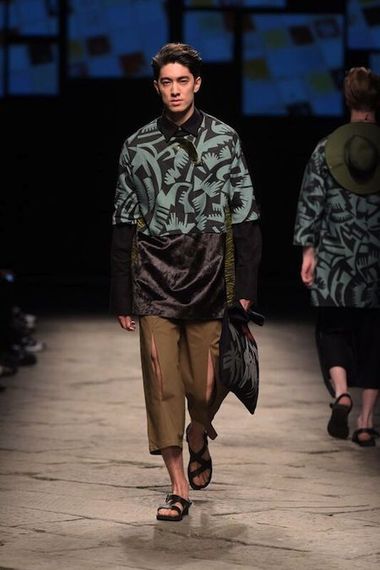 Then, U.Mi-1 (pronounced you.me.one) shut it down for me, as one infamous TV celebrity stylist would put it. I had no idea who had designed the line, as I watched look after look come down the runway and typed on my phone notes like "always love a man in a white shirt and dark slacks" or "haunting look with that beaded Yoruba-looking cap with fringe." Then, when Ms. Ochonogor came out to take her bows, I knew why I was so enthralled by the fashions of U.Mi-1, because it was a woman designing for men, having the models wear what she'd like to see on a man, what we women would all like to see when we open the door to a new date, or meet a prospect in a bar. Clean, classic yet courageous looks that beautify and bring out the sexy in our men.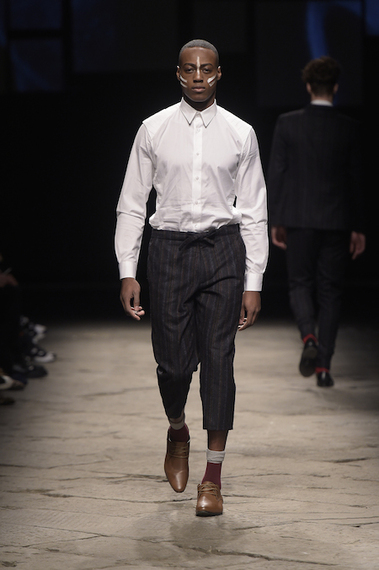 In the end, there I was in the midst of history being made, by Simone Cipriani and his organization, by the men and women of Pitti Uomo, by the multi-cultural designers and by the asylum-seekers. They all showed us that fashion is a great way to look past the differences, and remember how beautiful, inside and out, humanity can truly be.
Top image by Trevor Stuurman, all other photos by Giovanni Giannoni, courtesy of Ethical Fashion Initiative, used with permission.