Giancarlo Giannini with Solis String Quarter and Peppe Servillo, reading from Salvatore Ferragamo's memoirs at Palazzo Spini Feroni in Florence
The past few days for me have been heavy. I've searched my soul for personal thoughts about the attacks in France and have still to figure out how I feel. I know I'm sad, I find the events tragic and discouraging, but beyond that, I don't know.
Then, just as I was trying to make sense of it all through social media, and tweeted "#JeSuisAhmed," I was called a "useful idiot" on Twitter, by a 60-something Pakistani-Canadian author with a pot belly. I am used to insults from young trolls with faceless avatars by now, but this was a published writer, a man who has a hefty following of equal haters, many of whom quickly retweeted his comment. For all I've written, for every step I've taken in trying to stay away from typical media negativity and inspire those who read my thoughts to watch films and read books as means to understand the Arab world better (in my opinion the easiest and only solution for the sake of humanity) I felt defeated.
And just then, at that crucial moment, that's when a couple I call my angels of inspiration came to the rescue. Lisa Chiari and Roberto Ruta are a Florence-based duo in life and work who never cease to amaze me. They are the International Press and Italian Press Relations, respectively, for Pitti Imagine, which this week has infused Florence with the style of Pitti Uomo. Beautiful fashion, wandering around my home city, the food and hospitality of this place, and seeing Lisa and Roberto turns out to be exactly what my weary soul needs now. Right now.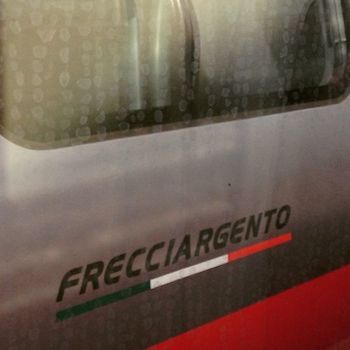 My journey started with a train. It's been years since I've taken one in Italy, I've grown accustomed to air travel. But flights were completely booked up on the day I wanted to set off and the train turned out to be an economical and very satisfying experience. Trains in Italy aren't what they used to be when I was a child, that's for sure. These days they are called things like "Red Arrow" and "Silver Arrow", are fast, on time and full of well behaved adults -- except for the one Italian man with the loud ringtone and even louder timber who thankfully sat at the other end of my car.
Once in Florence, I headed off to my favorite restaurant. It's probably the kind of place they had in mind when they wrote the theme song for Cheers "... Sometimes you want to go where everybody knows your name, and they're always glad you came." The immediate hospitality of the folks at La Casalinga is the reason the restaurant has been a Florentine institution for the most informed clientele since I was a child. But people keep coming back for La Casalinga's decently priced, home-cooked style food and great atmosphere. Whenever I set foot in this magical reign of great nourishment, ancient patronage and exquisitely familiar ambiance I feel like I've returned to my city, my place and most importantly, my identity. As one stylish woman in her seventies said to her fur clad equally charming friend seated at the next table, by herself, "here one is never alone." I toasted silently to the luxury of eating a meal by myself, enjoying every explosion of taste and my surroundings, uninterrupted.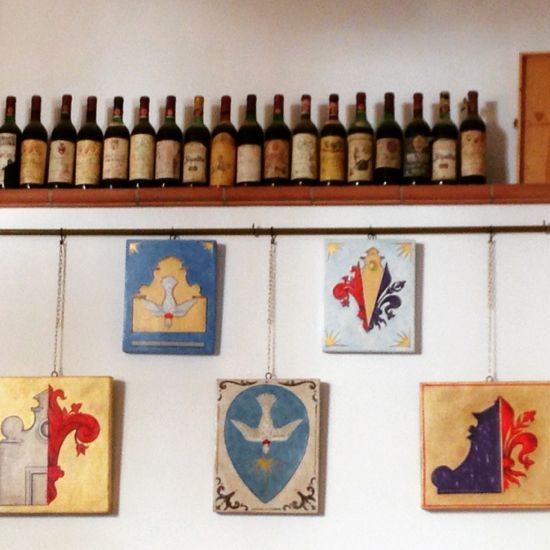 My grandfather Hans Rothe wrote in his book Shakespeare Provocateur that Italians and foreigners view Italy differently. He made the example of how a Florentine interacts with the constant flow of artistic masterpieces that he or she passes every day on the streets of the city, at once owning it all and nonchalant. But a Swede, for example, sees the beauty, and savors the artistic intention of the various craftsmen that "decorated" it. I consider myself lucky that I view Florence with both sets of eyes. I walk its streets knowing instinctually where I'm going, what I'll be passing soon, but my NYC upbringing and long time spent away make for a discovery here at every corner. I stop, stare, get lost in the beauty of this city, which in my very biased and humble opinion, possesses no ugly perspective, or unattractive views.
The Pitti Uomo related events kicked off with an evening performance at the Salvatore Ferragamo headquarters, inside Palazzo Spini Feroni, of "L'eleganza di una vita: Storia di un gentiluomo d'altri tempi." It was a reading by Italian acting legend Giancarlo Giannini, accompanied by Neapolitan songs sung by Peppe Servillo and the Solis String Quartet, of Ferragamo's memoirs Shoemaker of Dreams: the Autobiography of Salvatore Ferragamo.
The excerpts read described the journey of this master shoe designer, from his humble beginnings in Bonito, near Naples -- as the eleventh of fourteen children -- to the first two pairs of shoes he made (for his sister's First Communion) his setting off for America, where he stated "I felt at home the moment I arrived." Finally, to his settling in Florence for his work and life, with his wife Wanda. The most touching part of the evening was Giannini reading Ferragamo's retelling of his first meeting with his future wife, how he fell in love with her, while Wanda Ferragamo herself sat in the front row, listening. I imagined the thrill, and sorrow, of hearing her praises written by her deceased husband, immortalized forever in his book. Read in the husky voice of Giannini, who was nursing a cold thus adding to his charm, was thrilling and touching.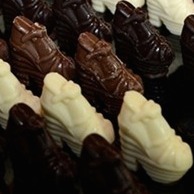 Afterward, cocktails and chocolates in the form of Ferragamo's most recognized silhouette, the "Rainbow" platform created for Judy Garland in 1938, welcomed the guests, while the third generation of Ferragamos, embodied by the handsome James, played host of the evening in their boutique.
The evening finished beautifully at Il Santo Bevitore, a gourmet restaurant that combines the best traditions of Italian food style. I stand corrected, Florentine food style. Growing up in this alimentary paradise lays the foundation for great food habits that last a lifetime. The idea that the biggest meal of the day should happen at lunchtime and the evening should instead comprise of some charcuterie, cheeses and maybe something small and warm like a soup, has been my saving discipline. Forget food pyramids and fad diets, the Florentines have had it right for centuries and this restaurant, run by chef Pierluigi Campi, does it perfectly. With some truffle-infused pecorino, a bowl of hot pumpkin soup that simply nourished my soul, I rediscovered that home will always be... where Florence is.
I look forward to the upcoming days of style with highlights including "Cloakroom", a performance by Tilda Swinton and Olivier Saillard, and Pitti Uomo's guest designer Marni.
Top image courtesy of Salvatore Ferragamo SpA, used with permission.