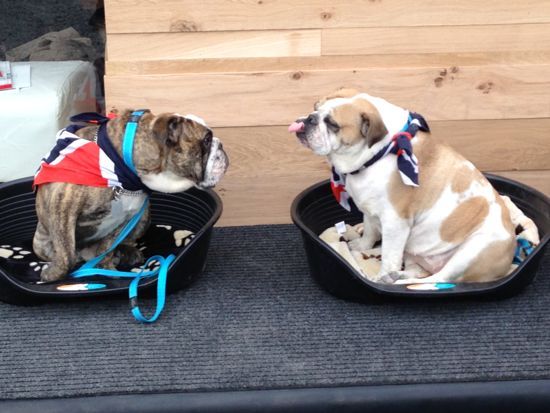 The MINI mascots, in front of the MINI Pavilion, taking a well deserved break from their fans
It's amazing how the mind works. When I see something appealing, I immediately start imagining ways to get it for myself and being around menswear this week is no exception. There are belts I like, hats that would complete my outfit, accessories that seem fantastically cross-gender and in one particular pavilion, women's down jackets that I could put on right now. That's probably the reason why museum gift shops are such a successful concept -- we as humans, want what we see.
At Pitti Uomo in Florence, running through Friday, where designers are showing their Fall/Winter 2016 menswear collections, I've seen quite a lot I like. From perfumes, to hats, to pocket squares, there was even a ball gown on display, made out of men's foulards. And don't get me started on that blush pink reversible fake-fur-slash-down-jacket at Colmar.
Of course, it could be that my style has become increasingly more tailored in the last few years. It's so much simpler, I find, to travel with a few glamorous suits and accessories than to pack dresses and girlie things. A suit -- albeit one that's a little rockstar like those by French brand Zadig & Voltaire -- is always appropriate, for day or on a red carpet and the variety of options out there make for simple purchases. It may cost a little more upfront but if you apply a "pay per wear" calculation, it's probably cheaper than that impulse purchase you made last summer at Forever 21, and never, ever wore. For me, it's a no brainer.
Pitti Uomo has also been a great chance to catch up with wonderful journalists from around the world, and trade ideas. Like Al Arabiya's Salma El Shahed, an Egyptian writer and photographer based in Dubai, Moroccan TV personality Simo Benbachir and luxury, travel and aviation editor Riaan George from my beloved city of Bombay. Sitting around with them, sharing a meal or a car to an event, has been simply delicious. And my appreciation for the power of cross-cultural idea-sharing has grown even more. The world may end up being OK after all... I adore El Shahed's intro to Pitti Uomo, which is a great way to get all the important info about the event.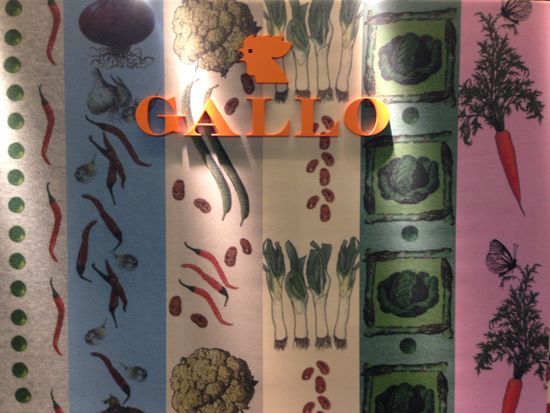 A walk through the main halls of Pitti Uomo at La Fortezza da Basso allowed for a few discoveries, like Gallo socks, which has replicated the designs of their most eye-catching socks on a beautiful entrance board that begged to be photographed.
The evening belonged to Hood By Air, the NYC brand designed by DJ Shayne Oliver, which showcased its latest, special collection in the truly atmospheric Villa di Maiano, in Fiesole. The villa combines sixteenth century Tuscan architecture with eclectic English politician John Temple Leader's style. Leader owned the property in the 1800s and changed the look of its interiors to a kind of gothic, neo-renaissance fusion. Think a party scene from any Sorrentino film and you've got the idea. The feeling of the place fit the mood of the brand perfectly and seeing those pastel hued Matrix-looking models with extreme false eyelashes and long hair catwalk through the courtyard was breathtaking.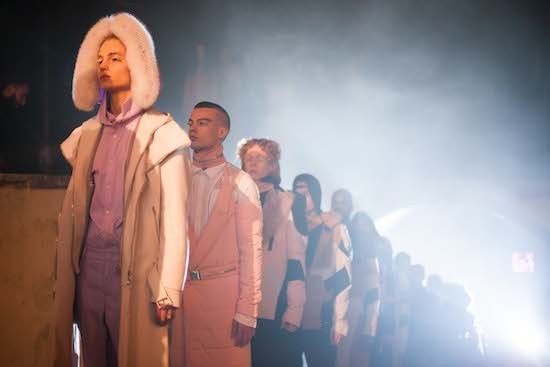 The incredible thing about HBA, which is also the brand's very recognizable logo featured on some of the creations, is that as a whole, the entire outfits are outrageously theatrical and appears show-stoppingly unwearable. But, and here come the big but, if taken apart, piece by piece, accessory by accessory, each individual precious element is a treasure. Totally wearable, although still pushing the boundaries in a way that makes Oliver who he is. I wrote a big, bold lettered, all capital "COURAGE as fashion" in my notebook, and underlined it enthusiastically. As Gandhi said, and I take the liberty of paraphrasing here, "Love is the prerogative of the brave." So is fashion, great, life-changing fashion, really.
As a perfect ending to the perfect day, our newly formed crew of international minds took a break from Italian food and ended up at a brewery in the center of Florence. A little hole in the wall that serves hamburgers, so cheesy and good that even a gourmet, triple-priced burger joint in NYC can't hold a candle to it. I can't remember the name, and anyway, there are only four tables, and one of them is permanently reserved for us...
Hood By Air show image by Proj3ct Studio courtesy of Pitti Immagine, used with permission.