Everywhere I look in Florence, it seems that no self-respecting fashionist-o is going out without some tartan. The colors aren't the traditional Scottish blues, greens or reds and some may even be tempted to call it tweed, but I insist it's a new kind of tartan. In ochres, olives, dusty blues and grays, the pattern is all over the place. And I like it.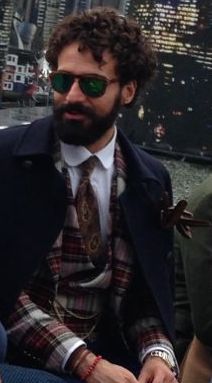 The one thing that is magnificent about Pitti Uomo is that it is all about men. At the opening ceremony slash press conference, I sat next to a young Italian blogger, wearing really cool black boots. We started chatting and she confided that this was her first Pitti Uomo. Her passion is writing about music, so I asked, "what are you doing here?" Her answer, without missing a beat, "well, I'm between boyfriends, so I figured I'd come to look at men." Or did she say "to look for men"? Could be, but her words -- inside the Sala d'Armi of the stunning Palazzo Vecchio, with those high vaulted ceilings and filled to the rim with women wearing heels way too high to walk -- got lost in translation.
The opening press conference featured some words of encouragement from Florence's Mayor Dario Nardella, from the Regional President of Tuscany Enrico Rossi, the President of the Sistema moda Italia (Smi) Claudio Marenzi, the President of Centro Firenze moda Italiana Stefano Ricci, and Gaetano Marzotto, the President of Pitti Imagine, which presents Pitti Uomo in Florence. To Marzotto belonged my favorite comments, the most encouraging of the speeches, which pointed to the new lower oil prices as having a positive impact towards the buying power of average Italians, particularly when it comes to fashion purchases. Goodness knows we need some positive news in Italy, the economy is worse off than one could ever imagine and actually Marzotto's words keep resurfacing in my thoughts, as I watch the incredibly large crowds move around from the pavilions to the fashion shows at this year's Pitti Uomo.
Best way to start a full fashion day is with a breakfast and breakfast at my hotel is an experience. I keep ending up near the same pair of women from NYC, who talk about the men in their lives and how they met, where and what their future together with these gents will bring. For me it's like an ongoing radio soap opera with my cappuccino, and because they hear me speak Italian with everyone around, they don't seem to think I am listening, so they talk away. I am listening, and I love it. But the prize goes to the food at the Gallery Hotel (part of the Lungarno group in Florence owned by the Ferragamo family) with fresh fruit, chocolate chip granola, little rice pudding tarts, a variety of honeys, including one from coriander flowers that is the bee's knees and multigrain breads plus cheeses. You know, any restaurant that has a first quality bottle of extra virgin olive oil on the table for breakfast, waiting to be poured, is my kind of place.
At the Fortezza da Basso, where most of the exhibitors are located, I was introduced to Le Figaro's menswear editor Frédéric Martin-Bernard, who is too young to be called a legend, but in my book simply is. It always amazes me that the most important, intelligent and formidable figures are also the kindest. We chatted and he told me all about the great new concept by Mr. Porter (the menswear website of Net a Porter) coinciding with the release of Kingsman: The Secret Service, the upcoming film by Matthew Vaughn, starring Colin Firth, Sir Michael Caine and Samuel L. Jackson.
The site for Kingsman went live yesterday, with a complete selection of the clothing and accessories featured in the film, a 60-piece collection in all, promising to re-introduce the newest generations to the concept of the Savile Row crafted English suit. Designed in collaboration with Oscar winning costume designer Arianne Phillips, along with a team of British menswear artisans, this is a huge new way to sell both fashion and film. But don't expect to get those nifty, knife-wielding shoes anytime soon... Of course, I could never write a fashion story the way Martin-Bernard does, so for his take on this fabulous new initiative, which could do away with that dirty little word blockbusters are made of -- product placement -- in favor of great style, do read his article, in French, on Le Figaro's website.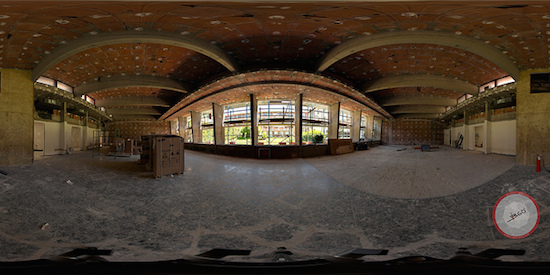 In the afternoon, I went to visit the IED Firenze, the local branch of the Istituto Europeo di Design, a concept that combines art, fashion design, graphic, communications and management to form a new type of student for a new age. The building where this gorgeously elegant school is housed used to be a bank, but with a lot of thought and work put in, to turn it into the appropriate space for the 400 plus students and the various courses offered. If there is one mantra that I've heard repeated while at Pitti Uomo it's the importance for the "Made in Italy" brand to evolve and adjust with the times, and a place like IED is at the forefront of this movement. This ain't your mother's fashion school and the clear, architectural lines of the building, combined with the no-nonsense approach by the school's director Alessandro Colombo create the perfect learning platform for great things to come.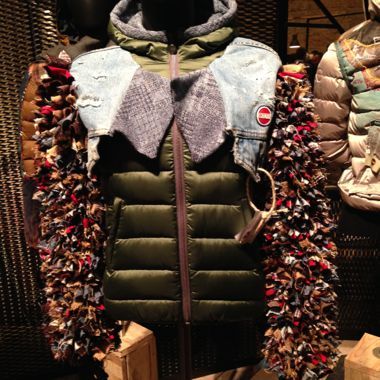 This year, the students from the different branches of IED around Italy were asked to create a series of down jackets for Colmar Originals. Colmar started as a brand in the 1930s, making workmen's overalls in very sturdy materials. But throughout the years, they have redeveloped into one of the best loved brands for snow jackets. In fact, walking through their pavilion at Pitti I spotted the latest trends for menswear, but also the cutest women's down jackets I've ever seen, some even doubling as fake furs. And I don't usually like anything down! The four winning jackets from the IED workshop with Colmar were also featured in the pavilion and my favorite just happened to come from four students in Florence. Those sleeves, that look, the way denim and even tweed are all combined makes for a look that's at once street wear and couture.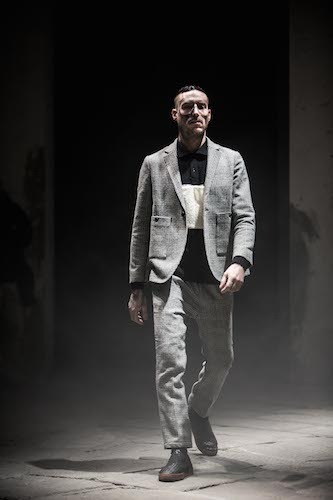 The evening belonged to the Arrivo fashion show inside the old customs building La Dogana. You can't have fashion without a few shows, after all. I'll admit I love being seated in a cool, well located seat and not having to rough it the way I used to do at NYFW, back in the days. The show is the result of a special project by designers Stefano Ughetti and Matteo Gioli, the latter known mainly for his hat brand, SuperDuper Hats. The looks were inspired by bicycle riders of days gone by, and the show featured two men in the center of the action, riding away on their bikes, in shorts and tees.
But the wools, the materials in the show were magnificently soft and created this wonderful effect of suiting that appeared to be made of knit jersey. In what could also be described as black and white -- gray -- tartan. Am I stretching it? Probably, but that's what I'm going to call it.
After a magnificent dinner at Il Borro Tuscan Bistro on Lungarno Acciaiuoli, another venture by the Ferragamo family and one that will soon see new locations in both London and Dubai, I walked into my room only to find a wondrous package of endless possibilities left for me by the generous folks at Moreschi, the luxury shoe company for men. Did I mention I love gifts...
Images courtesy of Pitti Immagine, Pitti Uomo and IED, used with permission.
Popular in the Community