Is fashion all about the way one looks or does it also allow for great insight, character and personality? I believe the latter, which is why I didn't think twice about writing a few "Pitti Uomo Diaries" as part of my ongoing cultural activism. A few people decided to unfollow me in the last week, because of this new interest, but you know what... That only speaks much about their own shortsightedness. In fact, if you don't realize that what you wear has a huge influence on what you say, do and how you feel, I think you're better off watching Fox News.
For the rest of us, Pitti Uomo was a personal favorite. It featured fashions ahead of their times, wonderful performances, some cool upcoming trends that I wouldn't mind borrowing from menswear, all showcased within the beautiful city of Florence, where both the food and sightseeing are simply outstanding.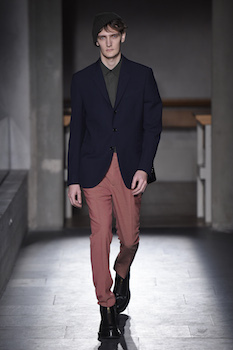 I was blessed that before I treaded into these new waters, I could call upon some of my stylish friends to give me advice. From fashion illustrator Eduard Erlikh I got a quick refresher course in menswear terminology, which for A/W 2016 includes a lot of Savile Row tailored suiting, short booties for men, reinvented tartans and of course, parkas, parkas and more parkas. Some even in fur, both real and synthetic. Oh, and lets not forget pink for men. I loved it, done all the way at Hood By Air, or in just touches as dusty rose trousers at Marni.
My days were filled with visions of stunningly put together men, in exaggerated tweed suits, or sporting the full beard slash hat cool look that favorite interview Iraqi-Canadian rapper The Narcicyst has been rocking for years. I love being surrounded by tomorrow's trendsetters today and the truth is that by always keeping an eye to the Arab world, I find a lot of great looks before the rest of the fashionistas do. Case in point, Narcy himself.
I've also been meaning to talk about the incredible ice cream we were treated to every day, in the press lunchroom. Gelateria Mani is an artisanal ice cream shop from Pistoia and their dark chocolate gave the oldest chocolatier in Italy, Venchi, a true run for their money.
The Swedish pavilion "#SwedishSpot" also revealed some hidden gems such The Case Factory, a Stockholm based company that makes beautiful "Made in Italy" leather cases for iPhones, MacBook and iPads, in printed animal calf skin, napa, reptile and even fur. Army of Me is a fashion line which, although clearly made for men, is so luscious I could easily see myself in one of those tight distressed leather jacket or sporting one of their oversize wool scarves that Lenny Kravitz is making so popular.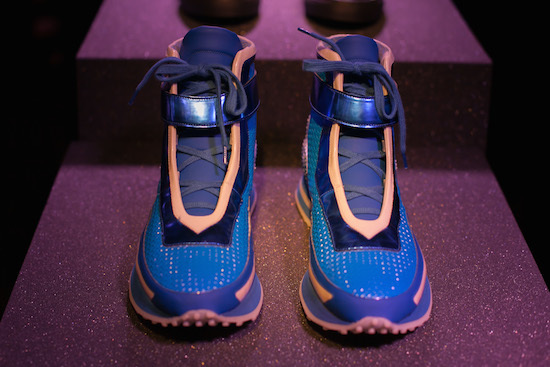 Another Pitti Uomo discovery was young sneaker designer Alberto Premi, who comes from an important shoe-making lineage as the son of a shoe technician. Having been a shoe model myself for many years, I have huge respect for the technical side of shoemaking and listening to Premi talk about his groundbreaking designs was a highlight. I hear even a NASA engineer was involved in making these sneakers!
The afternoon belonged to Tilda Swinton and fashion historian Olivier Saillard, whose collaborative performance piece Cloakroom, shown at La Pergola, left me touched and deep in thought. The idea that a collection can be created by two people with coat racks on a stage, by asking us, the audience, to bring Ms. Swinton our own pieces of worn clothing, so she could "reinvent" them in a way, is genius. Watching her play, folding a jacket a certain way, wearing it herself and sometimes, even talking to it was very emotional. Fashion is such a personal thing, no two people will ever wear something exactly the same way, and then the feeling of watching my fellow journalists parade on the stage, coat or scarf in hand, self conscious and curious at once, under the spotlights, made for an experience that I'll never forget. Swinton even left little surprises in some of the items and now I kick myself that I didn't stand in line to offer my coat to her...
The last fashion show at this season's Pitti Uomo was by guest designer Marni, created by Consuelo Castiglioni, held inside the Museo Marino Marini. With pulsing rhythms courtesy of Panda Bear's latest "Boys Latin" models who could all double as Eddie Redmayne in The Theory of Everything marched down the runway wearing suits that didn't impress me. The flower prints of the shirts too seemed eerily familiar -- read, Dries Van Noten's womenswear collection from last year. I liked the accessories, particularly those oversized furry briefcases straight out of the Flintstones, but I didn't find the usual whim of Marni, their outstanding panache, in this collection. It may have been the fact that I was still reeling from having been the only person in Florence who was not invited to their show...
All images courtesy of Pitti Immagine, used with permission.
Related