"Detectives Sarah Linden and Stephen Holder are deeply affected by the murders they investigate in this dark, acclaimed series," or so says Netflix, in its description of the show it acquired from AMC. Season Four premiered August 1, 2014 on Netflix and Linden and Holder continue to be "deeply affected," -- they are after all murder police. In the series' final moments, however, these characters are lighter, fluid: Linden (Mireille Enos) smiles, and her lips do not crack; Holder (Joel Kinnaman) is less grey, in fact, his sneakers are meticulously white. The years of banter, witty cop repartee and underlying sexual tension culminates with no Hollywood kiss. Rather, the two hold each other in a gaze that's full of gravitas and the promise of partnership, doing the work of "showing up" -- one of Season Four's reigning metaphors. These are a pair of broken people who get each other. Boiled down, the show is about that dynamic, which is why the ending works.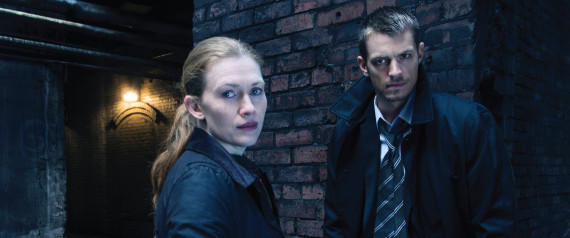 Some critics have called the ending unexpected, but the coupling feels right to me, as Linden, a perpetual runner, realizes home is with Holder -- her "best friend," and Holder's eyes are no longer darting from here to there, tweaking out on whatever dogma will get him through the day: no, they are on this woman. This emotionally stunted, absentee mother has the capacity to love and care, to grieve and let go, all on her terms. As they've always been, Linden and Holder are both variations on the anti-hero. And that's the thing about people who are "deeply affected;" they don't always live in a functioning reality.
The pacing throughout this season was tight, with key episodes "The Good Soldier" (Episode 3) directed by Ed Bianchi and "Eden" (Series Finale) directed by Jonathan Demme creating a compelling arc of secrets that give themselves away, even in this land shielded by tall pines and unrelenting rain. The spectacle and melody of this crime drama always compelled me. To that end, the score, originally composed by Frans Bak for Forbrydelsen, the Danish series upon which The Killing is based, continues to do its job in this final season, patrolling the episodes and evoking tension. Bak's familiar and well-structured soundtrack is not only haunting, but melodic, moody and steady, with percussive elements that build in turn with the emotional tension being played out on screen, more subtly than in previous seasons.
This season, our leads, more than ever are faced with seeing the monster within. Like cult crime drama favorites -- Twin Peaks, True Detective -- The Killing examines the place behind the pines, literally the seedy city built upon waterfront corruption, runaways and teen hookers. This is the brutality of the world Linden and Holder must make sense of, offset by the shades of Puget Sound. Moments when the camera pans back to the landscape feel naturalistic and meditative, a necessary complement to close-ups of blood spatter. These moments allow us to be enveloped by the fullness of the world as we spend time with its flawed but "deeply affected" characters. Throughout the season, Holder and Linden alternatively unravel with uncharacteristic rookie mistakes as they try to cover up the murder of Lieutenant Skinner, a.k.a serial killer, the Pied Piper. Linden misplaces shell casings discharged during Skinner's execution and returns to the scene of the crime. Coming off of a drug binge, Holder looks for God and confesses to the murder in a N.A. meeting. These "slip-ups" force the characters to get caught and show up for the consequences behind their transgressions.
As the series wraps, we are left in a flash forward to years later, when the characters are no longer cloaked in firs and storm clouds, but rather illuminated by -- of all things -- the sun. They have grown younger having shed the skin of their badges, and series creator, Veena Sud leaves us thinking about a world where Linden and Holder can feel as opposed to being "deeply affected."