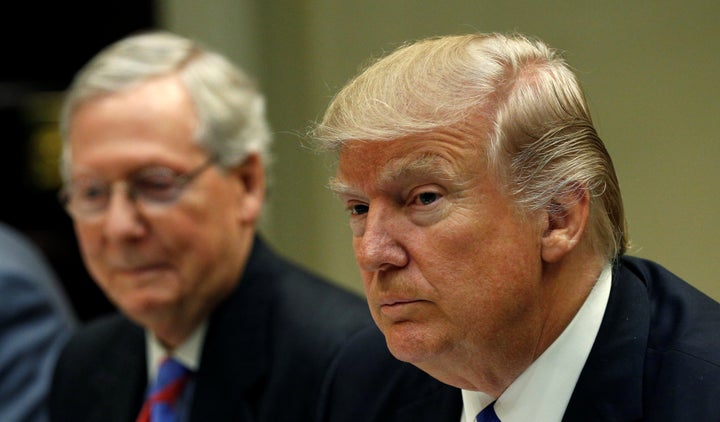 As Senate Republicans continue to craft a health care bill behind closed doors, a Trump administration's reported plan would exempt many employers from including contraceptive coverage in health insurance plans seems. While the administration has framed their executive order as a protection of "religious freedom," it is just one part of a frightening new wave of policies that will particularly harm women.
According to the Congressional Budget Office, millions of Americans will lose health insurance under the American Health Care Act (AHCA), already passed by the Republican House of Representatives. Low- and moderate-income Americans will lose the most because the plan decreases insurance subsidies and will eventually eliminate the Medicaid expansion.
This is especially troubling for women. Consistently, year after year, American women earn less than men. And according to the Department of Labor, women are more likely than men to be among the working poor. At the same time, women use more medical services and spend more on health care than men. They make more visits each year to primary care physicians and are more likely to take at least one prescription drug on a daily basis.
Under the House version of the AHCA and the Trump administration's order, women's access to care through their insurance will decline. The bill eliminates the Affordable Care Act's requirements for insurance plans to cover "essential benefits" like birth control and maternity care. Worse yet, this move will reduce the largest health safety net for women in the country. The Republican House plan singles out Planned Parenthood, prohibiting federal funding for one year after the law goes into effect.
Reduced access to birth control will lead to more unwanted pregnancies. Yet under the Republican House bill, qualified health plans cannot include abortion coverage except for pregnancies that present life-threatening physical risks and pregnancies that resulted from rape or incest. Not only does this reduce access to a needed medical procedure, but it also leaves questions about how to determine if a pregnancy is life-threatening or how to confirm if it's a result of rape or incest. And it could potentially force women to prove — to the satisfaction of an insurance company — that she indeed was raped. This would certainly delay performing the abortion. Delays, in turn, present health risks to women.
The Republican House bill does allow insurance to pay to treat "any infection, injury, disease or disorder that has been caused or exacerbated by the performance of an abortion." But legal abortions performed by a qualified medical provider in a suitable medical setting are extremely safe. While it is unlikely that the House's intent is to encourage illicit abortions, this provision seems to acknowledge that an increase in unsafe abortions may be a consequence of the policy.
The administration's order and the Republican House bill will have devastating effects for women's health in the United States. Our maternal mortality rate is already the highest among all developed countries. And while this rate is decreasing in nearly every other nation, it continues to rise in the U.S. Our high maternal death rate is in part the result of unplanned pregnancies – more than half of all pregnancies in the U.S. – and a health system that makes accessing care difficult, especially for new mothers. The president's order, together with Congress's "repeal and replace" bill, will only lead to more tragedy. Now, the Senate has the chance to take out these harmful provisions and reaffirm the value of women's health.
Support HuffPost
The Stakes Have Never Been Higher
Related
Popular in the Community