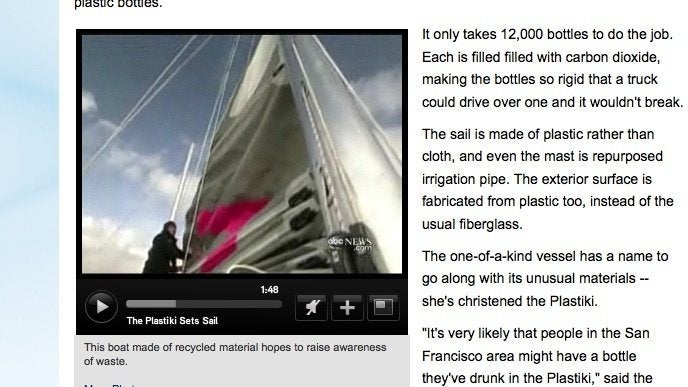 You are a sea creature, too.
Odd, you might think, but the reality is you are able to breathe and drink -- basically survive -- as a result of your relationship with the ocean, that beautiful deep blue.
The ocean covers more than 72% of the planet, drives the world's weather systems and creates more than half of the oxygen we breathe. As such, it forms an absolutely crucial part of our very existence and everyday life on earth. As the skipper of the Plastiki, my relationship with the ocean is very apparent. In fact, as I write this I am in the middle of the Pacific, just a few degrees south of the Equator, under the shade of a reclaimed sail. I can hear the Plastiki's inner workings and her 12,000 reclaimed plastic bottles moving through the waves, as we part sail part drift our way from San Francisco, across one of the world's largest expanses of ocean, towards Australia.
I have been a professional sailor most of my working life, taking lessons from the ocean on how to respect our planet and respond to an ever-changing environment. I have learned from experience that the moment you turn your back on Mother Nature, she will remind you who is boss. As a sailor it is easy to visualize how our survival is directly linked to the ocean. However, there was one very clear moment when it really dawned on me how little respect we as humans have for our life support system. To put it prosaically, it dawned on me that if I treated my boyfriend the same way we treat the ocean, he would no longer be around.
A few years ago, I realized a childhood dream -- weaving in and out of icebergs, as a pink dawn rose over a forest of glaciers, on the sub Antarctic Island of South Georgia. After more than two months at sea, we had arrived to embark upon a voyage only a handful of sailors had successfully achieved: to circumnavigate the island of South Georgia and visit the Antarctic facing shores of the south-side.
After a couple of weeks sailing along the northern shores, it was time to turn the corner. We began exploring the south side of the island, the windward facing shores of the notorious hostile Southern Ocean. Next stop, the Antarctic continent, a land that no nation has claim over and no human can permanently inhabit. A land where you feel like you are a visitor to populations of thousands of endearing penguins, smelly vampire toothed fur seals, and blubbery 4 ton elephant seals.
One day, wrapped up in so many layers that my waddle could have been mistaken for that of a penguin, I was taking a stroll to explore South Georgia's remote shore line. I scrambled round the headland and down onto a small cove to be faced with a staggering accumulation of marine debris. This sight broke my heart, literally bringing a tear to my eye. How could we, as intelligent human beings, allow ourselves to have such a far-reaching impact on a land that doesn't even feel like it belongs to the human race? An area that only a handful, if anyone, has ever stepped foot on. What on earth are we doing to the planet if how we consume has an effect here, miles from any populated town?
This encounter changed my life; I became driven to understand what effect we as humans are having on the planet -- our life support system -- and just how long the planet can sustain our habits.
One obstacle in my way was environmental messaging. They can be confusing - so many sides to every argument. Points can be communicated in a way that leave us feeling like the problems are so huge they can only be addressed by scientists, governments and futurists, and that we have little capacity to make a difference ourselves.
But we can. Look at the example of the discovery of the five 'garbage patches' in the oceans. These garbage patches are vortexes that form where two ocean currents meet, in effect a giant oceanic toilet that never flushes. Captain Charles Moore discovered the Great Pacific Garbage Patch, an area in the Pacific estimated to be twice the size of Texas. The trash is literally transformed into a toxic plastic soup, where one part plankton to six parts plastic could be trawled.
I discovered that 60% of the plastic found in these areas comprises what can be called "one life plastic" -- the plastic bags, styrene foam food containers and plastic drinks bottles we use on a daily basis. Items consumed in a flash to make our lives more convenient but that have a life expectancy that exceeds ours by more than seven fold - that's 500 YEARS people! This just doesn't make sense; one hour in our possession = 500 years on the planet. It's utter madness. So you see, as consumers, the issue of marine debris is our problem, and not only that of the scientists. It is a crisis that we can help to stop at source TODAY.
Wherever we live, we need to feel a connection to the oceans; they are our umbilical cord to life, they drive the world's weather systems, are the source of more than half the oxygen we breathe, and ensure that we can take our next sip of water.
With little effort, we can all start doing something to help. For the duration of the Plastiki expedition and beyond, I urge you to remember your reuseable water bottle. This alone will help reduce the 200 billion liters of bottled water consumed each year.
Calling all HuffPost superfans!
Sign up for membership to become a founding member and help shape HuffPost's next chapter