There is no other topic that leads to heated discussion as the topic of kill versus no kill shelters. But many people are not familiar with the differences in these types of shelters because sometimes the status of a shelter can be misleading.To understand the differences in these shelters, it is important to learn what they are.
A high kill shelter is considered an "open admission" shelter.That is a shelter that accepts any and all animals regardless of owner circumstances, animal health or age. A person can come in at any hour and freely surrender an animal, usually at no charge. These shelters often contract with local animal control agencies to take in the strays, surrenders and seized animals they pick up. I worked as animal control officer with Durham County Animal Control. This agency is contracted with the Animal Protection Society of Durham, North Carolina (Durham APS)
As an animal control officer, we even offered the service of free pick up. A citizen could simply call animal control and request a pick up surrender, no questions asked, no qualifying reasons.With these types of contracts, unless the animal is on hold for a court case, once animal control drops the animal off, they have no other reason to deal with that animal.I knew I was contributing to the euthanasia statistics and it was such a tough part of my job.These shelters will euthanize healthy animals for space, and animals with health or age issues as unadoptable.Their statistics are astronomical and eye opening.I know the shelter does all they can do to get animals adopted, but because of their status, they still posted a 48% euthanasia rate for 2015. This is not a dig against APS of Durham. This is the sad reality of a shelter in an area where surrenders are rampant and strays are abundant.
A low kill shelter is defined as as "limited admission" shelter.In this type of shelter, surrender appointments are made and an animal is assessed for adoptability.Once the animal has been surrendered, a limited admission shelter reserves the right to euthanize the animal should it show behavioral aggression or illness.Unfortunately, many behaviors aren't caught at the shelter intake process. For instance, a dog may test well with no signs of aggression which results in his being accepted to the shelter but over time, the shelter stress gets to him and he becomes fear aggressive. His fate may be sealed based on that alone in a limited admission shelter.
Then there's the no kill shelter, commonly referred to as "closed admission" shelters. As with a limited admission shelter, appointments to surrender must be made and a fee is usually charged.This type of shelter can turn down any animal for any reason regardless of the intake screening or even over the phone.The majority of reasons these shelters turn down animals, including very adoptable animals, is due to limited space.This is not to say that these shelters do not euthanize. This is a common misconception when considering a no kill shelter.These shelters may deem an animal unadoptable due to age, health or aggression and euthanize that animal.But they must keep within a certain rate of euthanasia, typically only 10%, to maintain their no kill status.These shelters will keep adoptable animals for as long as it takes to find them a home or perhaps release the animal to a non-profit rescue who will do the same.The biggest argument raised in these types of shelters is defining what is considered adoptable and not subject to euthanasia.
There is huge controversy between animal advocates about what happens to an animal that sits in a no kill shelter for an extreme length of time.Kim Kreem, a vigorously active animal advocate who has worked with both no kill and kill shelters knows first hand how a shelter's status can change the life of a dog forever. When discussing the pros and cons of dogs lingering in shelters or being euthanized too soon, Kreem said, "Even in short stays we see dogs forming barrier aggression, resource guarding, signs of kennel craze. It takes a special adopter should a dog begin to exhibit those signs". But she also states, "On the flip side, 72 hours isn't much time for great dogs. But leaving any dog in a shelter for years should definitely not be a satisfactory outcome to any no kill. I'd hope they'd be putting extra socialization and breaks from shelter environment as part of maintaining that animal's psyche."
When I was working for Durham County Animal Control, Liam came into Durham APS. As I mentioned above, this shelter is an open admission.Liam had three legs and did not present well in his kennel.He was withdrawn and fearful.The staff kept Liam behind the front counter to give him a chance.It worked because Kreem fell in love when she met him and adopted him.
Kreem also fostered a dog rescued by Rescue Ur Forever Friend.Gabby had only 72 hours before becoming eligible for euthanasia at Pender County Shelter in N.C..Gabby came in with health issues, had been obviously bred repeatedly and was not great with other dogs.Kreem fostered her and found she could not part with this sweet girl.It's obvious to see how Gabby flourished under her care.
Annie Torres, who promotes her low cost spay and neuter program, No Puppies for Hussies, through her dog Pickles' page on Facebook, feels not enough is being done to avoid euthanasia in shelters. "Shelters are failing dogs by not aggressively pursuing foster home networking within their communities, " says Torres."Dogs do much better out of a stressful shelter setting which increases their odds of adoption. Executing healthy dogs is not the solution to the problem of overpopulation." Torres works with Save the Nor-Cal Shelter Dogs by using social media to promote them.
When I was the Animal Care Manager at the Ulster County SPCA (UCSPCA), there was a dog named Blue who could almost qualify for the definition of unadoptable. Blue was a beautiful, block headed Staffy. He came into the shelter after his owner had gone to jail with the promise that once he was released, he would come back for him.But that never happened.Blue only responded to one staff member and would charge at his kennel when you walked by.He was rarely handled by anyone other than that staff member.Trying to test him with other dogs proved to be too risky. He spent most of his time in the outside kennels in the staff only area.A professional trainer had come in and evaluated him and showed serious concerns about his adopt-ability. Over the next year and a half, I slowly began to build a relationship with him but even that was limited to my being able to enter his kennel and walk him. Management continued to hold off from showing him to prospective adopters.I often wondered why he had not been deemed unadoptable and was convinced he would never find a home.He was there almost three years. I was no longer employed there when I heard a woman came in and adopted him.Even then I had my doubts and thought he would get returned.But I later learned that he flourished with his new owner and began a life that included hikes and swimming.
Blue never would have lived longer than a few days at a kill shelter and he would have been questionable at most no kill shelters.I believe shelters are temporary housing for animals.I have never been a fan of seeing animals live their lives in shelters. But I've also seen healthy, adoptable animals euthanized for lack of space.There is no answer to this controversy.Sometimes, the only option for an animal is to be pulled by a rescue.But if that rescue doesn't help the animal overcome their challenges, that rescue finds itself with an obligation to make the best decisions for that animal.If shelters have dedicated staff and volunteers willing to help an animal with challenges, there's a chance that animal will make it out of the shelter.But most open admission shelters don't have the luxury of keeping animals past their hold time.And until an animal gets adopted, most closed admission shelters can't help another animal.So where do these owners go? Open admission shelters.
With more and more shelters opting to become closed admission, shelters like New York Animal Care and Control (NYACC) become the only option for guilt free surrenders from owners or controlling the stray population.I visited NYACC last month after losing my dog to a seizure disorder.The first thing I noticed on the cage cards was that the intake dates for these dogs was the beginning of the month. That means the next month, all new dogs would be in those kennels.This reality is harsh but real.There is a website dedicated to promoting the dogs at risk at NYACC.
The best way to help any type of shelter is to adopt your next companion, make the commitment to keep him until the end and spay and neuter. All types of shelters will benefit from that.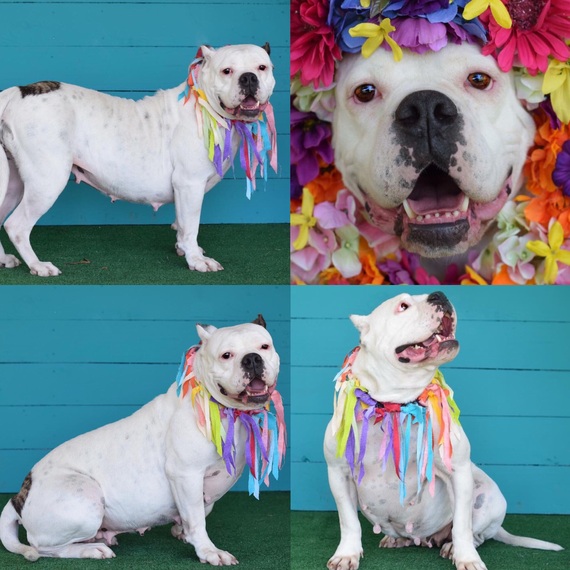 Smoochy, available at Best Friends Animal Society Photo credit Shannon Poole Hagan
Related
Popular in the Community